When thinking of CRM strategy, the first thing that comes to mind for many businesses is implementing a CRM system. However, CRM software itself won't help you earn the trust of your audience.
Purchasing CRM software is only half the battle won; there is much more to it. By implementing a CRM strategy, businesses can develop strong relations with their customers through personalised experience and understanding of their real pains and needs. This approach encourages teams to collaborate with one another to give the best possible service to customers and win over customer loyalty and trust.
In this blog post, we'll explain how to create a CRM strategy that streamlines relations with customers and what customer-centric approaches to add to your arsenal of audience interactions.
What is a CRM strategy?
The goal of a company's CRM strategy is to increase revenue while simultaneously enhancing customer service levels. It aims to attract new clients and keep current by providing relevant and personalised experiences according to their needs and expectations. In order to accomplish this, can utilise a variety of processes, actions, and tools.
Rather than a transactional sales paradigm, the new approach is more customer-focused. It's a way of recognising how businesses may use data to serve their diverse clientele better. In short, a CRM strategy is a company-wide business plan to increase revenue, reduce costs, and put customers first.
Essentially, it's a strategy to scale your business and increase revenue through improved customer service and higher lifetime value of the users.
Further reading: What is a CRM?
Why you definitely need a CRM strategy
CRM strategy implies putting customers in front of your business. By listening to the feedback and meeting their expectations in terms of product and service, you reduce acquisition costs and increase customers' lifetime value.
Business leaders may devote their time and effort to expanding the company rather than merely maintaining revenue, after implementing a good CRM strategy. It has numerous advantages, including the ones listed below.
Knowing your customers
A study found that 63% of customers reported that they want personalised recommendations; these small things go a long way toward helping you create a more accurate picture of your target customer.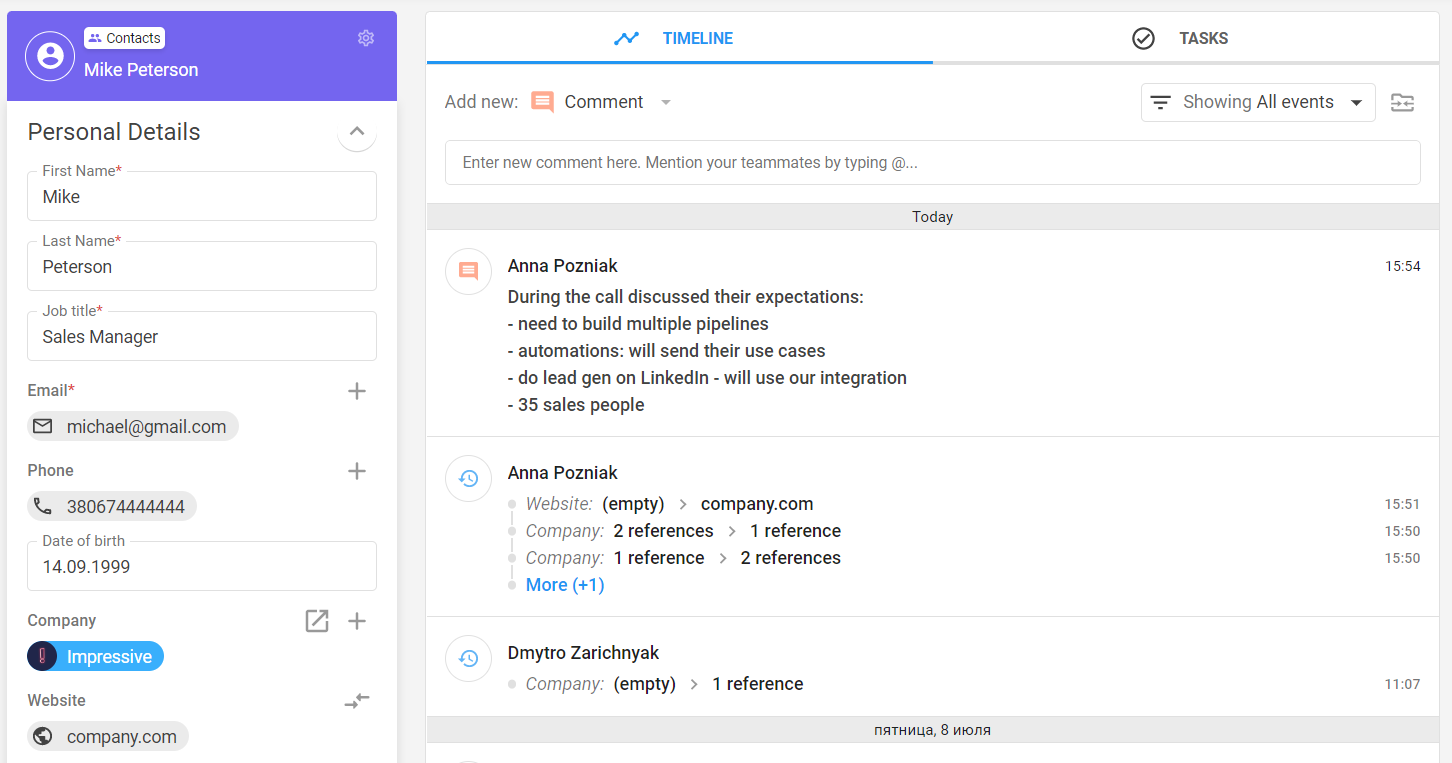 We can see from the screenshot that CRM software allows you to get to know your customers a little better after you've enticed them. More than simply their name, email address or job title. We're talking about the date and type of their last interaction with your business, their past orders, as well as what brought them to your company.
CRM is an excellent tool for identifying your target audience and providing a personalised communication and in-product experience, such as dedicated onboarding, in-product tips, targeted content, or offering special features for free for a particular customer when you see that it's a deal-breaker for them. Your customers will appreciate the attention to detail.
For example - whatever your business might be, we all enjoy freebies or promotions! With a CRM you know such details as when your customer's birthday is so that you can send them a discount code, coupon, or simply wish them a happy birthday.
Knowing your customer's interests and pain points can be what makes or breaks the deal!
Identifying priority leads
By having customer profiles and knowing all the essential information about your ideal buyers, you'll quickly spot the most promising leads in the pipeline within the entire stream and take actions quickly.
It will help your sales teams to hit the quotas as they could devote more time to the leads that are highly to convert, they'll know the arguments to use to convince them to buy. In fact, it'll also boost employees' morale. They hit the quota, got their bonus, and they are happy – all because of understanding their audience.
Crafting targeted campaigns
When having a clear understanding of your audience, you'll know for sure what they are looking for in the products like yours and you'll even know the words they use while searching for it. This knowledge helps you craft proper messages in your campaigns, create relevant content, and use relevant channels.
You may have multiple buyer personas and each of them will see the campaign that resonates with their needs. Segmenting your audience regarding their similarities makes it also possible to alter your strategy for diverse markets.
Here is the guide on how to define your buyer persona.
Aligning the teams
When working together on a CRM strategy, want it or not, your teams will collaborate. Only through alignment they achieve better understanding of customers and thus, find the ways to make them happy. Team alignment only brings benefits to the businesses in the form of:
Open, direct communication
Strictly aligned messages
Mutual accountability
Here, we have a dedicated piece on how to sync your sales and marketing teams.
Making data-driven decisions
A CRM strategy improves the reliability of your sales and marketing efforts by providing you with more data points. Smaller, more specific goals might be set to achieve the broader, more overarching goal of the business.  As a result, you'll be able to use your resources better and achieve better outcomes.
Without having a centralised system, which is a CRM, it's challenging to aggregate the data, spot the dependencies, and make right conclusions for your next sales cycle performance.
With a CRM, it's easy to calculate the ROI of every channel and campaign which serves as a basis for launching the next ones. Sales forecasting has also become more accurate and easy with a CRM software.
How to build a CRM strategy
You'll need a crystal-clear vision that everyone on your team can get behind in order to establish an effective CRM strategy. A CRM strategy is a long-term undertaking. Keep track of your leads, conduct customised marketing campaigns, adapt sales strategy, and analyse your actions.
Without further ado, here is a 5-step guide to developing a working CRM strategy.
1. Audit your business processes
Consider your current processes and any existing strategies before deciding on a CRM strategy. Identifying your company's current shortcomings and strengths, as well as the greatest possibilities and dangers, is the primary goal of the audit process, AKA a SWOT analysis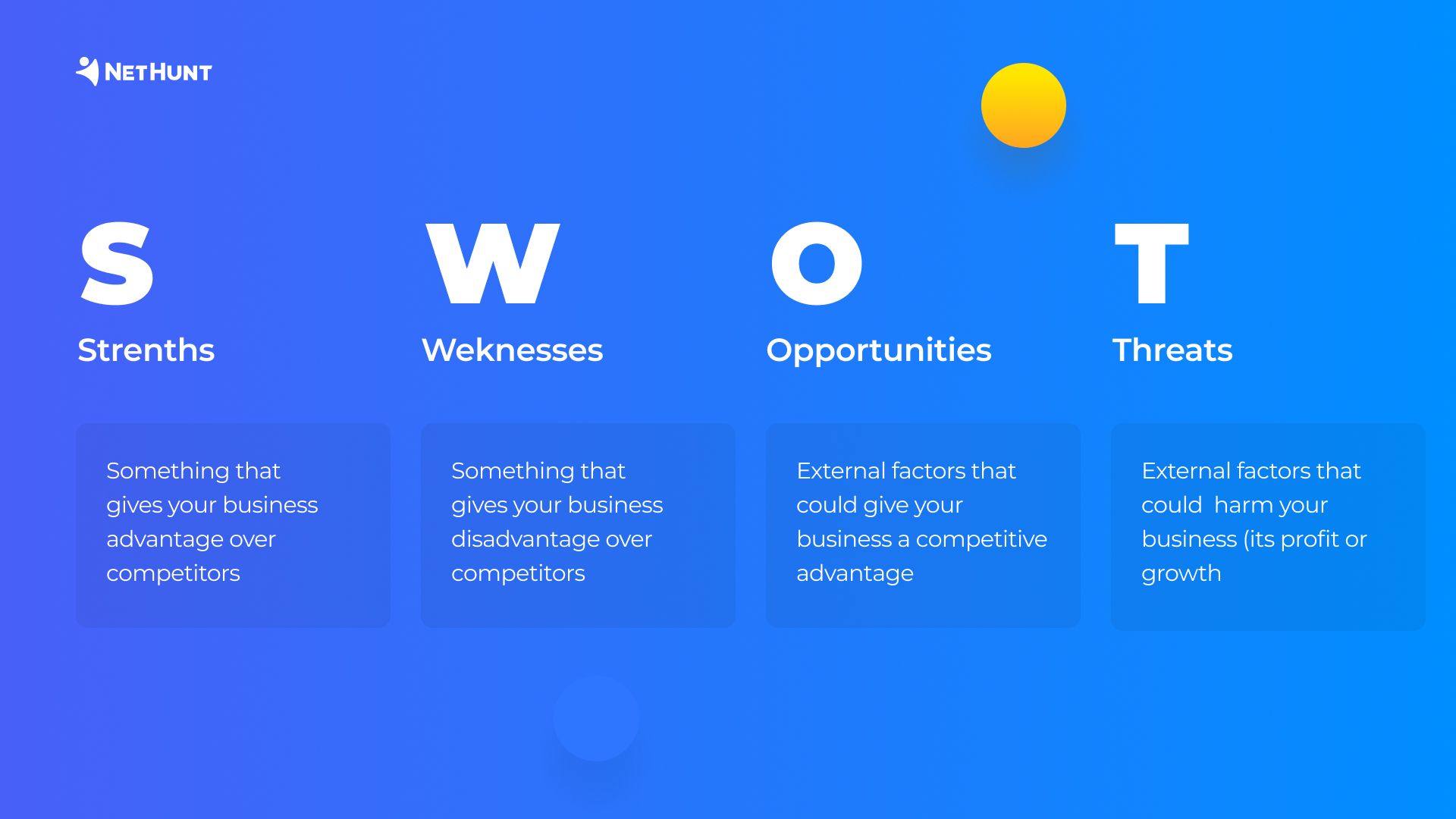 Analyse how the leads get into the pipeline, how your marketing team passes leads to the sales team, and what happens with the deal once it moves to the stage 'Won'. You'll see the gaps and outline the first areas needed to be fixed.
2. Define goals
Make well-informed judgments regarding your CRM approach by reviewing your overall company goals. It might be increasing retention, reducing churn, shortening the sales cycles, increasing levels of customer satisfaction, etc. Make sure everyone is working towards the same goal. This is an essential step to staying on track with your decisions.
Take the time to examine if you can realistically reach your goals with the resources you presently have once you've outlined your objectives. Is your team big enough to accomplish your goals and strategy? If so, do you require a CRM system to help you out? Make sure you have all you need to be successful. Keep in mind that these objectives may also evolve in the long term. You'll want to return to this phase as your plan evolves. Consider using the SMART method to set business goals.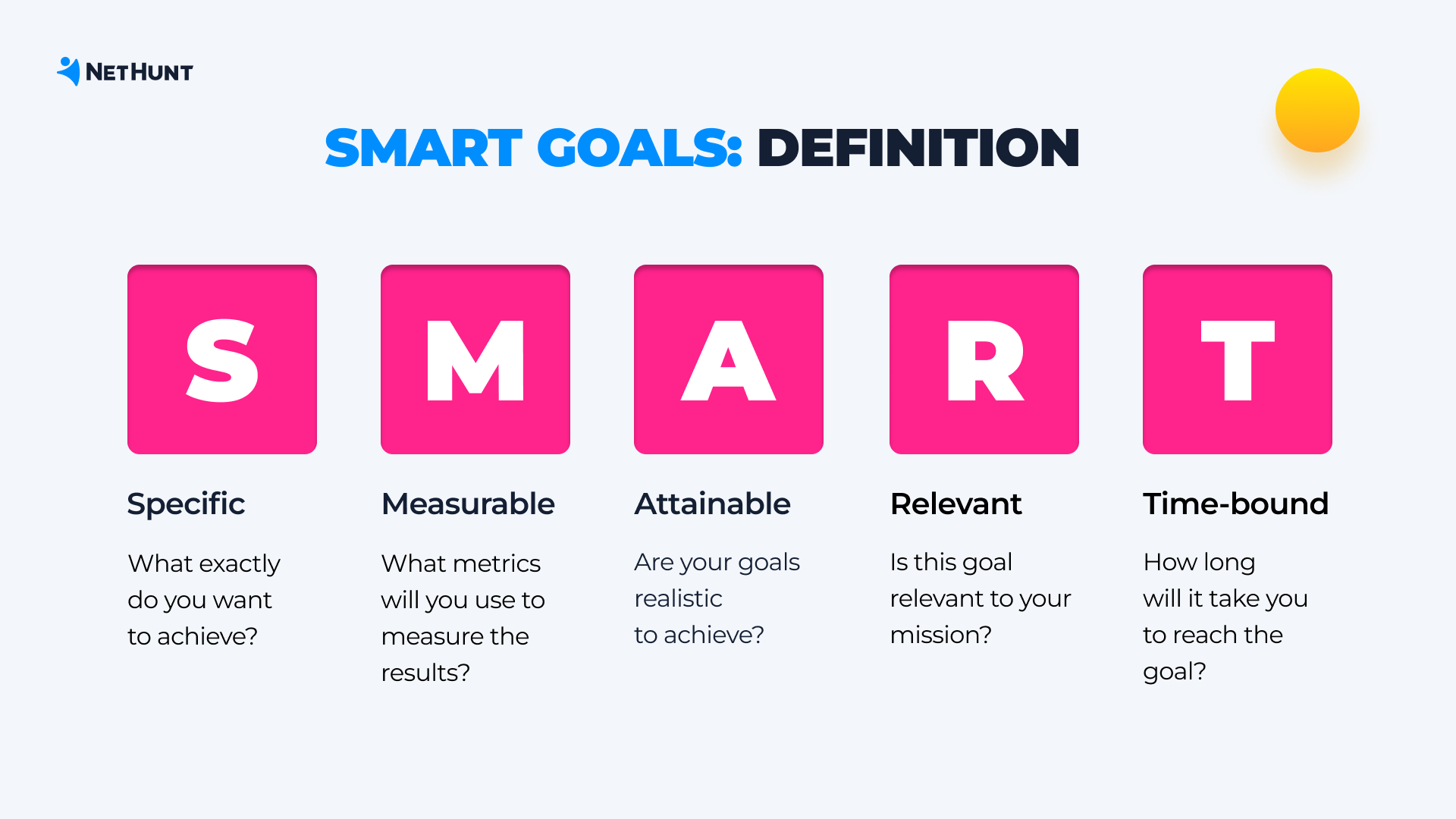 Setting Smart goals would go a little something like this:
"I want to improve the response time to customer's requests"
I want to reduce the response time from 2 minutes to 30 seconds.
I want to reduce the response time from 2 minutes to 30 seconds, within this business quarter.
I will brief all my customer support staff, to make sure they are on track with this goal.
In the meantime, I will find ways to handle the customer queries in a paced manner.
By the end of the quarter, the response time should be 30 seconds.
3. Build customer persona
Make a profile of your target customer's buying habits and preferences. You need to know who your customers are and why they buy from you. You must be as specific as possible when creating a buyer persona. Take into account the following details:
Personality archetypes
Demographic characteristics
Geographic location
Likes and dislikes
Pain points
Aspirations
Current challenges
Daily jobs-to-be-done
Conduct in-depth interviews with your sales and customer service teams, review existing customer profiles, and conduct surveys of your current and prospective customers to get this information. Finding out what your customers want and anticipate is essential for a profitable CRM strategy.
4. Define customer journey
From the moment a customer first discovers your brand, document every interaction with them. It is an easy task to do with the right CRM system. Recognise how they came across you. Are we talking about an email campaign, or online banner advertisement or they haven't heard anything about you before the cold outreach of your sales rep?
Determine how long or many steps it takes for a potential customer to make a decision. Customers are less likely to abandon a purchase if the process is as straightforward as feasible.
When creating a client journey map, here are some critical questions to consider:
At each stage of the sales funnel, which team or process interacts with the customer?
Is this the preferred communication style and channel of your ideal customer?
Which content does your customer interact with the most or least at every stage of the journey?
What are the customer's goals? What are they trying to achieve?
What challenges does your customer face?
Learn more about customer journey mapping in our article.
5. Implement a CRM system
It will be difficult to achieve a high level of customer experience if there is no single database where all the details about customers are stored, the manager will always be able to view the initial pains and requests of the client and will have an understanding of what exactly the client wants to achieve with your product.
For the first-time visitors of our blog, we've previously explained in details what a CRM system is, and you are very welcome to read it and grasp the essentials.
CRM is an inevitable element of a CRM strategy and here's why:
CRM organises and stores contacts and deals in a single place
CRM keeps every detail about your customer and your communication regardless of the channel (email, socials, website chats, phone, etc.)
CRM shows how every email campaign and action affects the pipeline
CRM allows for segmenting of data and develops targeted lists
CRM gives you an opportunity to respond to every request quickly
And to help you decide on which CRM system to go for, have a look at this article.
Examples of effective CRM strategy
Whether you are just starting your business or on your way to improving customer happiness and retention, CRM systems and the implemented strategy is a vital part that contributes to your business's growth. Here we'll go over specific examples of an effective CRM strategy.
Customer Success approach
Customer Success means that a company assists its consumers in finding continued value in using its product. This allows the company to expand through favourable word of mouth, which brings in new customers. It's essentially establishing a true connection with your customers, knowing about them personal and professional information, it's about reaching out to your customers anticipating their requests.
Offering your customers useful materials such as blog posts, YouTube videos, How-To's, and live Q&A sessions go a long way. Running assessment calls is also a vital part of the customer success approach, calling up your customers and making sure they are happy with everything, or if they are not, then aid them in whatever questions they might have. To read about the customer success approach in more detail, visit this blog post.
Tailored targeted marketing
Handcrafting your marketing campaigns can be very beneficial; you can do this by personalising emails which have proven to be 26% more likely to be opened. From purely writing someone's first name at the start of the email to personalised sales enablements, case studies, guides to personalised communication in advertisement – it all makes a huge difference in brand perception and attitude.
Rewards programmes and tiers
Rewarding your loyal customers with offers is a very good strategy to ensure that the customer continues using your product. These are usually your most active users who always give you an honest feedback and advice on new functionality to be added. As a thank you for their contribution and being with you for a long time, offer them some special conditions.
However, remember that customer loyalty does not happen overnight and before offering any kind of discounts, make sure that you have suitable product and service.
Multi-channel online presence
There are many ways for businesses to engage with their clients, both online and offline, now that they have access to so many options.
An increase in the number of communication channels available to a business increases its ability to communicate with and service customers. The same brand experience may be delivered across numerous channels with omnichannel support, allowing customers to transition between channels and yet receive the same level of care. You don't want your customers to crawl through the whole world wide web to search for your businesses. It should be easily found, and all the channels to be up to date.
Data cleansing
You don't want to be offering your customer a discount code for a product that they are no longer interested in, or starting off an email, "Mrs" when the woman is no longer married is a huge NO NO. So rummaging through the data you have collected on your customers and making sure that everything is up-to-date can be what makes or breaks your relationship with your customers. To make sure your data is relevant:
Make sure managers update customer records constantly
Automate data entry and update where possible
Run regular cleanup sessions
Here, you may find more tips how to keep your customer data clean.
Customer engagement
One of the biggest red flags for clients is a lack of involvement. Maintaining a positive relationship with your customers after the transaction is the best way to avoid this. Your KPIs will improve if your customer engagement initiatives are successful.
Here are some of the top strategies to improve your communication with clients:
In order to show your gratitude, send your leads a thank you email, or a welcoming email, the foundation of building consumer relationships and showing your appreciation.
By asking customers to leave their honest feedback, you will be able to evaluate the level of satisfaction that your customers have with your product and service. By implementing what they asked for, you show them you care about their experience.
Post-purchase emails are a great way to upsell or cross-sell your products. Recommend products to customers based on what they've already purchased from you is a great strategy for reeling them back in.
Referrals are an excellent way to expand your customer's base. When a friend or a fellow business person suggests a product, most people are more likely to pay attention to it and buy it, as a result. The perfect moment to ask for a referral is after a sale has been completed and the customer enjoys your product for some time.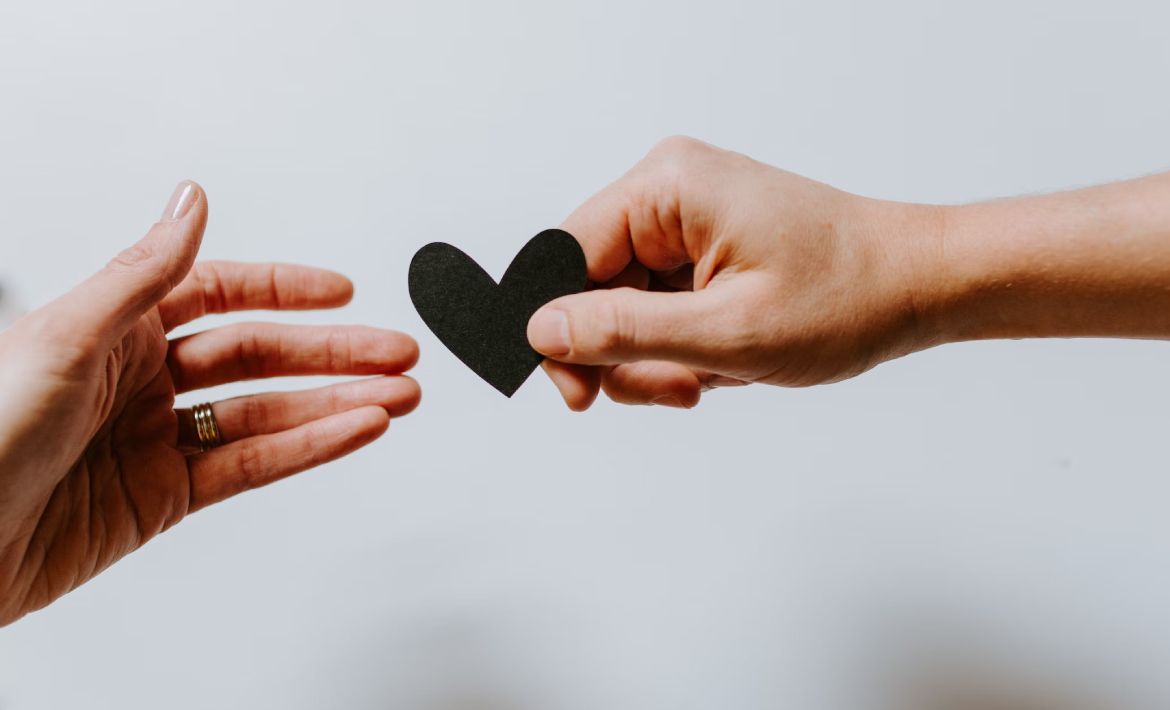 ---
Developing a bulletproof CRM strategy is a challenging task, but with the help of this article, you're on your way to success! Keep on altering your strategy, whenever needed to better suit your goals. Remember, acquiring customer loyalty support, and emotional connection is vital, after all, we are all humans and require that personalised human touch.
Table of Contents
Crack the sales formula with CRM Lab
Twice a month, receive actionable CRM content to your inbox.
Join the
Telegram channel NetHunt CRM
All about CRM and B2B sales.
Join