Take a second and try to remember the pre-pandemic life. I know, it feels like decades ago and a completely different time. Can you trace all the changes COVID-19 brought to your life? Has it affected the way you work?
Coronavirus is already considered to be a significant catalyst for technological progress in the 21st century. Alongside all the negative consequences, the coronavirus also kickstarted the transformation of workplaces and educational institutions. Naturally, it called for enhanced innovation to which all the tech giants have promptly reacted.
Read more: 4 Post-Crisis Priorities for Small Business and How to Action Them.
The most prominent trend for Google in 2020 is developing better integration. The average employee switches between 35 job-critical applications more than 1,100 times every day. (Source: Pega.com) This can have an adverse effect on the productivity of any company. Hence, today, Google seeks to make the bond between its products even more robust so they could cooperate seamlessly. Such innovation allows everyone using Google services (especially G Suite users) to terminate the app switcheroo and, subsequently, enjoy a significant increase in productivity.
You probably start your day by checking emails; so does everyone at Google, and that's exactly where they decided to start with their amends. One of the most significant updates presented by Google to its users is the brand new, super exciting version of G Suite aimed at turning Gmail into a multifunctional workplace for working from home.
Here's what's new and how to get the most out of it!
Free Google Meet Premium inside your Gmail inbox!
Back when lockdown started, in March, the world instantly realised that working together required enhanced means of communication. When the need to cooperate remotely arose, people turned to the most affordable and widely available option on the market. Hence, there's no surprise that a free video calling app garnered the most market share.
It is argued that Zoom became the defining app of the coronavirus pandemic: during the peak of the first wave, it could boast hosting over 300 million meeting participants daily. However, even with all the functionality offered by Zoom, it turned out to be unsuitable for enterprise needs. One big problem with this free video calling software was the fact it was vulnerable to numerous security breaches. These security setbacks identified the need for a more secure alternative, which is why Google stepped in to save the day!
Back in the spring of 2020, Google made its Google Meet Premium access free to everyone with an email address. Up until that point, Google Meet had only been available to G Suite users. Today, however, you can enjoy the bliss of secure and high-quality video meetings as an individual Google user by joining them from Gmail or Google Calendar. For G Suite members there have been some pleasant updates too. Businesses that use G Suite to empower their remote teams now qualify for access to G Suite's advanced features, such as mass streaming (up to 10,000 watchers on one domain) for free!
That's not all. As I have already mentioned, G Suite is moving toward full integration of its products. What does this mean for Google Meet and your business meetings? Recently, Google Meet became available in Gmail, so you can now join meetings straight from your inbox both on Gmail on your desktop and in Gmail on iOS and Android.
This new feature is just as neatly executed. If you check your Gmail app on your phone, you will now be able to see the Meet tab at the bottom of the screen with all your scheduled meetings shown in the 'Upcoming Meetings' section. Those are imported from your Google Calendar, and all it takes to join them is a single tap.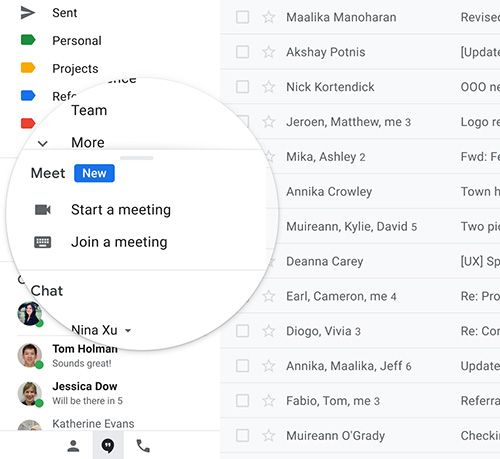 If you don't have any meetings saved in the calendar, you can engage with the Meet tab by organising a session yourself. To do that, tap the 'New Meeting' button and choose one of the three options: get a meeting link to share (starts a meeting but doesn't join it), start an instant meeting, or schedule one in the Google Calendar. However, when it comes to Google, we always talk full integration, so you can also join other conferences not saved in your Google Calendar by entering the meeting code, all from inside your Gmail app. That way, you could stay on top of your workflow without missing a single detail!
Besides, you have full control over this feature in your inbox. If, for any reason, you would rather keep your Gmail Meet-less, you can easily do so by updating your settings: simply deselect "Show the Meet tab for video calling" under "Meet" within your Gmail app Settings.
Further reading: How to use Gmail as a CRM tool
It has become easier to chat
No matter how much you love video calling, it's a proven fact that business teams spend the most time chatting via text messages. There are currently numerous third-party products for efficient work communication such as Slack and Discord. Google's alternative is Google Hangouts… or is it? The next Google product that hopped on the integration trend is Google Chat. It is intended to replace Google Hangouts and become the most productive way of communicating with all your colleagues from inside your Gmail inbox.
Google Chat is now a part of Gmail on web
Google Chat is yet to be introduced in Gmail for iOS or Android, but it's already accessible to Gmail-for-web users. Back in July 2020, Google gave its G Suite users a marvellous opportunity to have all their conversations running in one place.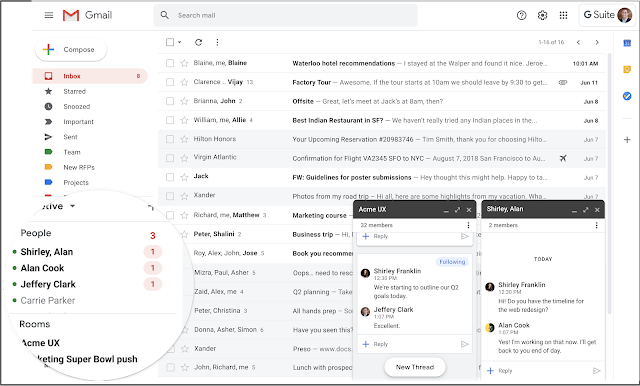 You can transfer all of your users from Google Hangouts to Google Chat by selecting the appropriate option in the Admin console. All you need to do is  enable the "Chat preferred" setting and Chat becomes the default app for all the communication taking place within your G Suite company account.
If you are a devoted fan of Google Hangouts, here are some of the reasons why you'd like to switch to Google Chat instead:
Minimal disruption of changing tabs to check conversation updates; able to access chats from within your Gmail inbox.
Google Chat supports both 1:1 and group direct messages.
Offers emoji reactions to boost your productivity and simply send a fun emoji instead of typing out a long 'Thanks' message over and over again.
Bot integrations are enabled.
You can forward messages to your inbox straight from the Google Chat application.
It's possible to edit and delete messages.
Google promises to add this feature to its mobile Gmail app for both Android and iOS devices very soon, so stay tuned!
The range of collaborative functions of Google Chat has expanded
As you may have noticed, Google Chat is a fully functional Gmail application that can easily replace a lot of existing third-party software for communication. At the end of the day, it seems like it's mostly a matter of personal preference, since a lot of the features seem very similar. However, once again Google surprised us with even more functionality. Chat rooms as a part of Google Chat are, too, now accessible from your Gmail inbox and have become even more exciting. It might be the best solution for your long-term projects by letting all members of your team stay on the same page, even if they are essentially using different pages.
Chat rooms enable adding shared files and tasks. You can now share files and create tasks for your team members without leaving the Gmail inbox.
Shared chat, to-dos, essential documents available in one place.
Include people outside your company.  Another fun update offered as a part of the new Google Chat is the feature allowing you to add contractors to your group chats. That way, you can make your productivity go through the roof as you'd have all the parts of your production line in check and place. Make your communication cross-organisational!
Give it a search
According to the Guardian, the average office employee receives 121 emails per workday and sends out about 40 of them (Source: The  Guardian). Some of us are way above the average though! It's not surprising that with such a stream of information, some details can get lost. Organising and managing your inbox effectively is the key to enhanced productivity. You want to have all your correspondence in place and easily accessible. The best way to do this would, of course, be to employ a Gmail CRM system such as NetHunt Gmail CRM. It helps you to manage your pipelines and have all your emails sorted and labelled.
Read more: How to Use Gmail as a CRM.
If that's out of your price-range as a SME business, instead you can use Gmail as a CRM, especially since Google is providing its users with more and more tools to make sure it's easy to keep your things in order.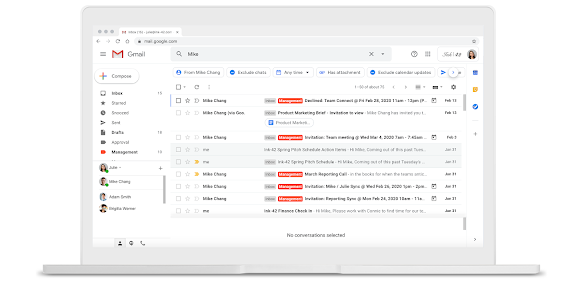 In its latest update, Google presented its G Suite users with a cross-functional search. With enhanced integrity within the platform, you can now benefit from using the ever-so-powerful Gmail search tool and look for key phrases and essential file attachments, not only within your emails, but in chats too!
A larger arsenal of tools
On top of the aforementioned big product news, Google also implemented an array of important details aimed at making your workday more productive. Here are some of the Gmail updates for better productivity and smoother communication:
You can now pin important rooms. If you are focused on working on one particular important project and spend your days discussing the details of it, you don't want to waste your time looking for the chat room when it continuously goes down in the list. To save yourself some time, pin the rooms you need the most at the top of the list, so they're easier to find and access.
Set your availability to "Do Not Disturb." If you are on a call, or simply need some concentration to finish that business pitch, you can let your colleagues know by indicating it in your availability update.
Make sure you have a good work-life balance with status notices like "Out of office."
Read more: How to Automate Your Email Routine in Gmail.
Enhanced security for better results
More features — increased usage — more valuable information. With the increased capability of Gmail, it's only natural that stronger security measures are needed. Google got your back! Alongside the Gmail functionality updates such as Meet and Chat within Gmail, it has also rolled out some innovative security measures aimed at keeping your productivity strike safe and uninterrupted. The most important features include:
Knocking controls. The host of the meeting has more control over who attends their meetings. In order to disable meeting attacks, once an attendee is ejected, they won't be able to attempt to join the same meeting again by knocking unless the host re-invites them.
Safety locks. Hosts can now give presenting and chatting rights to the attendees of their choice.
On top of that, Google also strengthened its anti-phishing protection so you can now rest assured the links you open from your emails or chat aren't malware or virus.
Something wicked, this way comes
Regardless of how cool the updates are, there's always room for improvement. Shortly after the new exciting features Google already introduced in 2020, it's working on more stuff that will be available to G Suite users in the near future:
Picture-in-picture video calls right in Gmail
The integration of Google Meet into content tools, e.g. Slides, Google Docs, etc.
These updates are Google giving you a little push along the path to maximum productivity. If you don't want to wait any longer and would like your business to employ the most efficient system right now, transform your Gmail with NetHunt Gmail CRM! It offers a 14-day free trial for you to check it out and see how easy organisation becomes with it!
Apply Now
Crack the sales formula with CRM Lab
Twice a month, receive actionable CRM content to your inbox.
Don't forget to share this post with friends and colleagues!