Let's see what an HTML email template builder is plus what top five ones you should try
It can take you so long to build a mailing list, that you forget why you were even building. Well, let us remind you. You went through all the blood, sweat, and tears of email list building to get an audience to whom you send your email campaigns.
They've joined your list and are now waiting for an email for you; expecting your brilliant content in their inbox any minute now. All you need to do is play it cool and give your subscribers exactly what they want, a beautiful email campaign. Thankfully in the era of rapid technological advancement, you can get a gorgeous custom-made HTML email template, even if you do not know HTML.
Want to know how? Four, simple words: HTML email template builder!
In this article, you'll learn:
What is an HTML email template builder?
An HTML template builder is a tool to create reusable HTML files that can later be exploited to build email campaigns. There are a lot of benefits of using an HTML email template builder, instead of coding the file yourself. Some of these benefits include...
It's time-efficient. Even if you're an HTML email template expert, manually crafting a template takes a lot of time and effort. It's much faster to build an HTML template with the help of dedicated software.
It crafts more advanced, better-looking templates. Most modern HTML email template builders have extensive functionality, allowing you to make your templates pop.
It's easy to get started. A lot of the best email template builders have a selection of ready-made, customisable templates. The library of themes and templates gives you a headstart; all you need to do is edit it to fit your brand image.
It ensures templates are compatible with a wide range of email clients. You want to double-check your HTML file works across email clients, so your mailing list subscribers see the email as intended. An HTML email template builder optimises generated code to be compatible with most email clients.
It makes teamwork possible. Bring your marketers and designers together on email campaigns. The majority of HTML email template builders offer collaborative functions that enable effective and fruitful collaboration.
It's accessible. You don't have to carry your work computer everywhere with you. Since most HTML email template builders are online tools that autosave sessions, you can come back to a template at any time and access it from any device.
The key features to look for in an HTML email template builder
There's a vast market of HTML email template builders. There are options available for every necessity and every budget. Variety is good, until the time to make a choice comes. When looking for the best HTML email template builder for your business, you need to make sure you know what comprises a great tool.
There are a few key features every great HTML email template builder should have for you to get the most out of your experience using it:
An extensive library of ready-made templates. If you don't fancy creating templates from scratch, you should have an option of editing and customising pre-made templates.
A built-in image editor. While most people prefer to use separate editors to manipulate the visual contents of their email templates, it's still nice to have a built-in image editor for simple edits.
A quick preview option. You must get a chance to see what your finished template will look like for the email recipients before you use it to build an email campaign.
Compatibility with email clients. For your email campaigns to be efficient, the emails within them need to be displayed correctly. You want a builder that produces templates that work with as many email clients as possible.
The ability to integrate with email service providers (ESPs). Building an email campaign becomes more comfortable when you can import templates straight from your inbox.
Easy to use, intuitive interface. You don't have all day to wrap your head around how everything works. An HTML email builder should make your life easier.
High-quality, responsive HTML email output. Your builder must provide a heap of different functions for you to bring your wildest HTML email template ideas to life.
The ability for teams to collaborate. Teamwork makes the dream work! Look for a builder that allows you to work on templates collectively and in real-time.
The top 5 HTML email template builders in 2023
Once you've established which features are the most important for you, you may start exploring the market to find the tool that best matches your criteria.
You should start your search off by checking out the best HTML Email Template Builders in 2023. Here at NetHunt, we believe that sharing is caring. We care lots about you, so we've shared a list of five HTML email template builders that are 100% worthy of your attention.
Mailchimp is the biggest name in the industry. Even if you're a beginner in the world of email marketing, you must've heard of it. This ESP has a considerable fan base, with 23% of email marketers worldwide choosing Mailchimp over anything else. With good reason; Mailchimp is incredible, and it has a built-in email template builder to match.
Favourite feature: Custom templates. Although Mailchimp itself doesn't have that many ready-made templates, it's the most popular email template builder, so there are millions and millions of third-party templates you can import and edit. You can look for some here.
It's one of the most straightforward, easy-to-use tools on the market. It uses a drag-and-drop interface, so you can quickly put together an HTML email template without knowing how to code. Create a stunning template by filling out a blank template with the required elements. With a custom-made template, you're in charge of how your finished product looks.
If you need a more solid starting point, Mailchimp also features a selection of ready-made templates to fit almost any occasion.
The Mailchimp email template editor is pretty flexible in terms of template customisation. You can play around with different elements, change their position on the canvas, and play with how they interact with each other. Unfortunately, there isn't a built-in image editor yet, but you can combine Mailchimp with some other tools for the best results.
Once you're done editing your template, you can save it in your Saved Templates folder and export them as an HTML file. However, because Mailchimp is an ESP, you can launch your campaign without using any third-party apps and tools.
Price. Free. Paid subscription starts at $9.99 per month.
Moosend is an all-in-one platform for email marketing. It's suitable for businesses of any calibre, both small and large. It offers a lot of different features, such as A/B testing, data analytics, and list segmentation. The feature that deserves particular attention is the service's built-in drag and drop email template builder.
Favourite feature: Device-specific preview. If you like to have absolutely everything under control, you'll find this feature as hot as we do! You can preview all of your templates in real-time, on different devices, simply by clicking on the button of the device that interests you - a mobile phone, a tablet, a computer.
"All the benefits of email marketing, minus the coding."
One of the best things about Moosend is that it offers a forever-free plan for you to nail HTML email template creation. All you need to do to access this offer is create an account. The email template builder is famous for its extensive email template library, filled with a variety of ready-made, responsive templates designed to be compatible on desktop, mobile, and tablet devices.
Browse the different categories of the template catalogue and find a template that suits your needs. Then use the editor to add more personality to your chosen template, making it brand-specific. The drag and drop template builder is equipped with a heap of different elements that help you create a gorgeous, stand-out email campaign.
Moosend email template builder offers an image picker that integrates with Stock Photos, Google Drive, and social media platforms, providing some great visuals for your template!
You can store all your templates in the custom library, exporting them as HTML files to use in your next email marketing campaign.
Price. Free. Paid subscription starts at $8 per month.
HubSpot is a huge competitor in the email marketing space, and even bigger when it comes to Customer Relationship Management (CRM) or all-in-one business tools. Whether you're a marketer or a sales representative, you've probably come across HubSpot one way or another. Under their overall "Sales Hub" with almost 9,000 reviews and a 4.4-star rating on G2, HubSpot offers an intuitive drag-and-drop email builder.
Favourite feature: All-in-one data sync tools. With HubSpot, your email template builder can connect with all your other teams and tools from Customer Service to Marketing. Your customer data that help personalize your emails can be shared with other teams to optimize your entire funnel and customer journey.
HubSpot's drag and drop template builder is easy to use and requires no coding experience. You can easily drag and drop different images, text, videos, and more. Whether you start from scratch or use a built-in template from their library, your templates can be exported to any of your inboxes from Outlook, Windows, Gmail, and more.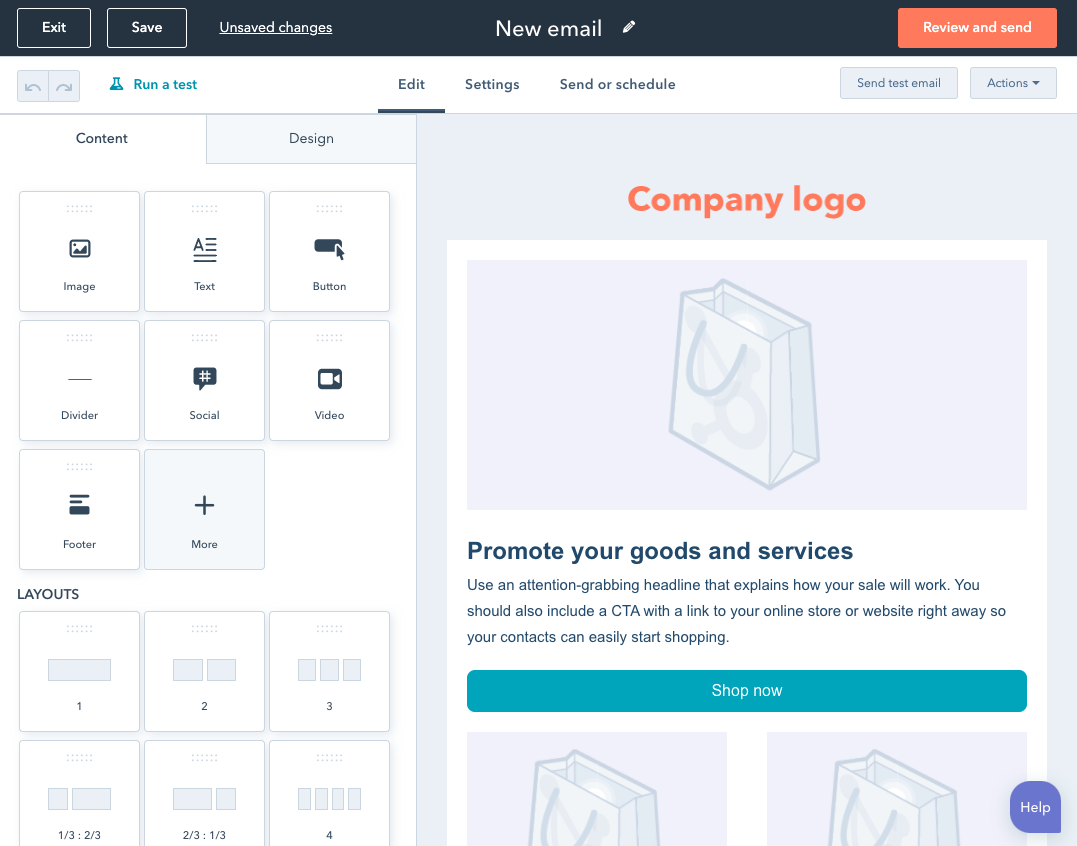 As an email marketing platform and CRM, HubSpot provides hundreds of templates designed to your topic, content type, customer persona, and customer stage in your funnel. You can take these templates and personalize them based on your specific customer data stored in the CRM.
If you decide to send out an email, you can access real-time metrics that show which one of your templates is performing well or which ones need the most attention. You also get more in-depth analytics on open rates, click rates, subject lines, and more. Any template can be stored in your account and be used for future outbound emails or marketing campaigns.
Price. Free. Paid subscription starts at $45 per month.
Stripo is a tool for email marketing connoisseurs. If you've already seen it all and are convinced that nothing can surprise you anymore, buckle up! You're in for a ride.
Favourite feature: Image rollover effect. You can easily gamify your email marketing campaigns by adding a bit of spice to it. There's an automated 'Rollover effect' you can apply to your email in a couple of simple steps:
upload image;
in the settings panel, toggle the "Rollover effect" button;
upload the second image — edit it if needed;
insert URL link — it will be tied to both images;
enter the "Alternate text".
In the end, you'll get something like this:
Just like all the other email template builders on the list, Stripo is an email template builder that allows you to create "professional and responsive email templates fast without any HTML skills". It has a great drag-and-drop editor that you can use to design a highly-effective, modern, and beautiful email template ready to import as an HTML file.
Stripo previews your email templates across 90+ popular environments, including multiple mobile devices. This way, you can test your templates to make sure your mailing list subscribers see precisely what you want them to see.
On top of that, Stipo also has a library of custom modules that helps reduce often-repeated operations. You can either opt for customised modules from a personal library or use the advanced modules from the Modules library that have been built by Stripo's professionals.
You can also sync Stripo with almost any popular ESP, seamlessly transferring all your created email templates.
Price. Free. Paid subscription starts at $10.42 per month.
BEE is an acronym for Best Email Editor. It's a bold statement, but it's safe to say that BEE lives up to it. It's one of the best free HTML email template editors available at the moment.
Favourite feature: Integration with Vimeo. You can spice up your email marketing with a dash of video marketing by incorporating a Vimeo video right into your email template.
Unlike a lot of other tools that claim to be free but only provide you with the most basic functionality, BEE is free. It offers access to a powerful drag-and-drop email template editor at no extra cost. You don't even need to sign up to start working on a template.
It offers users an opportunity to create HTML email templates from scratch by picking a blank template. Similarly, there are a bunch of ready-made templates. If you decide to go with the latter, you'll be surprised by the number of beautiful, free responsive templates at your disposal.
There are over 540 free and professional email templates to utilise.
They're all grouped by categories, so you can look for specific templates depending on the purpose of your email marketing campaign or the industry your business operates in. The four categories are "Usage", "Automated", "Industry", and "Seasonal".
The editor itself is very user-friendly. It has three built-in tabs that allow you to manage the content of your email template, its rows, and general settings. The types of content you can add to your email template are quite diverse:
You can upload a picture or choose one from the stock library, and then edit it using the built-in graphic editor.
You can embed a YouTube or Vimeo video.
You can liven up a template by incorporating a GIF or a sticker. There's an extensive gallery to choose from.
You can add your socials in a couple of clicks.
BEE allows you to navigate a history of your edits. One downside is that it's not a cloud builder; you won't be able to save it to the cloud and work on it later. However, the tool does save your latest templates to your system, so you can pick it up from where you left it when you start a new session on the website.
Once you're done editing your email template, you can preview it, test it on yourself, and save it for later use. Your email template will be exported as a ZIP folder with the HTML file and all the images incorporated in it.
If you want the opportunity to integrate BEE with a supported ESPs such as Zapier, Gmail, or Mailchimp, you need to upgrade to the paid version.
Price. Free. Paid subscription starts at $15 per month.
Campaign Monitor promises to create a stunning, responsive email template in under 60 seconds. At first, we thought it was just a marketing stunt, but the Campaign Monitor drag-and-drop email template builder is really that easy to use.
It boasts an intuitive user interface, meaning no wasted time wondering what does what. It's pretty straightforward; you get exactly what you see.
Favourite feature: GDPR compliance. Campaign Monitor builder provides you with a heap of different options for your standard footer 'unsubscribe' button as well as a custom subscriber preference center link and an explanation as to why a subscriber is receiving the email, useful as a permission reminder.
Campaign Monitor doesn't have as many pre-designed email templates as other tools on the list, but the ones it has are top quality. Campaign Monitor designers worked hard to present a selection of impeccable templates to help boost conversion of email campaigns. All of the templates are very responsive and simple to edit and fit your brand style.
If you want to exercise creativity, you can opt for a blank template and build it from scratch. There are many different outlays available to use, designing your emails precisely the way you want them to.
One of the best features of Campaign Monitor is that it allows you to work collaboratively. If you have a large team, this is the tool for you.
Price. Free with limited features. Paid Subscription starts at $9 per month.
We hope we helped you crack the code. With your email template building sorted, make sure your templates are GDPR compliant, and you send them off as part of your email campaign!
Table of Contents
Crack the sales formula with CRM Lab
Twice a month, receive actionable CRM content to your inbox.
Join the
Telegram channel NetHunt CRM
All about CRM and B2B sales.
Join