NetHunt Ranks as a Top CRM in G2 Crowd Summer 2018 Grid Report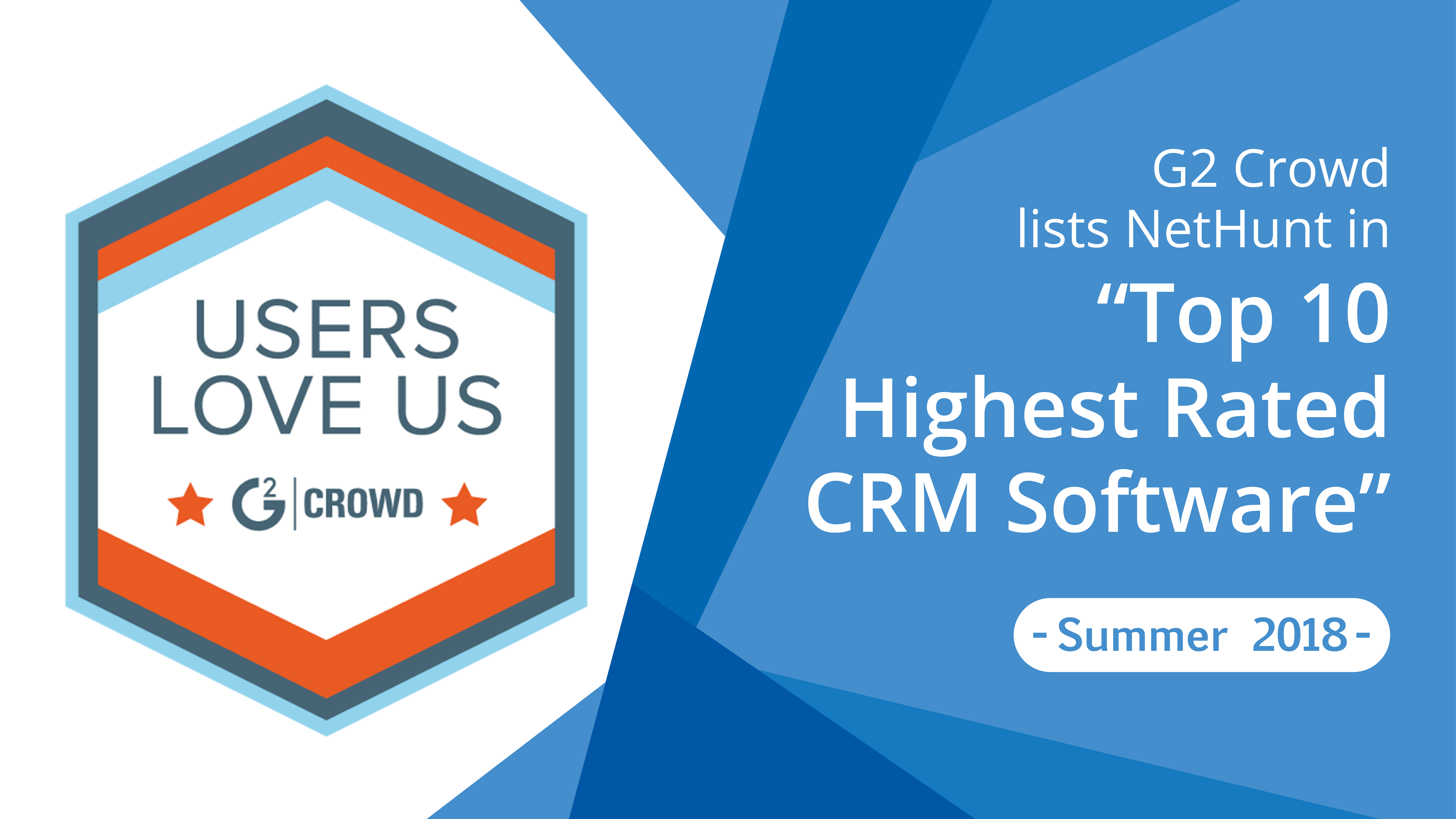 The CRM landscape changes quite often. And there are companies which try to keep up with the industry and provide their readers with the latest news, developments and statistics. G2 Crowd is one of such companies. Each quarter the researchers from G2 Crowd publish reports dedicated to establishing which CRM systems (and other tools) are amongst the most popular ones for businesses worldwide.
Just recently, G2 Crowd has published a fresh new report detailing the top CRM systems as of summer 2018. And we're proud to announce that NetHunt CRM is among the top CRM systems on the market!
Among various CRM systems represented on the site, NetHunt is recognized as a High Performer and holds one of the highest scores: 4.7 out of 5. High Performers are those products that receive exceptionally favorable reviews from their users and are on their way to achieving significant market share and scale.
This summer, NetHunt CRM is featured in ten G2 Crowd indexes, among which are:
Grid® Report
Small-Business Grid® Report for CRM
Grid® Report for CRM
Implementation Index
Implementation Index for CRM
Small-Business Implementation Index for CRM
Relationship Index
Small-Business Relationship Index for CRM
Relationship Index for CRM
Results Index
Small-Business Results Index for CRM
Results Index for CRM
Usability Index
Small-Business Usability Index for CRM
Usability Index for CRM
G2 Crowd is the world's leading business solution review platform with a high level of credibility. The Grid, their scoring methodology, is based on over 381,000 user reviews to rank products. Customer satisfaction, market, web and social presence are the key factors that determine a product's rating.
How NetHunt helps your business
NetHunt CRM is a customer relationship management system for Gmail and Google Apps. It serves as a customizable system for organizing business processes and communications, letting you manage business without leaving the inbox. Here are the main features of NetHunt:
With the extremely comprehensive interface, you can manage deals by simply moving your customizable drag-and-drop cards inside Gmail;
NetHunt enables you to send thousands of personalized emails and offers powerful tools for analyzing leads' engagement;
NetHunt was created with our users in mind. That's why we have prepared preset workflows, pipelines and views for various businesses so you can start working immediately;
The smooth performance is one of the key factors that helped us win our customers' hearts. Regardless of how many leads you have, the system allows you to manage your records and deals with no stutter of freezing;
You can afford it. With NetHunt, you get all the comfort of using Gmail fully integrated CRM for a very reasonable price comparing to other similar CRMs.
To see how you can make your life and life of your work team easier with NetHunt, schedule a demo and we'll be happy to introduce you to the world of a simple and highly customizable CRM inside Gmail.