Founded in 2016 and based in Middletown, Delaware, NetHunt CRM's team is on a mission to bring more productivity and balance into clients' businesses working hours.
In light of this, NetHunt supplements powerful CRM functionality to the applications that businesses use every day. With 'CRM Everywhere' the idea is to make NetHunt CRM work for clients by adding compelling CRM functionality to the applications the already use. The expert team provides clients with a full-featured CRM right next to their work emails, chat messages, social media profiles, or calendar events.
The story of NetHunt CRM began in Kyiv and has expanded since then. Today, the team is proud to call NetHunt a Ukrainian company that serves globally. The homelike office is established in the heart of one of the most beautiful and vibrant cities in Europe.
The GoodFirm's team approached Andrei Petrik, the CEO & Co-Founder, who proudly mentions at the start of the interview that Tech achievements and integration with Google brought NetHunt the status of certified Google Partner cracking more cooperation opportunities.

NetHunt CRM is a bonafide, fully-featured sales automation tool that works as part of clients' regular Gmail inbox. The team helps the users generate, organize, and nurture leads, automate their sales and marketing processes, and generally stay on top of and grow their businesses.
Narrating the objective behind coming up with this software, Andrei cites that initially, he worked for an enterprise-sized CRM that required performing servers, holding two-week training sessions. He wondered why CRM wasn't pliable enough to bend to fit a business rather than the other way round. The group pondered why it couldn't just be a simple solution that keeps clients' whole business under one tab. The team wanted to do innovative work instead of hard work and thus, invented NetHunt CRM.
Talking about how the CRM is beneficial from a value addition perspective to clients' businesses, Andrei beams that NetHunt's CRM is a Gmail CRM. It's not just a mere sidebar; it communicates with every phase of an existing Gmail inbox and other Google Workspace applications.
NetHunt has managed to get record snippets next to linked emails, a complete CRM dashboard, automated record updates, third-party integrations, a workflow builder, drip campaigns, and loads more inside Gmail.
Continuing with the interview, Andrei explains the features of the CRM point-wise:
The CRM organizes contacts and related data, moves leads through the sales pipelines, and automates most routine tasks.
CRM for Gmail is developed to lift the strain of humdrum, routine, manual work by shifting focus and energy onto the things that matter for your business.
Small businesses tend to adopt Gmail CRM because it automates lead nurturing and engagement with prospects, leads, and users; while maintaining a human touch.
It also sends drip campaigns from clients' Gmail and allows sending regular email campaigns, mail merge, and track email performance - clicks, opens, bounces, etc.
Clients can automatically add leads captured with web forms to NetHunt CRM.
It automatically nurtures leads with email sequences.
Asides from this, Andrei also explains the integrations NetHunt CRM incorporates to get more out  of tools that businesses use by tying them up into a single environment. The way NetHunt integrates with Gmail is unmatched. Customer details, deals, opportunities, pipelines, and filtered views — it's all right there, next to clients' emails. But NetHunt is not limiting their integrations list to the Google Workspace family and integrates directly with other tools like LinkedIn, Intercom, Facebook Messenger, Data Studio, etc.
"NetHunt's team made a conscious decision not to limit themselves to the boundaries of being a one-industry tool," says Andrei. The team serves clients from tech startups to big, swinging financiers and real estate agents, from garden landscapers to not-for-profit organizations. The team creates uniquely software that helps businesses of any size grow.
Proceeding further with the interview, Andrei mentions that NetHunt works on a subscription-based model. The team aims for retention percentage to be as high as possible because its customers' success amounts to NetHunt's success. If they find growth and success with the product, NetHunt's product will grow and be successful as well. Thus, with such excellent features, NetHunt gets dubbed as one of the top CRM Systems amongst the listed ones at GoodFirms.
The reviews obtained at GoodFirms reflect the quality service offerings rendered by NetHunt CRM.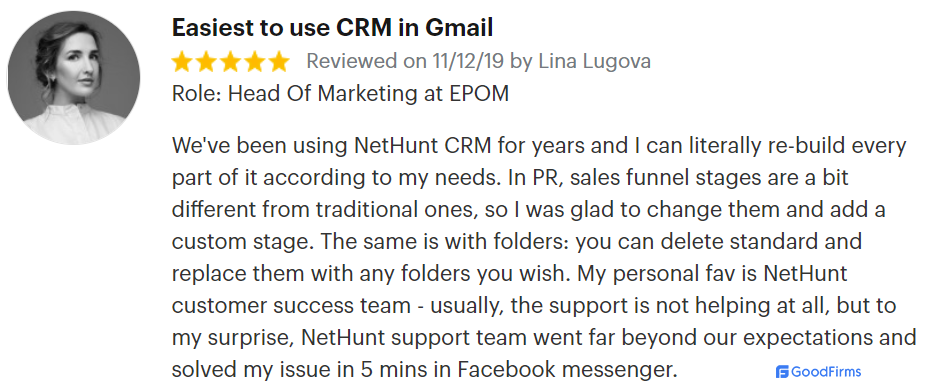 Moreover, Andrei also mentions that NetHunt has implemented a Customer Success (CS) model. It is working! Where a customer support team responds to one-time questions with one-time solutions — a CS team practices foresight and uses research, and improves connections to stop those problems from ever occurring.
Still, when customers have an urgent request, question, or query, the team makes sure they get an answer as soon as possible. That could be either a detailed answer from the team or a link to a relevant Help Center article or blog post that can help them.
Concluding with the interview, Andrei cites that CRM is the fastest-growing SaaS industry, meaning it's emerging at an alarming rate. Indeed, the product that they have now is not the final vision. In time, Andrei safely predicts that it's going in the AI direction, as most technologies are.
Thus, having read the excerpt from the interview given by Andrei Petrik, one can also go through the detailed interview published at GoodFirms.
About GoodFirms
Washington, D.C.-based GoodFirms is an innovative B2B Research and Reviews Company that extensively combs the market to find the best software agencies amongst many other technology firms that offer the best services to their customers. GoodFirms' extensive research process ranks the companies, boosts their online reputation and helps service seekers pick the right technology partner that meets their business needs.
About the Author
Anna Stark is a staff writer with GoodFirms – a Washington D.C.-based B2B Research Company that bridges the gap between service seekers and service providers. Anna's current role includes gauging companies' performances and their key attributes and putting them into words. She firmly believes in the magic of words. She is always looking for new strategies and ideas that companies have gladly embraced and exclusively shines a light on those to make their identities shine brighter on GoodFirms and the World Wide Web.
Table of Contents
Crack the sales formula with CRM Lab
Twice a month, receive actionable CRM content to your inbox.
Join the
Telegram channel NetHunt CRM
All about CRM and B2B sales.
Join