I want to tell you a story about how I grew the domain rating (DR) for NetHunt, by 20 points, in just six months. But why do I want to tell you?
Well, obviously I'm pretty pleased with myself. I got real life results from a process that took six whole months - I set out with a goal and I achieved it. Go me!
Secondly, I want to offer worthwhile advice to my fellow business community. I've learnt so much from them myself, it's time for me to give something back. And besides, it wouldn't be a NetHunt article without good, actionable advice. 😉
Oh, and I also managed to get 51 backlinks in one month, which is pretty groovy. Stick around until the end of the article to find out how I did that!
Let's get growing!
---
Why should you care about DR?
A better DR means higher rankings on the search results. We operate in a very competitive market, and organic traffic is precious. Paid channels, such as Google ads, Facebook ads, LinkedIn promotions, and paid media listings can cost a pretty penny.

Search traffic also brings users with higher buyer intent, meaning that it's easier to convert our blog audience into paid users of our service. Obviously, more users means higher revenue.

But as we soon found out, that's easier said than done.
Our struggle.
We'd been trying to grow the DR of our website for a few years. We tried working with a few different dedicated SEO agencies, the advice of well-known SEO experts, and a bunch of different strategies they recommended, but we weren't getting the results we wanted.
We did a lot of paid guest posting, directing generic content at questionable websites; we wrote a lot of generic blog posts aimed at high-volume keywords. We got traffic, sure… but it meant nothing. It was actually more trouble than it was worth for our support and sales department, who were inundated with empty enquiries.
I actually remember one post we uploaded which was all about selling puppies on Amazon… We're a tech company which has nothing to do with selling puppies on Amazon. Yeah - you won't be seeing any of that content any time soon. 🥴
Years passed and everything we tried bore no fruit. We changed our SEO service provider, redesigned our whole website, explored new content marketing topics and niches, engaged in an endless cycle of trial-and-error, and only ended up losing the marginal gains we made with our previous strategy. We lost every single one of our SERP positions.
At this point, SEO felt like a mythical beast - impossible to tame; beyond impossible to find. It was time for us to change our approach. We needed a fresh start.
The fresh start.
We started working on growing our DR in May 2020, when we had a domain rating of 41. We went back to basics. We sacked our SEO agencies and 'experts' and ploughed our own field. I chose to become an in-house SEO expert myself. As the PR and Communications expert, it only seemed like a natural progression of my existing duties.

I researched, studied, planned, and devoted myself to increasing the domain rating of our website. I'm grateful to our business community, who spend time pouring their experience and know-how into the internet, meaning we can apply their expertise to our own professional lives.
By December 2020, we could boast 20 points on top of our domain rating with no budget - just six whole months of sweat, some tears, and determination. If you feel an affliction with our journey; if you're about to embark on a DR journey yourself, then this article is for you.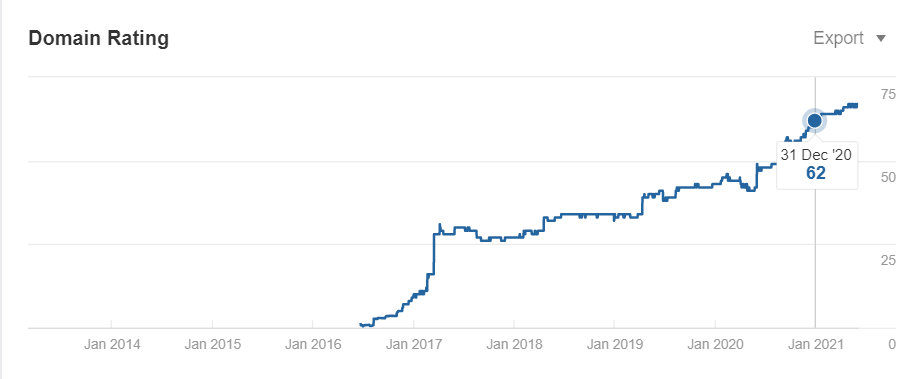 So what did we achieve? I guess now is a good time to share my results, as proof that the strategies in the following article actually work. As above, we increased our DR by 20 points in just six months. We also saw a few other favourable results that I'm happy to tell you about.

An increase in keywords numbers in positions 1 - 3 for the US: from 50 to 156.
An increase of organic traffic in our target location, the US. It grew from 1,000 in May 2020 to 6,000 in December of the same year.
We scored first position for our main target keyword.
We managed to receive 51 backlinks in one month! Stick around until the end of the article, and I'll explain exactly how I did it!
The journey.
It's no secret that the primary factor of any sustained DR growth is the number of high-authority, high-quality referring links that a website has. Our focus was on obtaining those links. To that end, I created a list of target pages and links for which I wanted to rank first. Then, I made a list of relevant anchors for those pages and went in search of links for them. This is what my list looked like...


I set my sights high - I wanted to achieve at least 30 links per month. Now, this wasn't going to be easy. This target seemed particularly unrealistic, seeing as though I lacked the experience of developing backlinks on such a large scale. I didn't really know where to start.
You see, there are a bunch of different strategies out there. The short version of this story is that I used most of them. The next section of this article walks you through every strategy I use.
---
1. Link exchange.

What is link exchange? Link exchanges are a quick way to receive backlinks. It's the practice of adding a partner's, pre-agreed and relevant link to your website in return for a relevant link to your blog post on their domain. For example, if we write an article about cold calling, we expect link exchange requests from brands who specialise in cold calling technology.

For that, we get a link in return.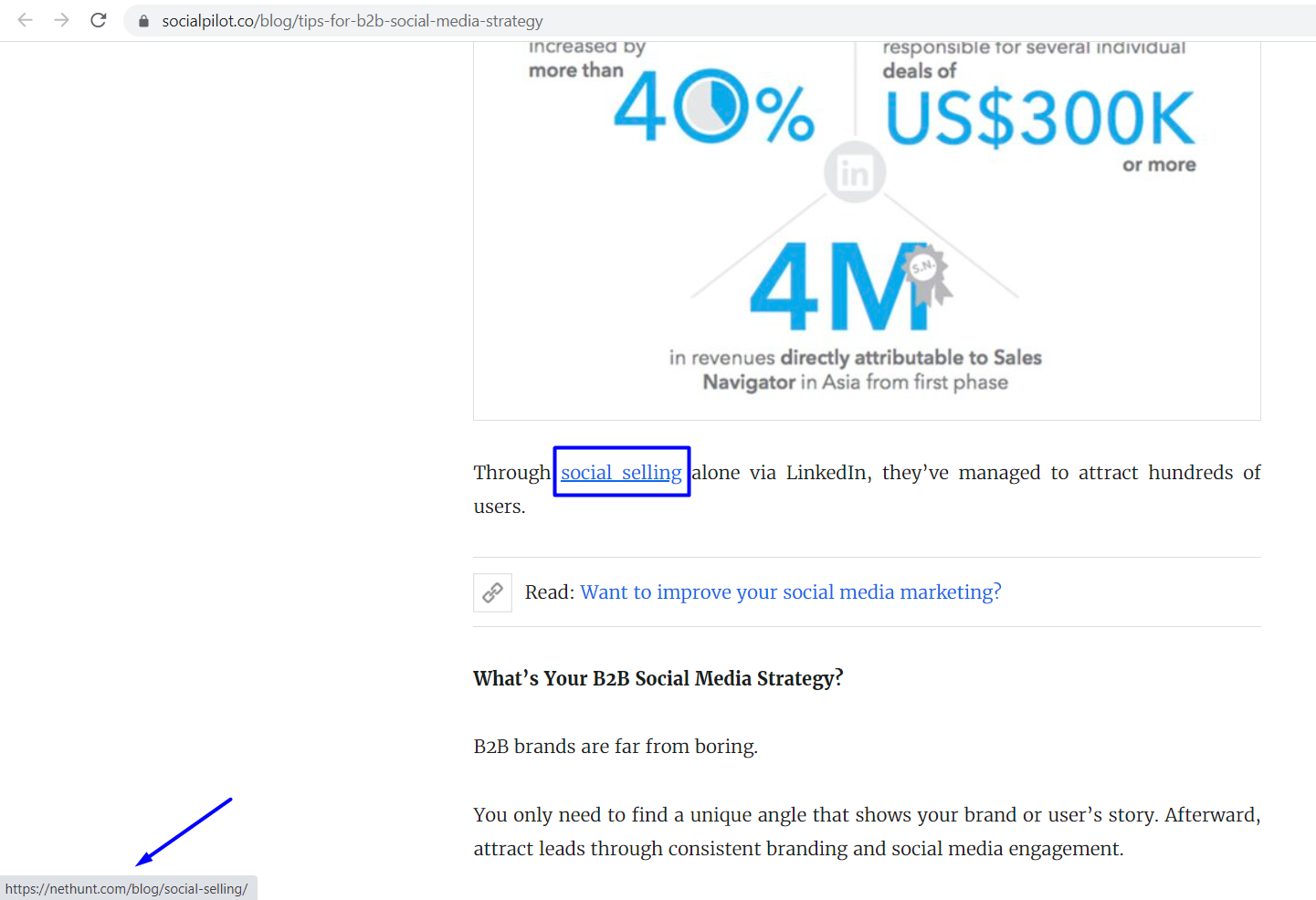 As part of my research, I read some 'expert' opinions telling me that link exchanges don't work and can actually harm a domain's reputation. As curious as I am, I needed to find out for myself.
Spoiler alert! Link exchanging works💃.
On the surface, link exchanging seems simple enough. We find another brand looking to improve their own DR, fire them an email request, and exchange links. It's actually not as simple as that.
In terms of our side of the deal, I only insert links and choose anchors that fit organically with the content of the article—no misleading anchors, no misleading content. Sometimes I had to sacrifice an extra connection to avoid adding irrelevant content. We needed to envisage the bigger picture.
I wanted to add relevant content and links to add reader value to our blog. And this approach works positively for the growth of DR and as a result, search positions for our targeted pages. Around 50% of the links I got were too targeted for the target pages I'd prioritized at the beginning of my journey; the rest were to our other blog posts and landing pages that were relevant.
Here's what I look out for when I'm adding a link to our blog...
The DR of the requesting brand should be no less than 10 points lower than ours.
Anchor text should be relevant to the added link; not competing with our target keywords.
Linked content needs to be high-quality, matching the anchor and content of my blog post.

As our DR has grown, we've had loads more requests to insert backlinks into our existing blog posts.
That part is easy - brands come to us and we can choose which links we insert. In terms of actively searching for backlinks ourselves, the mutual nature of link exchanging means there are plenty of active communities out there.👇
At the time, I only considered free membership communities such as the ones listed above. In these groups, you'll tend to receive do-follow links. I'd recommend discussing this kind of detail with your exchange. You don't want your content to be tagged user-generated content through a no-follow link.
I found this out the hard way: Don't be shy; negotiation is key when exchanging links.
Link swaps were a good starting point for me; a way for me to dip my toes into the backlink water. We added seven points to our DR within the first month of our backlink programme. Not bad!
Still, I wouldn't recommend relying on link swaps alone. It can be difficult to scale because links get removed, audiences can be limited, and you see no wider impact on your business in terms of traffic, conversions, and revenue. We need to look outwards for further link-generating opportunities.
NetHunt's Hot Tips
All in all, here are a few insider tips I learnt along the way on my link exchanging travels…
You can add a link to your blog, but never receive a link back. Follow up until you get it.
Your backlink can often be removed in as little as a month. It's extremely common.
Look out for unnecessary tags being added to your content: no-follow, user-generated etc.
If you've hit a dead-end, keep going. Periods of plateau are common, but things get easier.
Even though the aim of the game is to obtain links with a higher domain rating than our own, links from lower domains also work. I follow the minus 10 formula. Any website with a DR within 10 of our own is worth chasing for a link.
2. Expert comments on media and brand blogs.
Throughout this process of research, education, and application, I grew rather fond of some of the media sources I was visiting. I had a thought - wouldn't it be cool to feature in these kinds of places? It'd be amazing to have our brand name up there, featuring comments which cement us as industry experts and leaders… alongside a cheeky backlink, of course!
I use a service called Help A Reporter Out (HARO). HARO connects journalists, collecting experiences from practitioners for their articles, to brand representatives who want to share their stories and opinions. Upon selection, we receive full credit in the articles and a backlink to our site.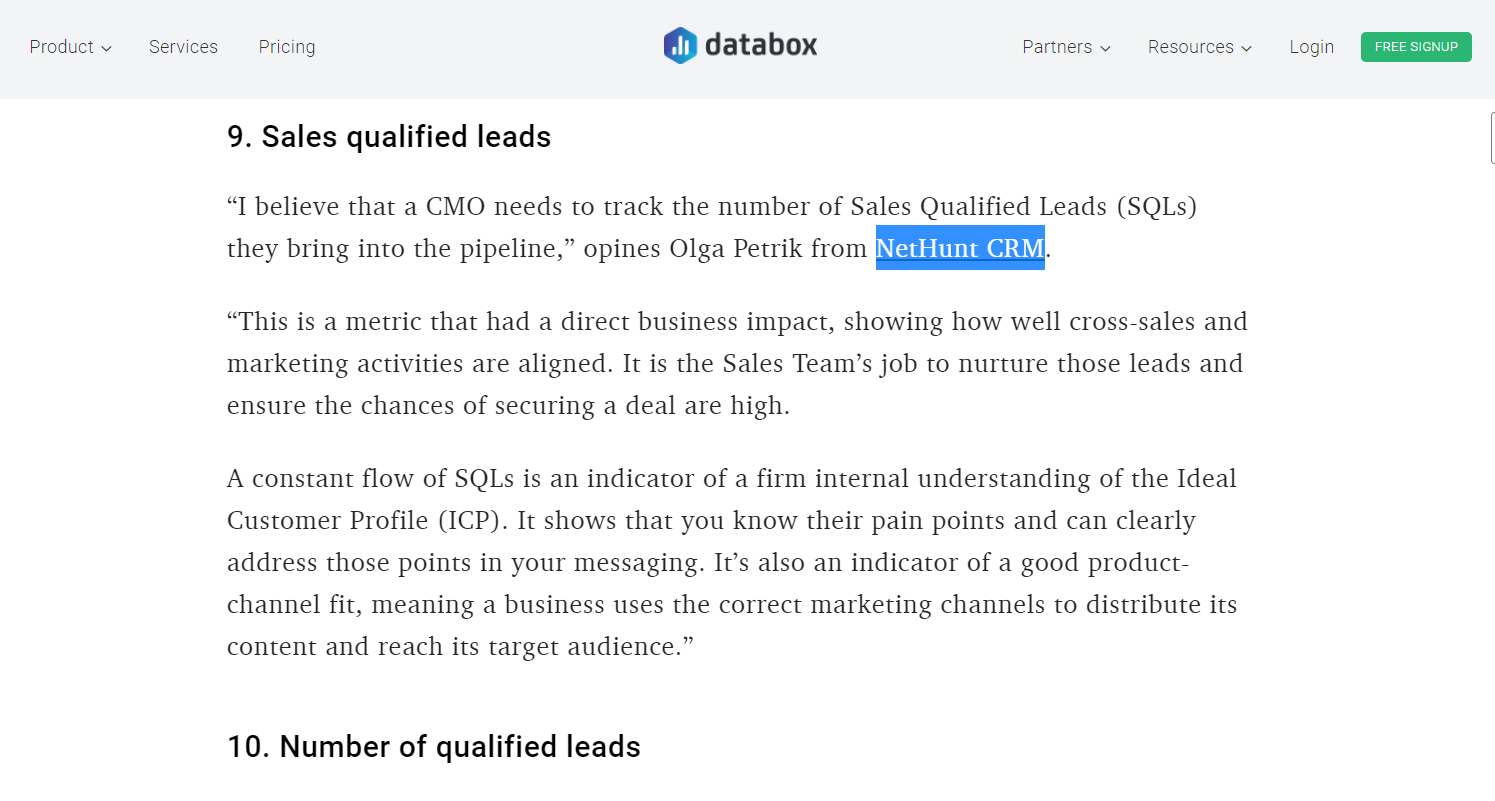 HARO offers links and mentions from high-authority media outlets such as Forbes, Inc, CMSWire, and Lifewire. As a result, content submitted to them should be in-depth and superior quality. You should also act fast. HARO sends bulk emails, three times a day with journalist requests, often selected on a first-come-first-served basis. Ignore the deadlines, provide answers immediately.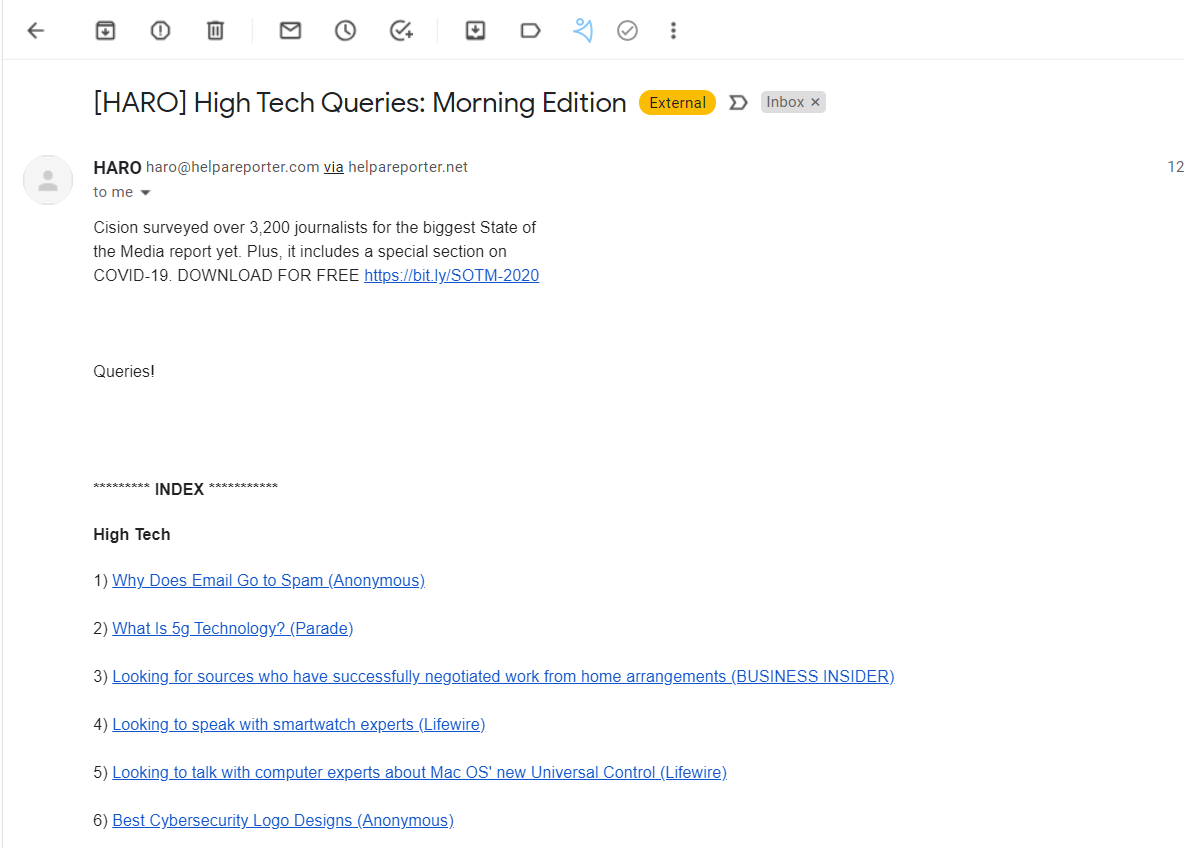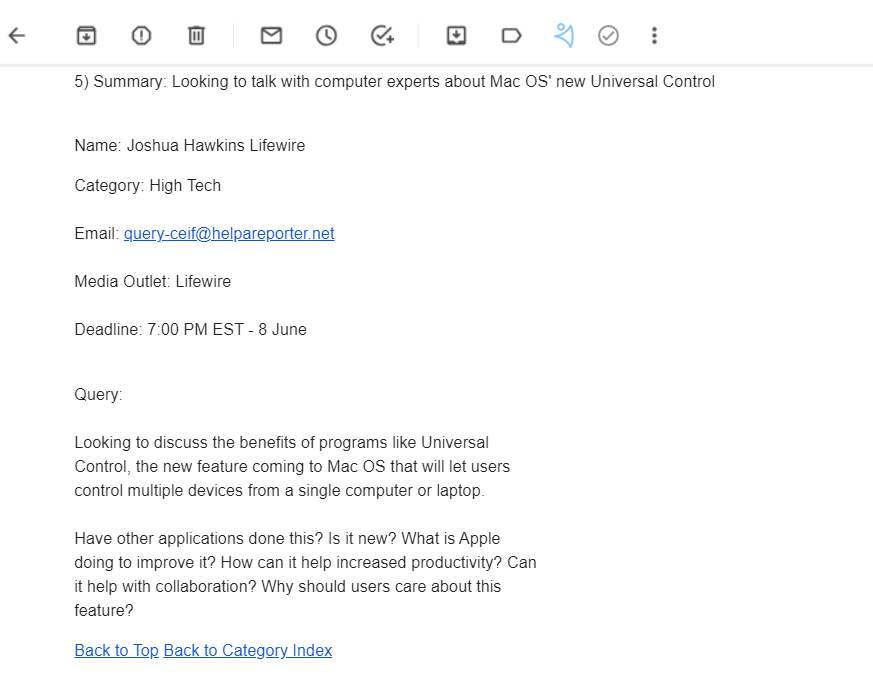 This is how HARO email rounding up comment queries and the journalist's request look like.
NetHunt's Hot Tips
Interestingly, even if comments published by these media outlets don't contain a link and only contain a brand name, Google can still recognise this and add points to your domain rating.
This strategy pays. Through HARO, we received links from websites like GoodFirms, Wordstream, and CEOBlogNation to name a few. This is a fantastic, unparalleled opportunity to receive links from websites with DRs higher than 80 - an impossible dream if our strategy alone is to swap links.
But, I do need to point out that it's not always successful. No more than 20% of your comments will be accepted and published. If you don't receive a reply - don't worry; just move on.

3. Outreach strategy for getting backlinks.
Putting it all out there, I'd have to say that this was the least successful backlink strategy for me. I didn't see much in terms of results and the process itself is very, very time-consuming. I'll still share my experience, so you can learn from what I did right and wrong.
What is the outreach strategy? This strategy involves reaching out to content publishers to ask to have your link included in a relevant blog post. For example, if I write an article about 'web forms', I might ask for it to be included in somebody's blog about 'sales automation' or 'lead generation'.
First, I created a list of topics which work alongside my target keyword.

I used Ahrefs to find the top-ranking pages for my selected keywords. Then I briefly looked through the articles, their quality, and if my target blog post suits. If I couldn't find contact details of their team or there was just a 'Contact Us Form', I used services like Hunter to obtain an email address.

Here's the pitch template that I used to ask for the backlink.👇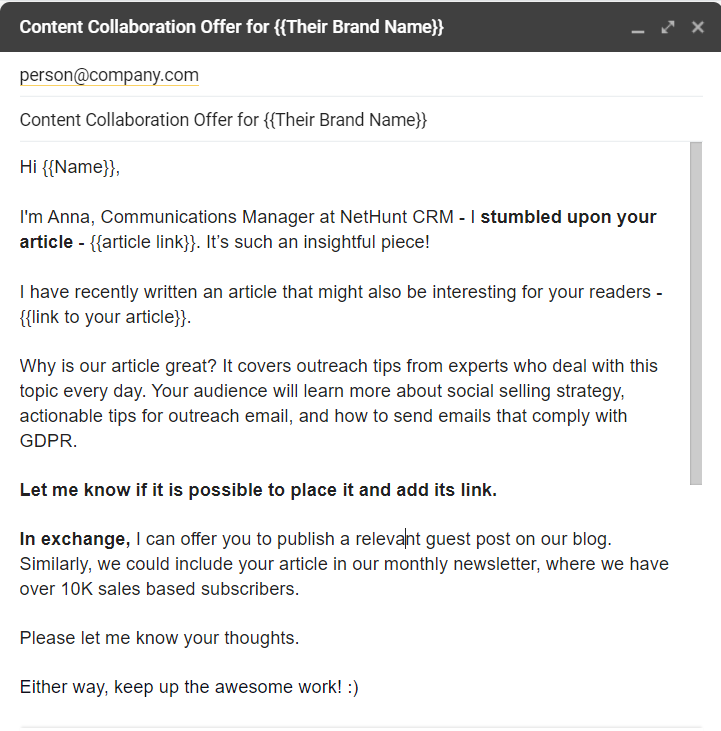 There's a lot to get wrong with this strategy. Let's say my target keyword is 'sales follow-up'. There's no point looking for articles which rank for 'sales follow-up', because I will be competing with that blog's keyword. In fact, they probably wouldn't add my link to that blog. We get loads of similar requests with our blog. I can say with first-hand experience that I refuse them instantly.
Instead, we look at the words around our keywords. For the 'sales follow-up' keyword, we might look to rank for 'sales automation', 'cold outreach tactics', and 'cold emails'.
Content provided for this strategy needs to be original and exclusive. I only tended to receive backlinks by pitching unique infographics and an article with industry-expert comments.
4. Guest posting.
Guest posting is a fantastic strategy to obtain links for your homepage, dedicated landing pages, or get involved in link building for SaaS.
What does guest posting involve? Guest posting involves contributing content to another person's, brand's, or media's blog site. You're in absolute control of the message and wording, meaning that you can natively add target links. As a bonus, most media websites have an author's bio section where you can add a link to your website. .
We mostly focused on media websites because, apart from direct SEO impact, it gives additional PR, generates traffic, and contributes to product conversions. We've actually seen a lot of success for our guest posting strategy and are proud of the name and image we've landed ourselves.
Here are some of the guest posts that we are most proud of...
Saying that, it's still not easy. It can be a long process of follow-ups before your email pitch even gets opened. Getting your final publication live can take months, and there's no guarantee your link will be part of that final publication. In fact, you can spend weeks researching, planning, writing, and optimising an article; and it might not get published at all.
It can be a complete disaster; a waste of time - something we found out the hard way again.
To implement a successful guest posting strategy, you should possess the relevant expertise for the target audience, a captivating story to tell, and a good, clear, and correct writing style. After that, it's down to you to find the relevant media platforms to pitch your story to.
How do I find relevant media for guest posting?

Google search target keywords, industry, and product-related topics before analysing all those search results. If there are any media platforms on the list, they could be open to a guest post pitch.
Head to Ahrefs, or any other SEO tool, and analyse competitors' backlinks. Dig deep enough and you'll unearth relevant media outlets that you might never have even heard of.
You can also find guest posting opportunities by using specific shortcuts, like ["keyword" + guest post], ["keyword" + write for us]. But, based on my experience, most of the high-authority outlets don't publish guest post opportunities.
Find a relevant journalist or editor of a media outlet you like on social media, look for their contact details, and craft the perfect pitch for them.
When we've got a list of possible and suitable media outlets to contribute to, we go through them with a fine-tooth comb to look at what medium of content they publish, the topics they approach, the layout of their articles, and try and find a hole in amongst all that content where we can squeeze into.
Once you're done, find the relevant contact person to send your pitch to. The following email template has been met very positively, and tends to be successful when we pitch to most media.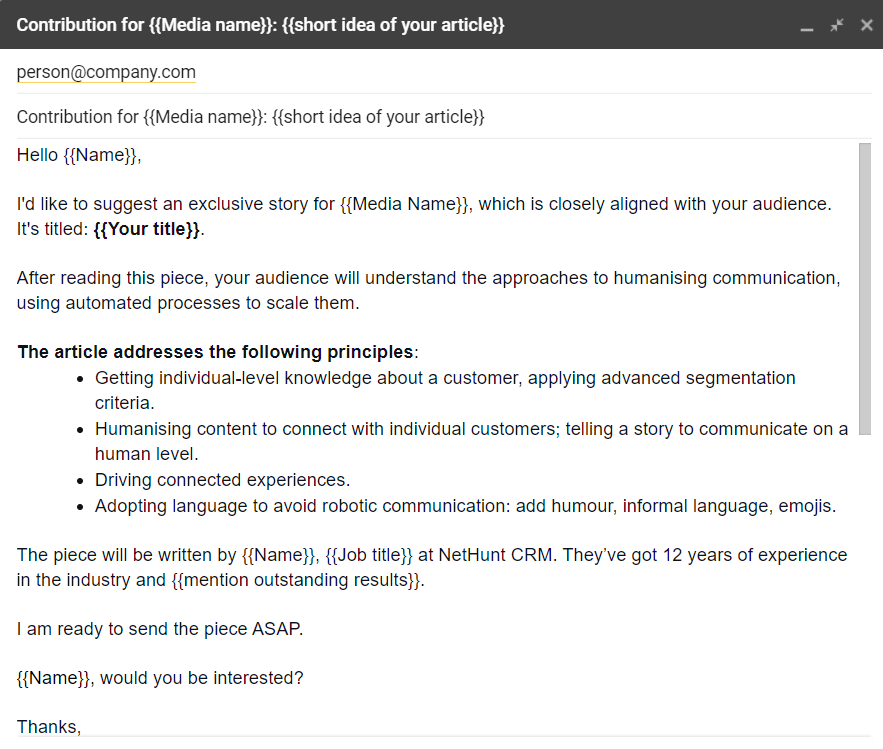 My hot piece of advice here is to be persistent. You're not going to find success after sending one email pitch. Guest post pitching is all about following up at the right time to get your email noticed. The sooner you get over that follow-up fear, the better! Automation tools help a lot in this respect.
Automation tools like say… NetHunt CRM's Workflows feature? Check it out!
Guest posting works in terms of receiving backlinks from reputable domains. But you shouldn't start a guest posting project with the sole aim of receiving links to your own website. Instead, guest posting is all about developing awareness, establishing a personal brand, and generating leads.
Backlinks are actually just a bonus.
5. Organic links.
What is an organic link? An organic link is a backlink, placed in another media outlet, blog, or website without any prior agreement between yourself and the publishing party. It is placed there without the intention of manipulating your domain rating; it's just good, relevant content that the publishing party admires and wants to share.
Organic links are by far the best option for building your domain rating. Produce valuable, relevant, and original content; make sure it's worth linking in external articles, and build your reputation and domain rating together in a natural, organic way.
Create unique content, implement on-page SEO, discover a well-known topic from a different angle, don't heavily promote your product within the articles, and success will eventually come. Yes, it's time-consuming. In fact, it's a never-ending task - but nothing in backlink building ever came easy.
For example, our 2021 sales trends article is an organic link-building machine. Most other high-ranking articles seemed to cover the same, loose, and often outdated 'trends'. We took a fresh approach with original ideas, and it gained traction with our readers, developed plenty of backlinks, and even got shared relatively widely on social media.
Our expert comment roundup articles also enjoy a lot of organic success...
---
The month I got 51 backlinks.
You're still here, great😉. It's time to find out how I managed to get 51 backlinks in a single month!
As you probably know, Black Friday happens at the end of every November. It's a shopping free-for-all, and we've all seen those viral videos of grown men and women fighting over televisions, PlayStations, and laptops in WalMart or wherever else.
Normally you'd associate Black Friday as a B2C consumer event. Me? I saw this as an excellent opportunity to obtain backlinks by producing relevant guest posts with a bunch of different Black Friday offers from businesses in the B2B tech sphere.
I started preparation three whole weeks before Black Friday, putting together a web form survey that would help me gather all the B2B business offers that our community had to offer. It looked like this. 👇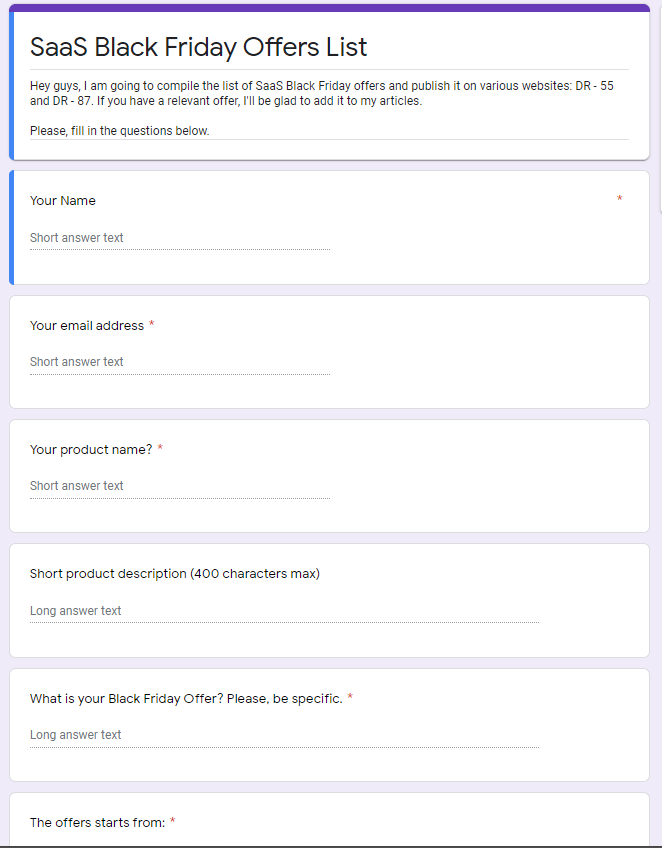 Three weeks was plenty of time to find enough responses. With them, I wrote a bunch of articles filled with discounts and offers based on different product categories. Obviously, I included NetHunt in them as well. My foresight paid off, and my articles were some of the first B2B Black Friday offer round-ups to be published on any media. Here are the articles…
Because they were amongst the first articles to be published with Black Friday offers, we received a bunch of organic mentions and links from external media. Mission accomplished! Here are the organic mentions and links we received from external media…
Cheekily, but fairly, I asked the brands that were included in my list of offers to give us a link in return. It wasn't compulsory because I needed their names for my piece anyway, but most showed good nature and sportsmanship to give me those links back.
In the end, we got loads of additional traffic and a bunch of new clients. In November and December alone, our domain rating increased by six points. Huzzah!
---
That's our story, and those were the strategies we employed to grow our website domain rating. 20 points in 6 months, Is it a significant increase? Well, it might not be for you. But after years of trial, error, and relative failure, it felt like we were finally starting to climb our Everest.
If you're just beginning your climb - go for it, don't look down, and good luck.
Let's get growing?
Well, we're doing it!
Table of Contents
Crack the sales formula with CRM Lab
Twice a month, receive actionable CRM content to your inbox.
Join the
Telegram channel NetHunt CRM
All about CRM and B2B sales.
Join