As a small fish in a big fish tank, it gets tiresome eating scraps for breakfast, lunch, and dinner. We need to stay alive and keep afloat, but swimming around on a shoestring budget in a big, wet world is not what we signed up for. We work hard trying to make a splash and we deserve a real meal.
As a small business, that real meal can be hard to come by. There's a megalophobic feeling when we think about selling to big business. Something about not feeling worthy, and that big business is just out of reach of our tiny little fins. If I tell you that only 0.32% of businesses qualify as 'enterprise-sized', you probably also feel like there's just not enough big business to go around.
But, my mum always told me 'if you don't ask you don't get'. Knowing how to sell to big companies can take your small business to the next level in terms of revenue. Having the balls to approach and impress a corporate business for sales is only ever good for reputation, credibility, and business confidence. So, let's hook a big one.
Let's figure out how to contact big companies for business, helping us become a big business ourselves.
Let's eat.
---
1. Do your homework.
Ah, the vintage NetHunt 'do your homework' paragraph. We've said it before, and we'll keep saying it until you do it. Do your homework on these businesses: know who the decision makers are within a company so you can hone in and speak to who you really need to speak to. Big business is well-structured.
There are three general large-business organisation models that you should be aware of before approaching a larger business for sales. You should try and figure out which one your target is, and tailor your outreach to suit it specifically.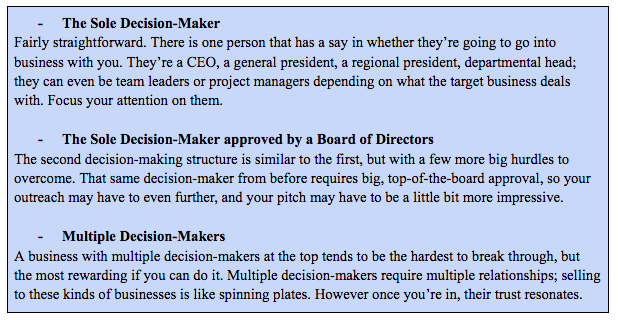 Doing your homework means finding the kingpins of a company and opening up a direct line with them. It means finding out which factors might influence a company's decision-making process, and which information they might need to make that decision, and then adjusting your message to suit it. Finally, it means looking elsewhere for further information and influence that benefits you...
… But where?
🔥 LinkedIn helps you get a foot in the door 🔥
LinkedIn is your first port of call when it comes to professional research. It's a who's who of the business world, and with a little bit of digging you can find the management structure of just about any company you need. You can even hook it up to your favourite CRM!
2. Look the part.
If you'll allow me to get a little nostalgic for a second, I'd like to tell you a purely anecdotal story.
When I was a wide-eyed freelancer, sniffing around the pits of the internet for any writing gig I could get, I almost gave up. I was writing for pretty abhorrent causes for pretty abhorrent pay packets. The wife nearly left me; I was sleeping in the car. And then, something changed. I decided to start looking like  a bigger business. I didn't do anything major, I bought myself a domain name so that I wasn't emailing from a Gmail account anymore. Low and behold, businesses started replying to me.
Google domains start at just $9 per year and you can have a professional-looking email address...

Alas, I was on a roll. Eventually I even got a bunch of business cards printed. I felt like the king of the World, handing them out at the pub to my mates… before I realised I'd wasted them all in one night.
I needn't have bothered though, because nobody really uses business cards anymore. They're a nice touch, but your email signature is equally, if not more, important these days. Make it pop.
Learn how to make your email signature pop.
If you want to sell to big business, act like big business yourself.
3. Understand that this is going to take time.
Big business moves slowly; red tape procedure and meetings to get through. Selling products and services to large companies often takes a long time, particularly when there's a formal purchasing process that involves bids from multiple competitors. Be prepared for the sales cycle to take anywhere between 12 - 24 months.
The Lesson. Don't put all your smaller projects to one side, run them congruently.
One reason it takes so long is that big business is taking a risk on you. They don't like risks; individually and collectively. They don't want to get fired and they don't want to spend money on a dud. Big business will do their research and will dig deep into your past records and your finances to make sure they're making the right decisions.
The Lesson. Don't even dream of engaging in corporate-business outreach whilst in the red.
4. With that in mind, initial timing is everything.
Busy managers are just that: busy. They're not ready to return your unsolicited calls and emails, the tunnels need to be dug before you start laying some cable. The small business donnys who are good at selling to big business aren't bothered by the fact that busy managers are busy. In fact, they thrive on it. They use it as their opportunity to create a highly personalised offer to the decision-makers of a company. LinkedIn is a good pla... yep you know all about that. There's another way of staying in the loop. Set up Google alerts for your targeted big business.
With regular email alerts telling you whenever something notable happens for bigger business, you'll know what's going on and when. You can target them when they need you the most, and can back up your sales push with educated information about what they're doing at that moment in time.
5. A good elevator pitch takes you higher.
A lot of salespeople tend to confuse elevator pitches and sales pitches. Where a sales pitch is a formal presentation of your product, an elevator pitch is a short, persuasive speech that before. It's planting a seed of idea into your prospects mind, laying the first foundation of the sales process for big business.
In the online, post-Covid shitshow world of 2020, you'd be forgiven for believing that the elevator pitch is dead. Believe again. You might not be rubbing shoulders with big, swinging CEOs at corporate events, but you still need your elevator pitch. You still only have limited time to get your underlying message across, whether it's email, Zoom, social or anywhere else.
Online or offline, the guiding principles of an elevator pitch are the same. They're short, they get straight to the point, and they're made up of the following three parts...
The Benefit. The first thing they teach you at sales school is to sell benefits, not features.
❌ We sell CRM!
✔️ We offer our customers a 20% average ROI by organising and automating their business.
The Differentiator. Why you, and not one of the million other guys out there?
❌ We're at the top of our game; best in the World!
✔️ We've got exclusively patented automation technology to make your job easier.
The Ask. You don't seal the deal during an elevator pitch. Ask for another meeting.
❌ So will you buy my stuff? Please? Please? I'm begging you. I'm on my knees.
✔️ The proof is in the pudding. Let's get a demo booked in; when's good for you?
Above all, keep it personal and don't try to be too fancy. Nobody wants that.
6. Follow up even if you don't get an answer.
Be persistent but not a pest. "How long should I wait before following-up with a customer that I have made an offer to?" is a good question, but unfortunately not the right one. With so many conflicting factors affecting why a lead hasn't responded to your quote, this question doesn't go deep enough. They might need time to think, they might need to wait for approval, they might have spilt tea on their keyboard, or they might have simply deleted your email. The list goes on and on and on…
Learn how to follow up after sending a quotation.
Use email tracking to know whether your prospect has opened your email or not. Email tracking is the process of gathering data from sent emails, and then using that data to make informed business and marketing decisions. Email tracking software offers two insights. First, if a recipient has opened their email, at what time, and even what device their email was opened on. Second, it informs users whether links and attachments in their email get clicked on.
7. Develop a relationship by delivering.
Secured a deal? Congratulations. Don't just end there. Follow up, your easiest deals are to existing customers. Get on the phone, catch up with them regularly, buy them lunch, maintain and strengthen your ties and upsell and cross sell them on other stuff you're doing. Give them special offers that align with your business model. Use them as a testing ground for new offers where possible. Never lose a client because you were too lazy to maintain the relationship.
Generally speaking, big businesses tend to not like shopping around too much. They prefer to deal with customers they trust and know on a long-term basis, rather than to constantly engage in negotiations with different small businesses. Big business is busy. Account Based Selling (ABS) is a way of putting dedicated resources into big business and retaining those big money contacts.

🔥 NetHunt's hot CRM tip 🔥
A good CRM system is the cornerstone of every ABS strategy. NetHunt CRM centralises all your user information in a tidy, intuitive dashboard. This means that every team member who ever works on an account has the same access to the same information. Nothing is missed, and no single communication is made twice. Set alerts for whenever anything notable happens, and keep your finger on the pulse of your big business clients all the time. Maintain relationships, easily.
Learn how to set alerts in NetHunt CRM.
---
Little fish, now you know how to approach big business for sales. You've got the tools you need for selling to big business, so get out there and do it. Lay the groundwork with a solid LinkedIn strategy, walk the walk by seeming professional and legitimate, and have a pitch prepared which outlines exactly why you're better than your competitors.
Little fish, you're a big shark now. Welcome to the big business ocean.
Get more NetHunt in your life
Receive popular, monthly sales and marketing insights
Don't forget to share this post with friends and colleagues!