Here's how the new Google Workspace is different from G Suite and how to use it pro-style
Everything in one place. Phwoar, that sounds good.
Google introduced Google Workspace to us on October 6th, 2020. It's a new friend for productive employees from any sector, bringing them together as they've been torn apart by social distancing. When we heard about Google's productivity update, our pickle was tickled. After all, we love Gmail… and we love productivity! We've sliced and diced through the update like an onion, breaking it down to tell you exactly what it means for your business.
What is Google Workspace?
Google Workspace is Google's new productivity toolkit. It brings all our favourite G Suite tools -- Calendar, Gmail, Drive, Docs, Slides, Meet, Keep, Forms, Sites, Currents and Sheets -- even closer together under a neat, tidy, and colourful umbrella. To really understand what's changed, we can take a look at the history of G Suite. It's an update. It's G Suite; repackaged, rebranded, and re-streamlined for your productivity needs.

So is it a simple rebrand, or a fearless voyage into unchartered productivity measures? Either way, Google has promised a deeply integrated user experience, a whole new identity, and tailored solutions for different sectors… and we're going to get to the bottom of it.
Why have Google introduced Workspace?
You might have heard, the world has changed. More than anything, our working lives have changed. We can't troubleshoot by the water cooler, bump heads with an impromptu face-to-face brainstorm, we can't even pretend to enjoy those cupcakes Trevor from Accounting's daughter made; we can't go to work. Work is no longer going to work. Work is simply doing work.
In response to this, Google has taken a look at their existing tool to see how they can create some kind of digital office for its users. Google Workspace has been developed to encourage effective collaboration, bringing teams closer together… when they're not together. Javier Soltero, Vice President and General Manager of Google Workspace, puts it rather poetically…
"Frontline workers, from builders on a construction site to delivery specialists keeping critical supply chains moving, are turning to their phones to help get their jobs done. While doctors treating patients and local government agencies engaging with their communities are accelerating how they can use technology to deliver their services."
What's new with Google Workspace?
Google made a three-step promise for what Google Workspace in return for a monthly subscription fee. What really sets it apart from G Suite is its collaboration tools, both between apps and between teammates. Workspace helps you do more with your colleagues, by opening and running even fewer tasks.
A new, deeply integrated user experience.
Communication tools have been brought together.
All of Google's communication tools (Chat, Gmail, Voice, Content Management, and Video Calling) have been brought together to aid collaboration between teams and streamline customer experiences.
Link preview integration.
A simple time and tab saver. Instead of having to open a new tab to visit a link in a document, spreadsheet, or slideshow, users can now preview the link simply by hovering their mouse over it.
Collaborate on Docs right out of Chat.
This one is cool. Workspace users can dynamically create a document with the guests in a Chatroom. It doesn't matter whether bumping heads with teammates or external parties, everybody can create and edit a Doc in real-time synchronicity.
Smarter mentions and shoutouts.
Now, when a user mentions somebody in a document, a smart contact chip provides contact details, for people both inside and outside of an organisation. This provides CRM-like context to interactions and suggests actions that could be taken with the contact.
Meet gets an upgrade.
Two upgrades, to be precise. Meet works across more devices now, and you can see a colleague's face, picture-in-picture, while you work on a document, spreadsheet, or slideshow together.
An "ambitious" new brand identity.
It's the one we've all been waiting for. Google has redesigned five of their icons, namely Docs, Gmail, Calendar, Drive, and Meet, to reflect the way in which their products work together. Hold onto your seats folks, here they are…
Docs, Meet, Gmail, Calendar, and Drive (left to right).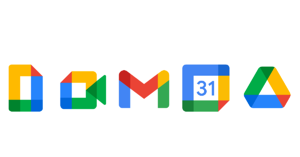 A new way to start depending on your industry.
Every business is different. Google's new Workspace platform has added new subscription plans to reflect this change, catering to small, medium, and large businesses at the same time… but for different prices. Every plan includes Gmail, Drive, Meet, Calendar, Chat, Docs, Sheets, Slides, Keep, Sites, Forms, and Currents. They differ in the support and storage they offer.
The following table breaks everything you need to know about Workspaces's price plans down.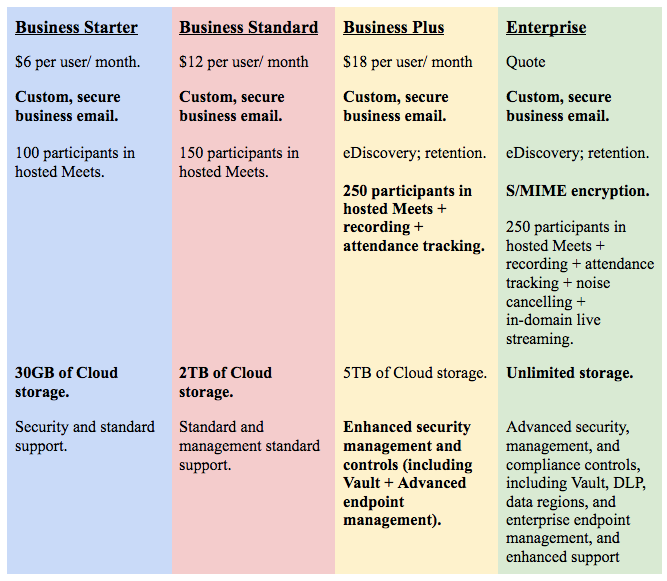 Bonus. All-new Workspace security features.
Improved productivity tools mean increased productivity. Using Workspace, all your work and data is going to be flowing in and out of Google's servers. Now, I imagine Google's servers are pretty big with a lot of stuff in them; security and privacy is crucial. As a result, some new security features are also coming to protect your data and privacy when using Google's Workspace.
Comprehensive chat logging within the Investigation Tool.
Smart detection capabilities in Meet to prevent unknown, potentially abusive users from disrupting meetings.
Much-needed automatic classification of spammy Chat rooms.
All new data protection insights for Gmail.
A redesigned rules page in the Google Workspace admin console, which centralises Google's rules for creation, discovery, and management.
It's no surprise that the Google juggernaut can boast cutting-edge, industry-leading cloud security. They have the technology, resources, and awareness for you to be sure that all your Google data is safe.
Oh, so you want productivity?
NetHunt CRM is a sales productivity tool. It helps our sales team keep up to date with their different clients, visualises where those clients are in the pipeline, and gives full context such as communication history, events, notes, and everything else that is helpful as we strive to simplify as many business processes as possible.
NetHunt CRM blends effortlessly into Gmail, and integrates with Google Workspace and its tools.
Everything in one place; that sounds good. Google Workspace and NetHunt CRM working in unison, that sounds like a dream. Sign up for a 14-day free trial and get onto our Customer Success Team for a free demo, today!
Table of Contents
Crack the sales formula with CRM Lab
Twice a month, receive actionable CRM content to your inbox.
Join the
Telegram channel NetHunt CRM
All about CRM and B2B sales.
Join