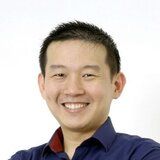 Andre Oentoro is the founder of Breadnbeyond, an award-winning explainer video company. He helps businesses increase conversion rates, close more sales, and get positive ROI from explainer videos (in that order).
This post breaks down some essential visual marketing every B2B savvy marketer should consider creating their email marketing campaigns. It also shows how engaging visual content can take your email marketing campaigns to the moon and what you should do to achieve that.
Email marketers have come a long way since those early days. As an email marketer yourself, you must understand that you have to deal with short human attention spans (8 seconds, and it's shorter than goldfish, ugh!).
It makes it even harder for you to grab their attention and persuade them to take action in such a short time.
Therefore, gone are the days where email marketing was all about sending bulky copies to inform subscribers of special offers. That old-school method won't take you anywhere anymore.
In this digital world, visuals play a significant role in delivering your messages in an aesthetically-pleasing way.
By incorporating visual elements into your email marketing campaigns, you will not only be able to catch the attention faster but also reap better returns when compared to text-based email marketing alone.
Are you not convinced yet? We'll dive more in-depth into how visual elements can help you bring better email marketing results.
Essential Types of Visual Content for Email Marketing
Before we get into the nitty-gritty details, it's crucial to understand what kind of visuals we're talking about.
There are at least three visual elements you need to consider using in your email marketing campaigns:
Images
Images are one of the most common uses of visual marketing. This type of visual is an ideal go-to if you aim to visualize your physical product and help subscribers to see the appearance of your product in real life.
After all, nobody wants to buy shoes or even salad they've never ever seen before, right?
This type of visual will showcase your products better than any copy you write.
Here's a great example from Burger King that nailed their visual email campaign, making us mouth-watering just watching the image of their product.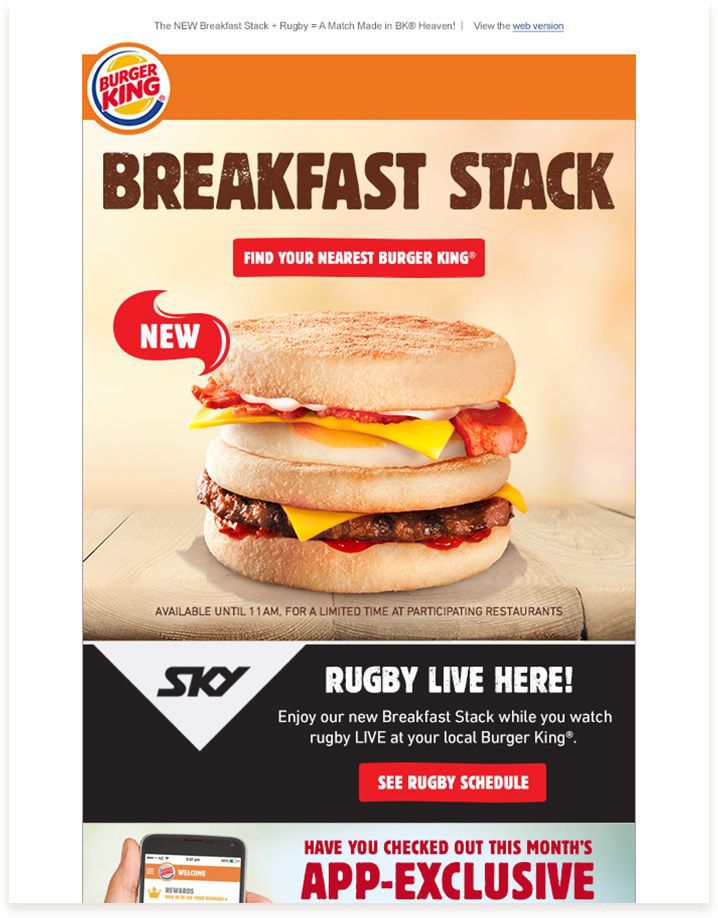 Videos
Video is a perfect solution for getting your complex message across without taking up too much space. It conveys crucial information in an easily digestible way which is why it is becoming a leading visual trend.
What's more, simply adding the word 'video' on your subject line can boost the open rate up to 19% and click-through rate 65%. Say what?!
If you want to give the subscribers a demo or step-by-step guide on how you can use the product, videos are the most relevant format to help you with that.
Product demos, product trailer videos, and explainer videos are engaging types of videos that many marketers use in their email marketing.
Below is an example from Ugmonk, who added a video to their welcome emails so that their subscribers understand their brand better.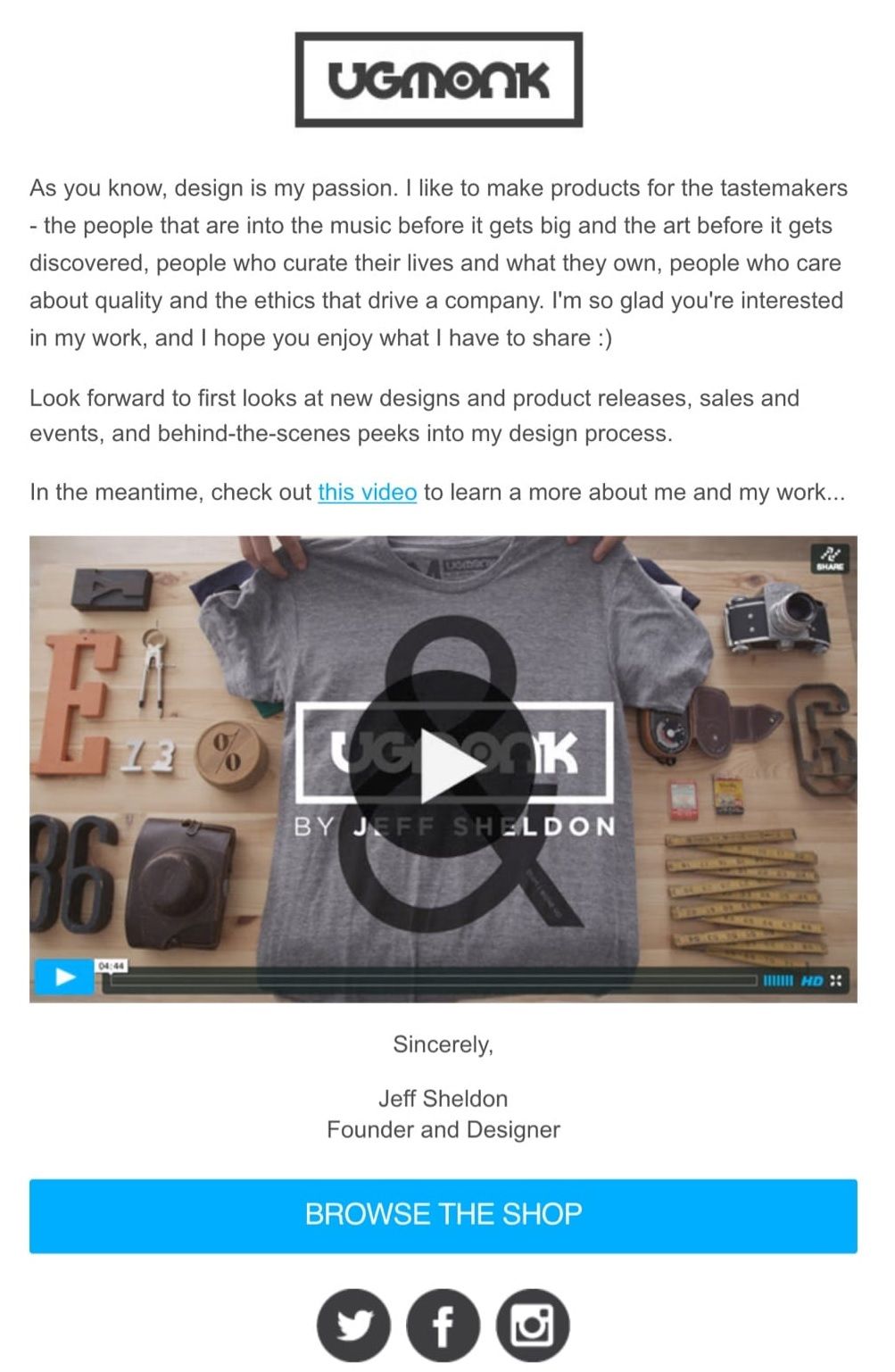 GIFs
If you send GIFs to your friends often, you seriously need to consider sending them to your subscribers too.
Who doesn't love good GIFs, huh?
GIFs inject some fun experience and add a level of interaction to an email or newsletter that doesn't exist with just words and static images.
Therefore, this type of visual is best to use if you want to impact the tone of your content and add something more friendly to it.
See how The Brew Crew added more life into their welcome emails to give their new subscribers a lasting impression.
Read More on GIFs in Email Marketing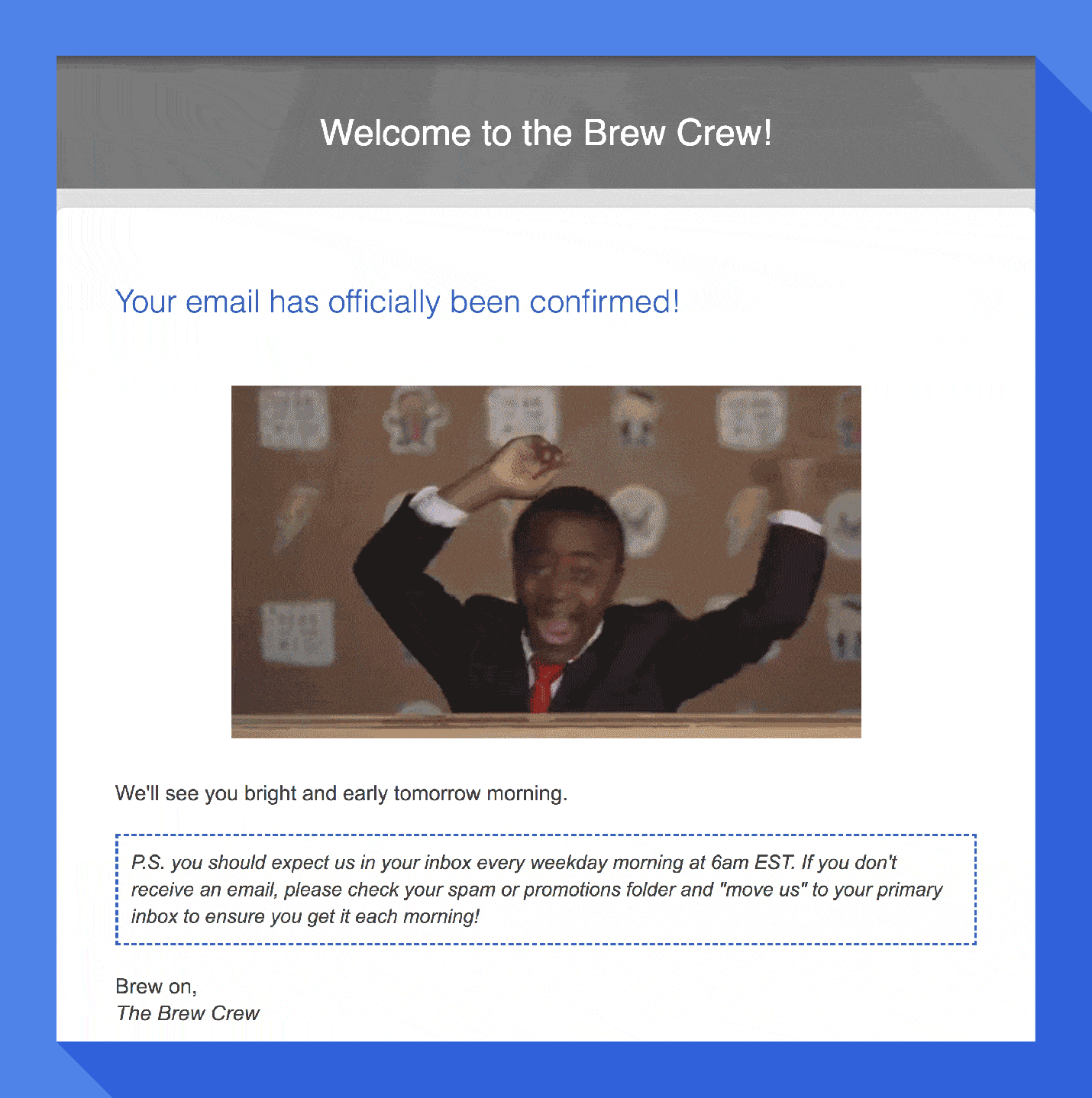 You may also check out some of our other tips on email personalisation with images, videos, and even text (yes, it's still possible to get the prospect's attention with the text email!).
How Visual Content Boosts Email Marketing Results
Remember, your subscribers' inboxes are getting more and more crowded every day. So, what if you send them a generic, mediocre email? Definitely, it will end up buried if not being thrown up into the trash folder.
Ouch! The pain is real.
That's why you need to add visuals to stand out. But, how can they help you in some ways?
Say no more. Here are five ways of how visual content (we just mentioned above) boost your email marketing results:
#1. Visual Content Triggers Emotional Connections
Visual content shows your subscribers your enticing offerings, and they don't simply tell. Adding visual content makes the subscribers know what to expect as they see your offerings with their own eyes.
This is an excellent way to build a lasting, meaningful relationship with them.
Visual also makes it easier for them to understand the value and the benefits of what you offer in your email marketing, rather than just reading hard-selling copies that surely annoy them.
☑️Pro tip: Always include visual content that is relevant to your email topic. Adding visuals for the sake of doing it can make subscribers distracted and misinterprets your message.
For example, if you offer a special discount for a certain product, don't ever use stock images you can find on the internet. Consider hiring a professional photographer or you can take a picture of the product with your smartphone and invest more time in editing. The key here is to find some that look authentic to your brand and your subject.
#2. Visual Content Caters to Visual Learners
Do you know that most of us are visual learners? Yup. At least 65% of people are visual learners. It means that incorporating visuals in your email marketing campaigns can expand your reach as you give people what they want.
☑️Pro Tip: Even so, don't go too overboard with visual content. Too many visuals can overwhelm visual learners too. Make it easy on the eye and keep it balanced with your copies.
The perfect text-to-image ratio is 80% text and 20% visual. However, if your email has to be one single image (like the Burger King example above), you can add texts or catchy headlines to the bottom, use contrast colors, include terms and policy, or even add an unsubscribe button to balance out the image.
#3. Visual Content Generates More Click-throughs
Visual email marketing is much more memorable and recognizable. This, in the long run, brings better click-through and higher conversions.
For example, the stats say that video on email alone can increase click-through rates (CTR) by up to 65% (Hubspot).
☑️Pro Tip: Don't forget to come up with a punchy subject line to tell the subscribers that you have engaging visuals they won't miss. After all, your subject lines are the first thing your subscribers see after they receive an email from you.
As you write email subject lines, ask yourself these questions:
Will the subject line spark subscribers' curiosity?
Is my offer or message clear?
Am I creating a sense of urgency?
Here are some thought-provoking subject lines to inspire you so that you can make your subscribers click on your emails in no time:

#4. Visual Content Conveys Message Better
Have you ever heard the old adage; a picture is worth a thousand words? Well, that's only pictures, let alone moving images like GIFs or even videos!
Visuals summarize content into smaller and snackable chunks. It makes it easier for you to get your message across much more effectively, and it helps subscribers to retain it better. That's what we call win-win, right?
☑️Pro Tip: Make your visuals straightforward and fruitful, especially videos. Avoid any fluff or unnecessary information so that subscribers can digest the information with less effort from the get-go.

For examples, if you use videos, you only have eight seconds to grab your subscriber's attention. So, you can highlight their pain points in the first few lines of your video, and offer them a solution to keep them engaged and watch the content all the way through.
---
Peppering your email marketing campaigns with engaging visual content rather than strictly heavy-text copies is the key to getting your subscribers to stay and stick around. To be honest, though, isn't it just boring to rely on text-only and ask your subscribers to read all the way through it?
Visuals can make your emails or newsletter much easier on the eyes, tempting the subscribers to keep reading it and perform your desired actions.
However, adding visual content to your email marketing is so much more than including sharp photography and creative product layout. You can also utilize GIFs and videos to make your email marketing campaigns more varied and engaging.
So, here are three key points you can do next after reading this article:
Deciding what visual content you want to send your email subscribers (make sure it matches your business' budgets and needs)
Investing your time and effort into the production of the visual contentOptimizing and A/B testing out the content before you send them out
Table of Contents
Crack the sales formula with CRM Lab
Twice a month, receive actionable CRM content to your inbox.
Join the
Telegram channel NetHunt CRM
All about CRM and B2B sales.
Join