It's been a whole month since our last product newsletter (and even more since our last product update in this blog); and it's all systems go over here at NetHunt. With Christmas creeping up on us, we've been busy little elves in our little grotto.
We're working hard to bring complete CRM automation and drip campaigns to you in February 2021, but in the meantime we've made a few tweaks and fixes to our system that you've been asking for. They're listed below for your reading pleasure!
Watch more: NetHunt CRM 2020 Spotlight!
New list/ card views for better record management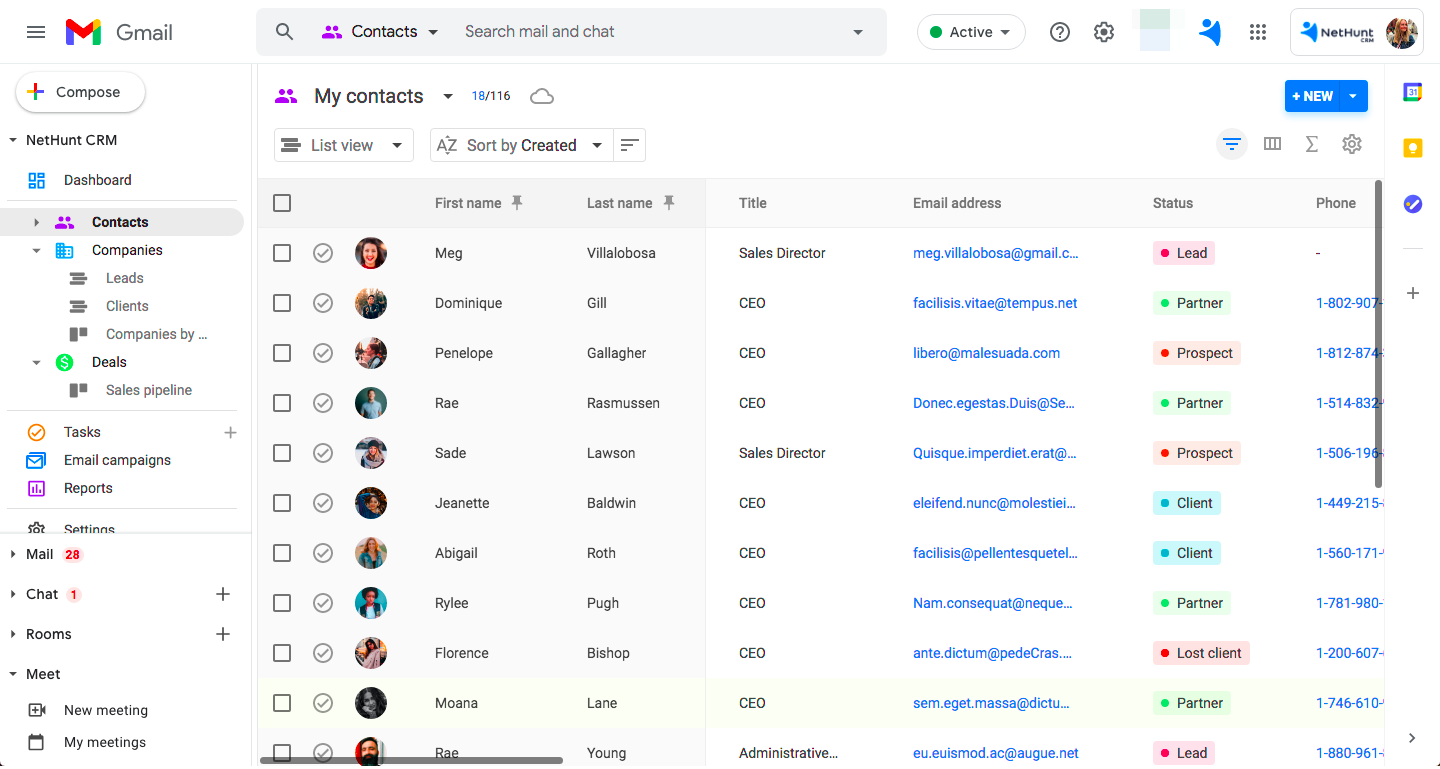 Pin columns
Pinned columns always stick to the left. This helps you keep a better eye on key fields when scrolling in list view, and to easily drag and drop cards into the most common columns in the card view (i.e. Won/Lost, Assignee: ME, etc.) The first column in each folder is pinned by default. You can also drag columns into the pinned section to pin those columns (list view only).
Reorder columns
You can drag and drop columns in the list view to quickly reorder views and make them more comfortable to work with on a case-by-case basis. To apply changes, you need to save your views.

Take action on columns from the header
Under the three-dot menu in column headers, you'll find new quick actions. These actions include the ability to pin columns, hide columns, and build card views based on a selected field.

Clickable fields
Emails, phone numbers, and links are now clickable.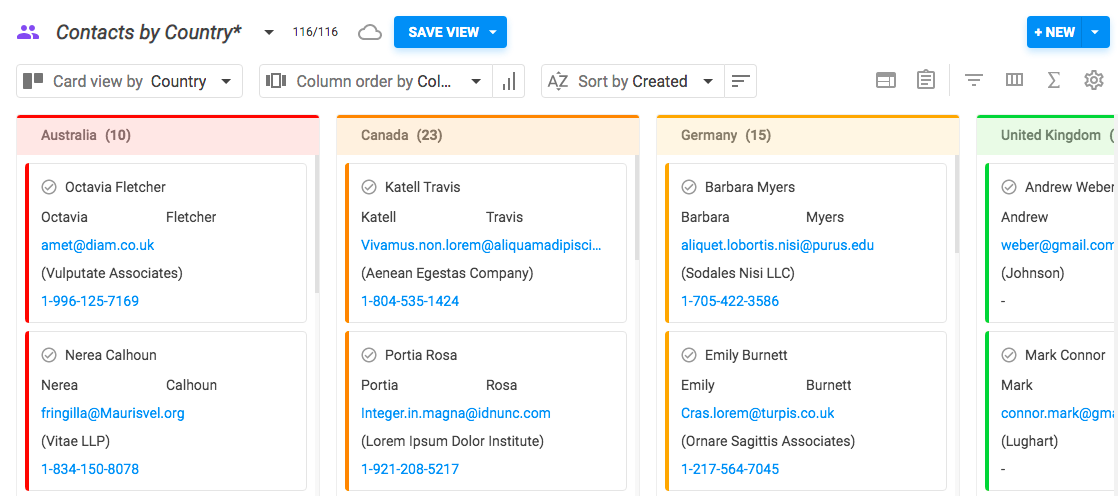 Summary improvements
Summary snippets are easier to read in both list and card views. Clicking on a summary now opens the Summary menu for quick edits, and the Summary menu has been improved to add reordering options.
Minor improvements to sorting
The column used for sorting is now clearer, and the sorting icons have been changed to better represent the sorting order.
Improvements to card view column headers
New records can now be created via the column header, and there's no need to scroll to the last record in the column. Column actions have been added for column pinning, column hiding, and card layout settings.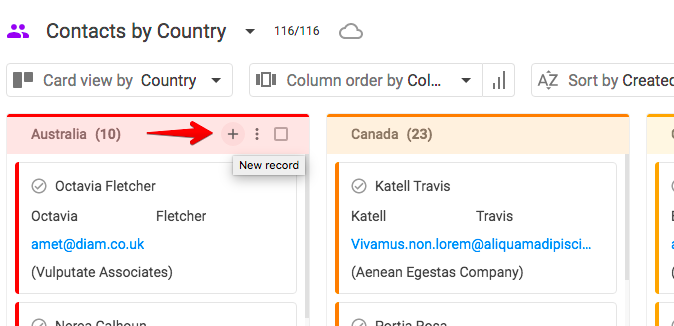 Custom column order
Users now have the ability to order columns. They can not only order by column name, but also by the number of records in the column or by any summary such as 'card view by manager, sorted by the average deal size'.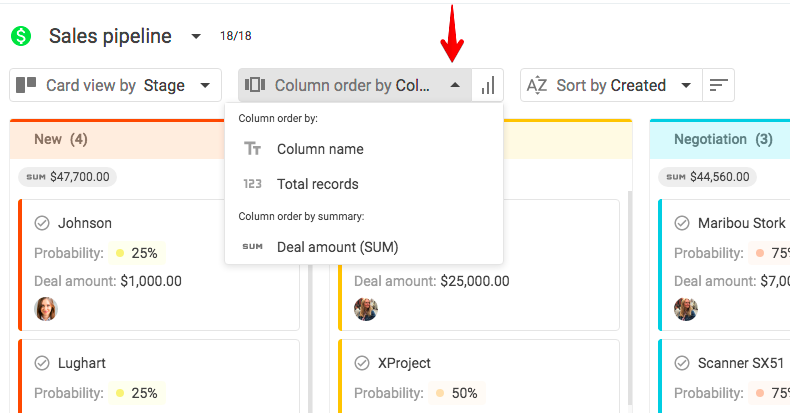 Card sizes
All cards have the same size, meaning if there are only two columns, they won't be stretched to fit the screen. A setting has also been added to switch between card sizes (small, medium, large) via the Card Settings menu.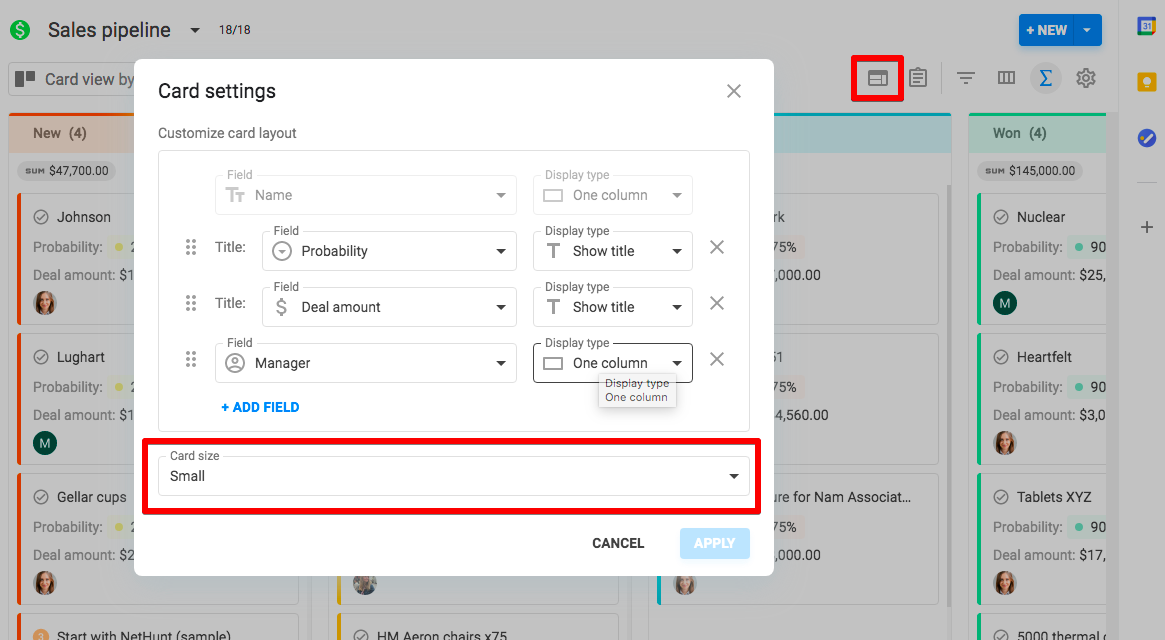 Editable card display fields
Values on cards can be edited without having to open the record.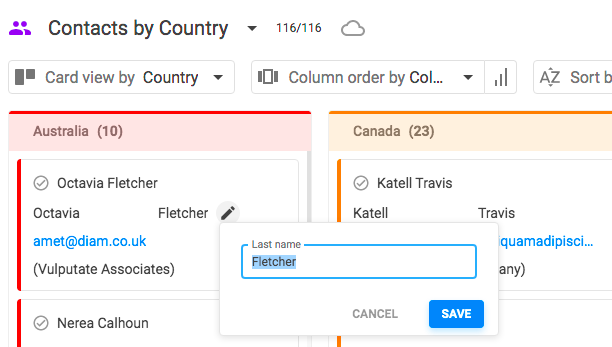 Manager field
Now shows a user photo instead of a plain email address. This feature is available for both, list and card views.
Major performance improvements
View, open, and scroll much faster; resizing columns is now seamless; silky-smooth cards migration, and an explanation on why a card can't be moved (e.g. no permission or a read-only field).
Updated tutorial on creating and managing views, both list and card ones, is here.
Prevent duplicates by phone number
Phone number field types can now be made unique for duplicate prevention/notification upon record creation.
The system "understands" that a phone number is the same, even if it's written in a different format.
E.g. 1234567 = 073 123 45 67 = +38 (073) 123-45-67
As an extension of this feature, the system treats these duplicates as the same phone number and groups into the same column in the card view.
The system compares phone numbers by stripping away all of the symbols (spaces, brackets, plusses), and only compares the last seven digits. This improves accuracy ten-fold, but it's worth noting that like any duplicate management solution, it's not 100% correct all the time.
The same logic works in Search and filters. If you look for 1234567, but the actual phone number is written as 123-45-67, the system still finds it.
More instructions on duplicate prevention is available here.
Email Campaigns
Images can now be resized in email templates. Detailed tutorial is here.
Users can now send a new campaign, based on the results of a previous one, as a reply and as part of the same thread.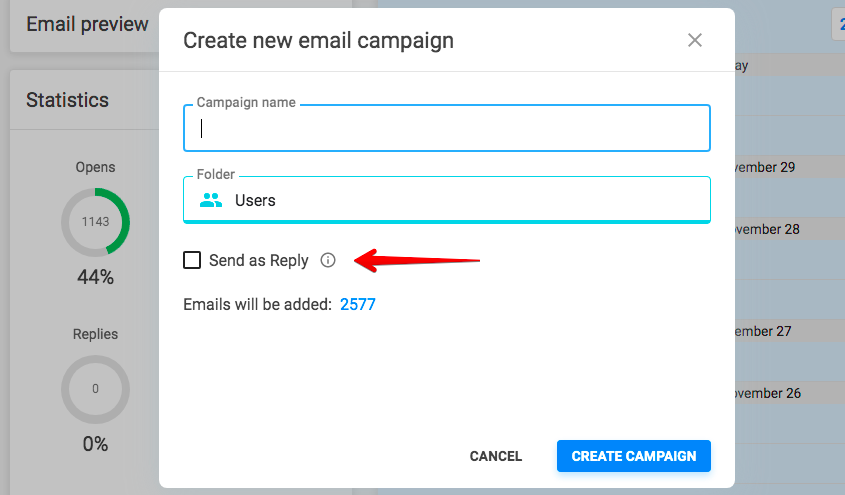 Import
When a record is imported, it's creation date is now reflected in the Timeline.
Adding fields as comments to an existing record, with duplicate checks, now works.
New comments won't be added if the same comment already exists in a record.
When importing multiple fields as comments, they are all imported with their original field name shown in the new comment.
Detailed Data Import tutorial.
Mass update
The checkbox has been visually reworked for better mass update control.
Users can now increase or decrease dates and numbers by a set value. For example, you can add 7 days to the deadline of mass-selected records.
These same mass update options are also available in Tasks, for both 'Due date' and 'Assignee' fields.
Multivalues (users, tags, etc) now support 'Remove'.
More about Mass Update feature.
Other
New Gmail navigation supported. This support is only for accounts with new Gmail UI only.
Aggregated Tasks. You can see every task for emails from the record these tasks are linked to.
Formula fields are now supported in our reports, integration with Zapier, as well as via API.
Got a burning question? Simply reply to this email or send it to support@nethunt.com. We're always here to help!
Table of Contents
Crack the sales formula with CRM Lab
Twice a month, receive actionable CRM content to your inbox.
Join the
Telegram channel NetHunt CRM
All about CRM and B2B sales.
Join