It's no secret that Workflows, our sales automation feature, is one of the things that differentiate NetHunt CRM from other CRM solutions on the market as we give our users an opportunity to set up automations right from their Gmail inbox. The majority of customers that choose to trust us with their business data do so because of the advanced, powerful automation capabilities our product offers. Perhaps, this was the deciding factor for you, too?
Nonetheless, we believe that there's always room for perfection. So, despite being a fairly young feature, Workflows has already undergone a plethora of changes.
All these months since the initial release of Workflows back in February 2021, our team has been working tirelessly to bring all your sales automation requests to life, implementing big and small changes to the interface of the feature and its functionality.
And here we are, excited to share some big news about the new update — especially since it's already available for the public. At the end of the day, it would be unfair to tease you with the new functionality in the product and not let you know which opportunities it opens up to you.
So, welcome our major and minor NetHunt CRM Workflows updates! 😉
Let's dive straight into it and learn what each of these updates means for you as a NetHunt CRM user.
Major changes
Added the ability to retry Failed runs from the sidebar. If there was a temporary technical failure (for example, your SMTP provider's servers were down) or your client data was faulty or incomplete, you can retry the run after you fix the issues. This gives you more control over the workflows —  you oversee everything happening in the Workflow and decide what to do with the unsuccessful parts of it.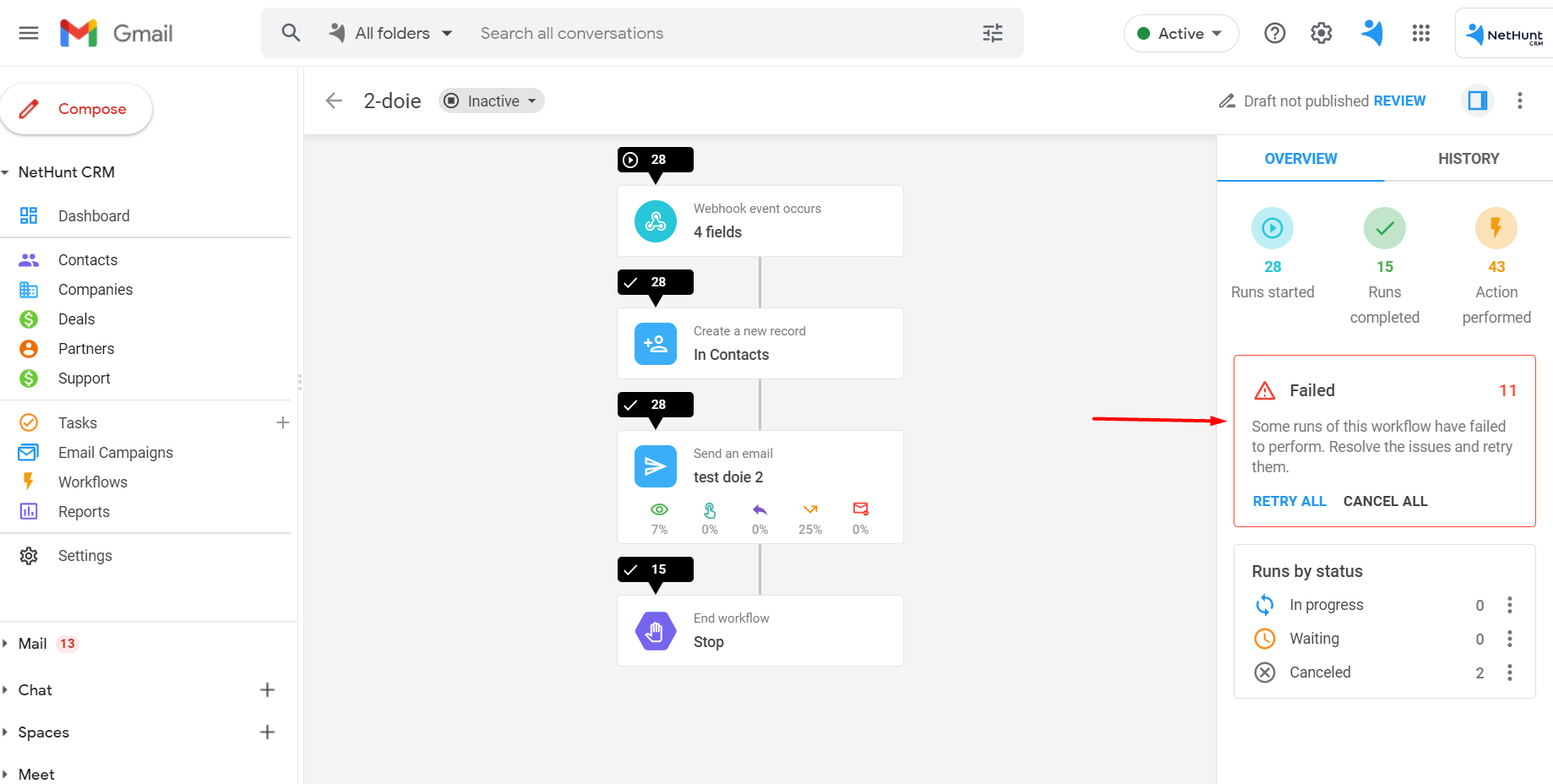 In case you've exceeded your monthly actions limit, don't worry! We'll automatically put those runs in a new state called "On hold". Once the limit resets (or you decide to expand it), you can immediately continue those runs. This means that the incoming data (e.g. web form submissions) won't be lost and the workflow will continue as if it has just been triggered.
The new sidebar is now split into 2 tabs: the "Overview" tab displays the info on the overall stats of the current workflow, i.e. how many times this Workflow has been started, completed, and how many actions it has used in total.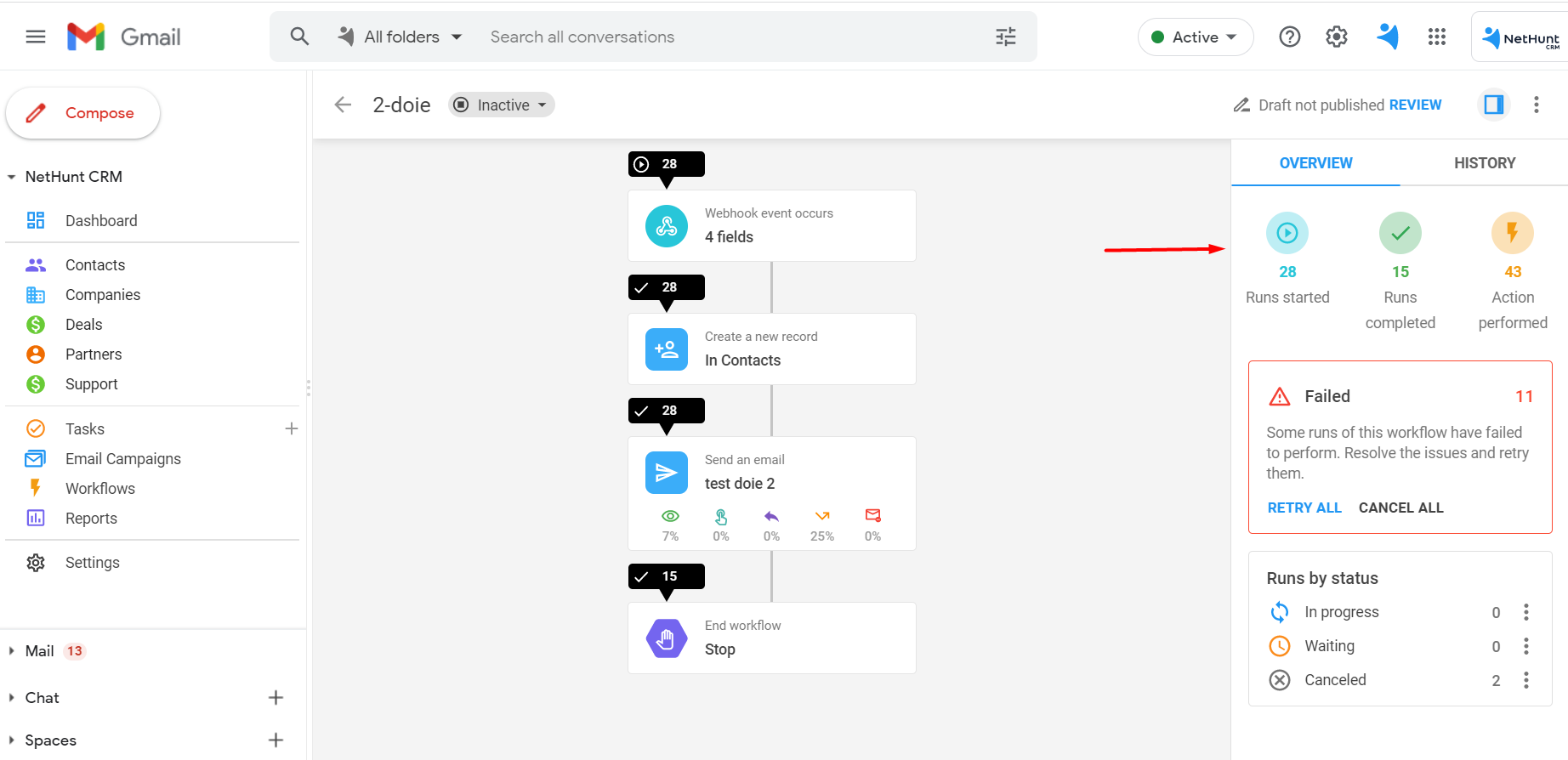 The Runs by status section displays the stats of the currently active runs. They are split into categories by status (In progress, Waiting, Canceled), and you can either cancel or retry such runs.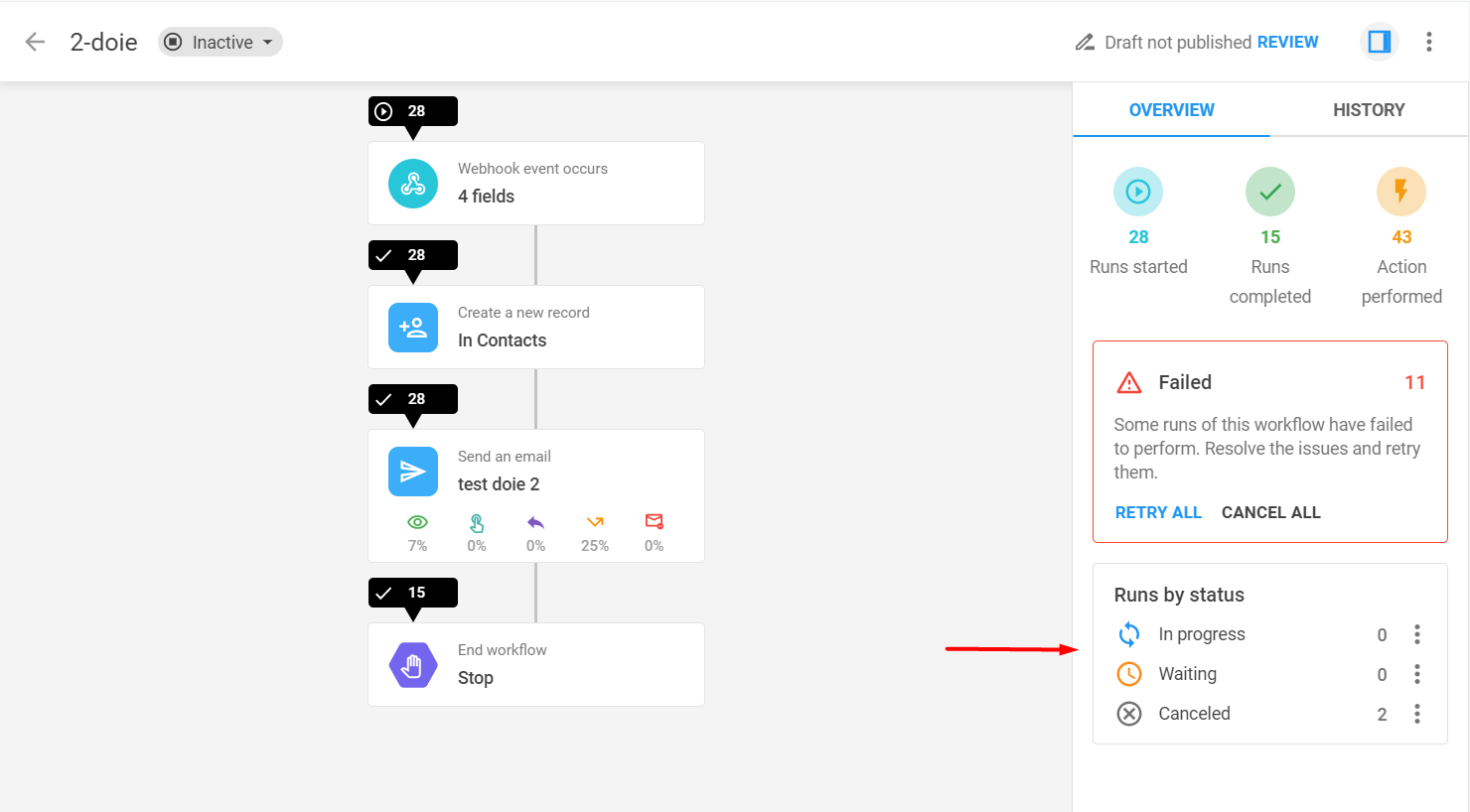 Under the History tab, you can now click on any run to open its full history and details. For example, you can open the run details to see which step has failed and why, with an option to retry that exact run only.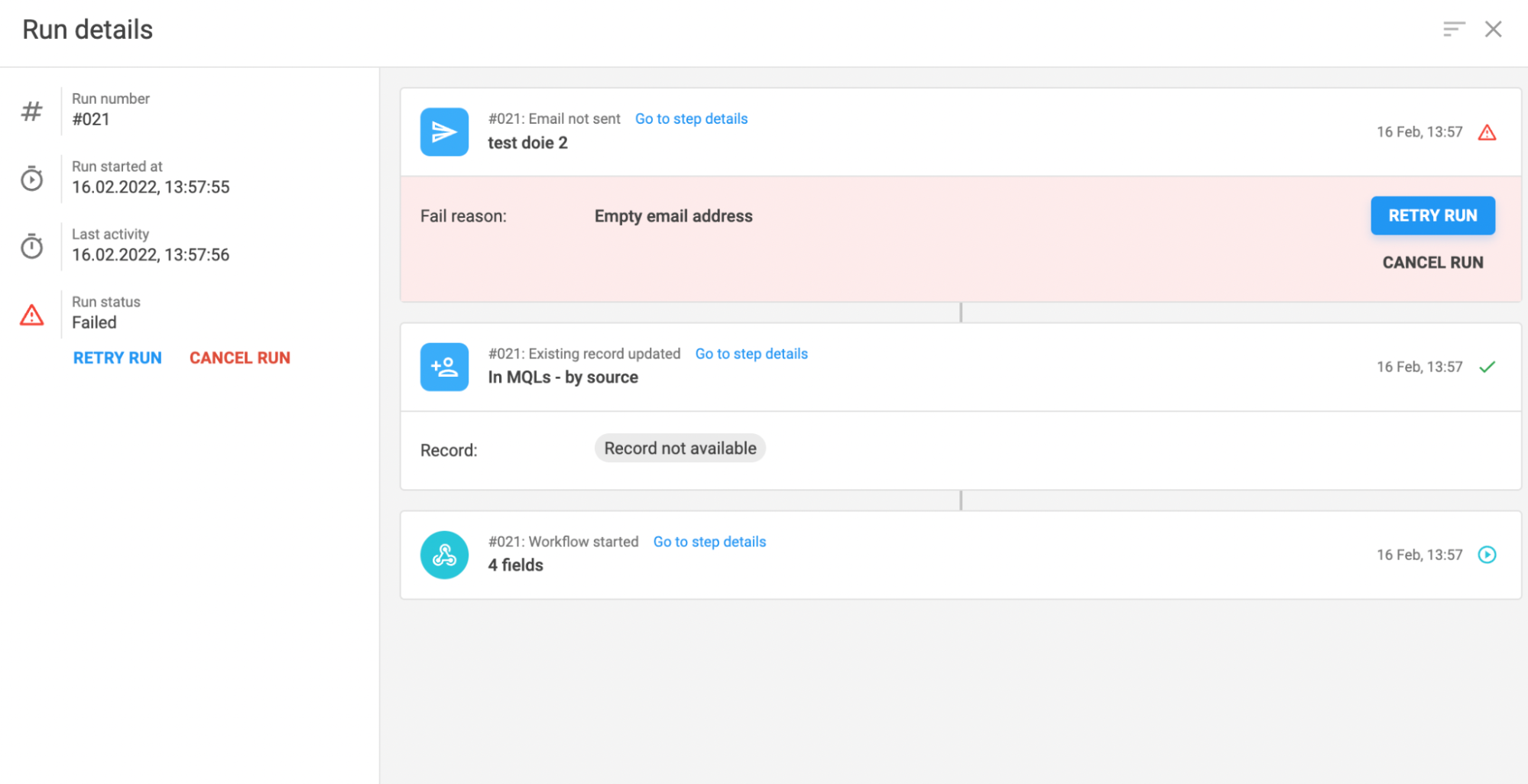 You can click on the "Go to step details" to see an aggregated history of runs by that step only. Alternatively, simply click on the necessary step on the workflow canvas.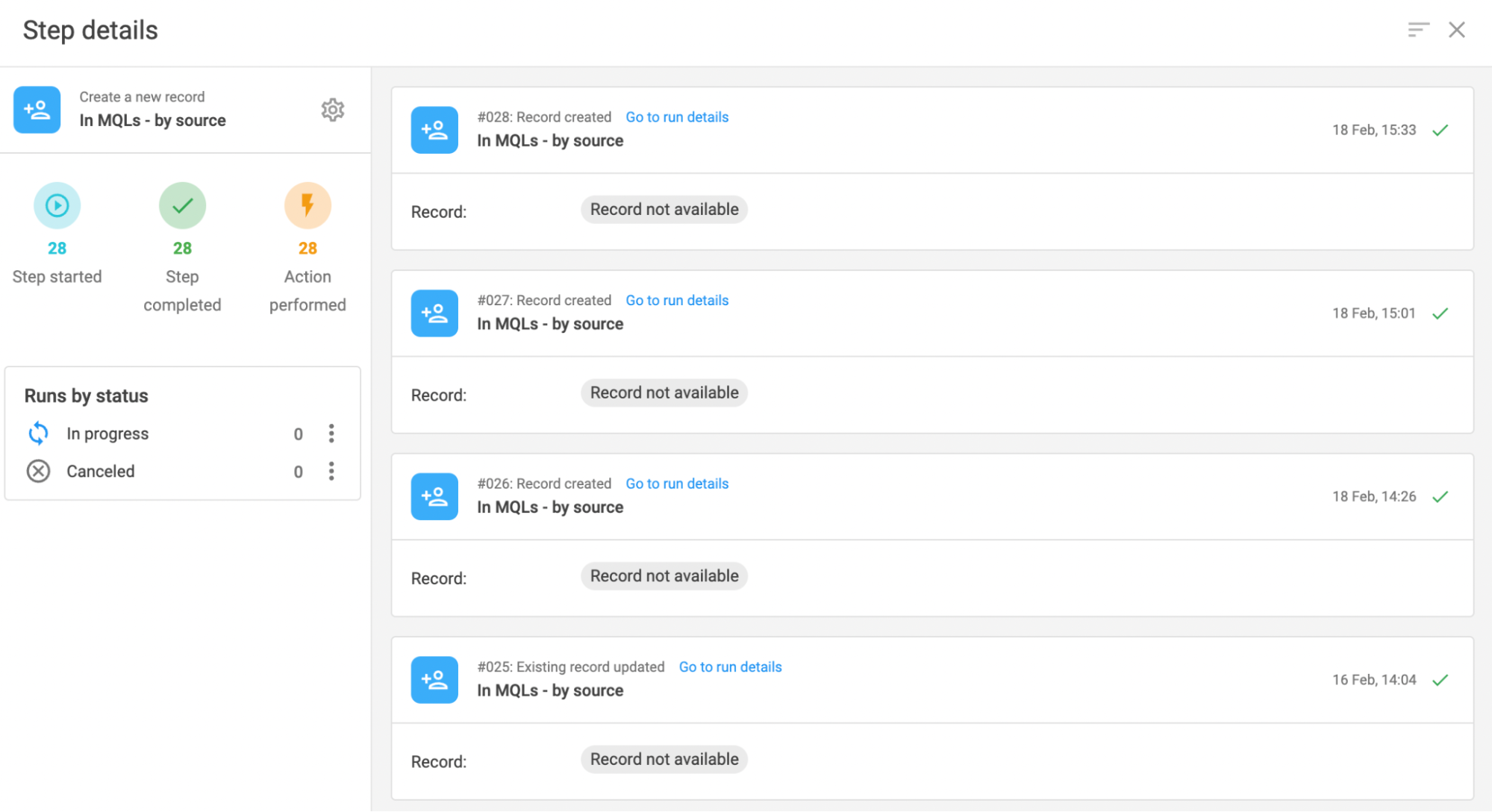 In Step details, you can retry all runs which have failed in that exact step only, without retrying all runs or needing to retry separate runs one by one. Moreover, you can also cancel In progress runs here.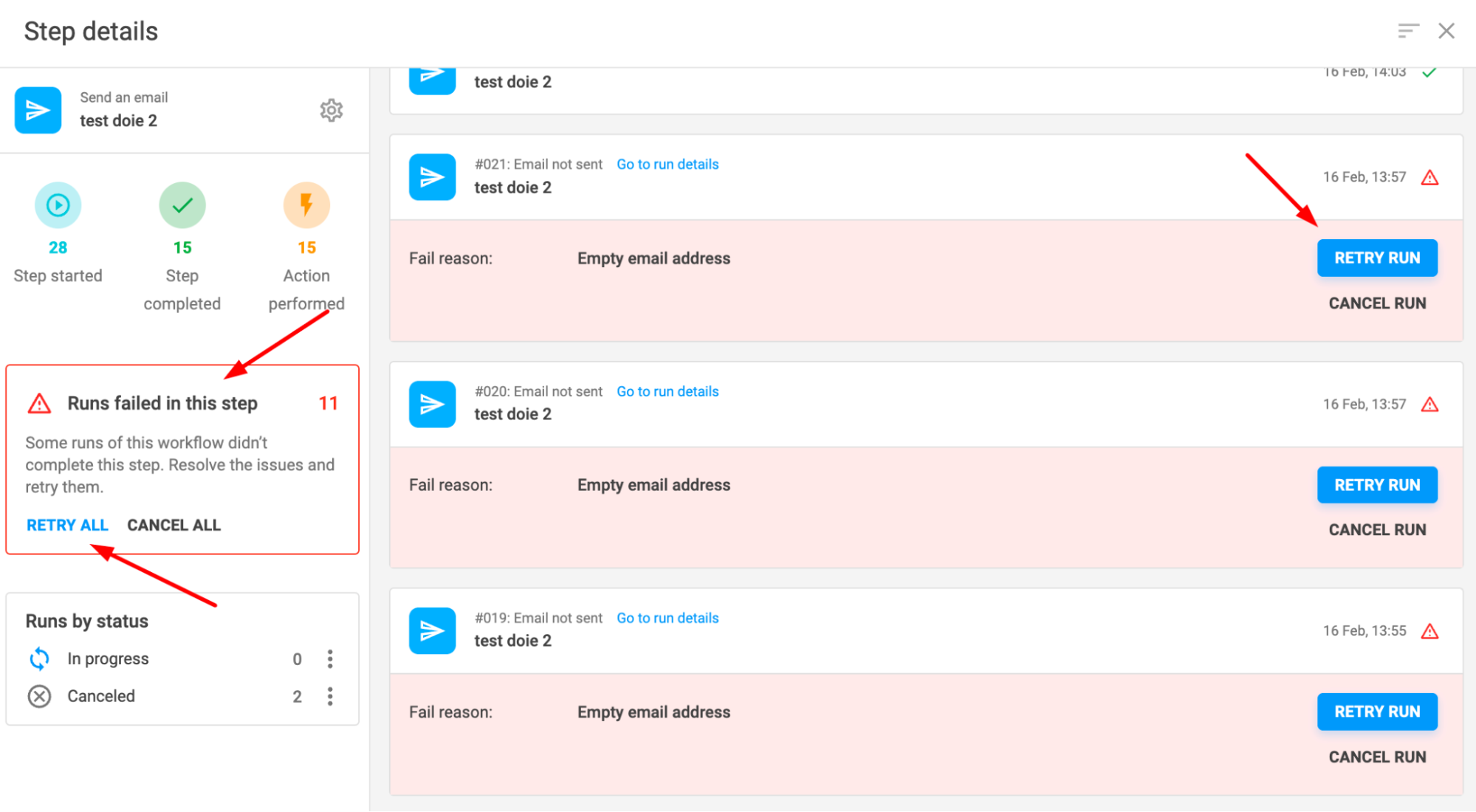 You can change the sort order inside step/run details.
Now almost each step detail has a link to the record used in that step. E.g. The details of the "Send email" step now show the recipient's record for reference and quick access.
If you're excited to try out the new Workflows functionality immediately, give a read to our practical article from the Help Center.
Alternatively, you can book a call with our Customer Success team — they would be happy to show you around the new version of Workflows and help you out with automating your sales processes the NetHunt way!
Table of Contents
Crack the sales formula with CRM Lab
Twice a month, receive actionable CRM content to your inbox.
Join the
Telegram channel NetHunt CRM
All about CRM and B2B sales.
Join