It's already been a month since we last shared our product updates with you. Time really does fly when you're busy. And we've been extremely busy with making NetHunt CRM an even better tool for growing businesses. So, here we are, already dropping another product updates with May's brand new feature additions.
First things first, we added two new workflow actions, Make an API call and Generate PDF.  


Make an API call action
The Make an API call action allows you to easily integrate NetHunt CRM with any service. For example, you can push data from NetHunt CRM to a Telegram channel or group chat, your accounting system, or any other third-party apps that support API integrations.
You wonder what might be the use cases for this action:
passing contact details to a specific messenger to notify you team about the new deal. We prepared a tutorial on how to send messages to Telegram channel.
send message to the company board when the new deal is closed passing all the deal's details
Learn more about how to set it up Make an API call action in our Help Center article.
Generate PDF (Beta)
The Generate PDF action makes it possible for you to generate any documents, like contracts and invoices, whenever needed. You can create a PDF template and have NetHunt CRM automatically generate custom PDFs with the contact's and/or deal's information, e.g. deal size, company name, date, etc.
You can either create a plain text with pictures or add a designed HTML version of the invoice, contract or other document.
This is how your the composer looks like: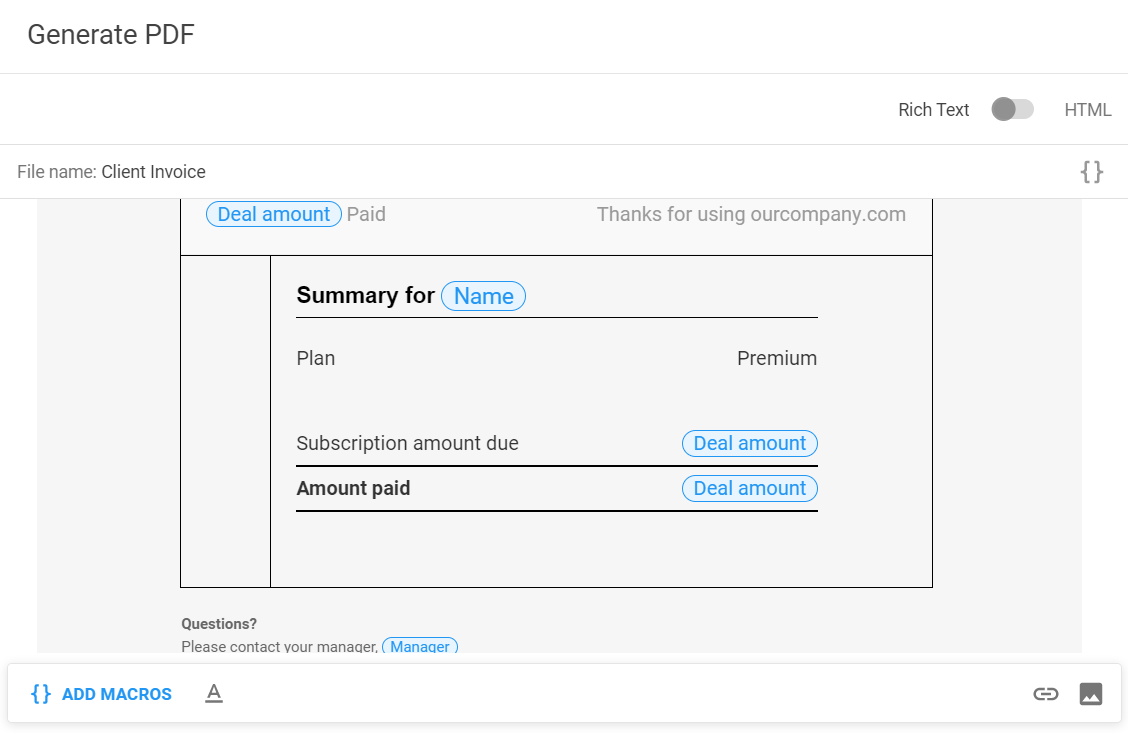 Some other updates include:
Added an option in workflow filters to filter by macros in the User field, which allows comparing if two records in a workflow have the same manager.
Improved the rich text support in comments, letting you paste a formatted text. Formatting will be preserved without breaking the overall page layout.
Added search to all controls where user can select a folder (i.e. when creating a trigger, email campaign, moving record to another folder). This is helpful for you if your workspace has a lot of folders.
Expanded the "required per stage" functionality: it's no longer limited to Deals' Stage only and can now be set in any folder and with any drop-down type field.
Added a new macro, Record link, which allows you to link a record in the workflow (works great for notifications).
Released an integration with Make (ex Integromat). If you want to use NetHunt CRM with third-party apps that don't have a native integration with NetHunt CRM yet, you can do it via Make.
Added the "Recent" section in the related record controls to quickly find the recently updated records.
Added a new information field to Tasks to display the original task creator.
This is what we've been up to in May. Now, we're ready to greet summer with even more heated work so that we can show you more NetHunt CRM updates in June.
If you want to learn more about any of the NetHunt CRM feature updates or find out how your specific business can leverage them, don't shy away from booking a call with our lovely Customer Success team. They'll break it down for you in detail and help you get the most out of NetHunt.
Table of Contents
Crack the sales formula with CRM Lab
Twice a month, receive actionable CRM content to your inbox.
Join the
Telegram channel NetHunt CRM
All about CRM and B2B sales.
Join