NetHunt CRM aims to improve the productivity of its users while they are working in Gmail by launching Add-On for Gmail. The power of the add-on is that you can access NetHunt CRM without leaving your mobile Gmail app.
This add-on is a bridge between our full-featured web app and mobile apps. It brings the power of our CRM system to your mobile devices and allows you to take quick actions in the Gmail app on the go.
With the NetHunt CRM add-on for Gmail, our users won't have to leave the Gmail app to keep track of their deals, manage tasks, and check CRM records associated with the emails they receive.
We recommend using add-on on mobile devices in the combination of Gmail app and NetHunt CRM app. Add-on is an instrument that ties your Gmail inbox and NetHunt CRM app. It's a great addition to our iOS and Android mobile apps.
While working on desktop, we strongly recommend you using our Chrome web extension as it offers you a full-featured CRM inside of your Gmail.
Here's what NetHunt users can do with the add-on on-the-go
The NetHunt Add-on for Gmail allows NetHunt CRM users to do a variety of things from the comfort of their Gmail app, wherever they are, whatever they're doing.
First of all, an add-on is created to ease your work with emails inside the Gmail app. Here's what exactly you can do with add-on inside Gmail app:
Open the customer record and see its details from the emails you open in the Gmail app.
Quickly create Contacts and Companies records from incoming emails.
Link emails to already existing records.
See at a glance all Tasks related to the email and your team's progress on them.
Create and complete Tasks.
See the results of Open and Click tracking.
How to get the NetHunt CRM add-on
If you're a NetHunt user, you can install the add-on simply by using the "+" button on the right-side panel of the Gmail web app on the desktop. It will automatically appear in your Gmail mobile app. You only need to install it once to access it on all of your devices.


If you are new to NetHunt CRM, you'll need to download the add-on from the G Suite Marketplace.
NetHunt's Recommendation
Please, keep in mind that the add-on has limited functionality, and if you want to have a full-featured CRM inside your Gmail, we'd recommend you download the Chrome extension.

To access the extended functionality of NetHunt CRM on mobile devices, download our apps – NetHunt CRM for Android and NetHunt CRM for iOS.
How to use NetHunt CRM Add-On
As we see the most benefits of add-on on mobile Gmail app, here's a four-step process that will instantly boost your work with emails on mobile:
Install the NetHunt CRM for Gmail add-on as we described above.
When you open an incoming email in your Gmail, scroll to the bottom to see the list of all add-ons you are using.
Link emails to already existing records.
NetHunt CRM will appear on the right sidebar in Gmail.
Click on the NetHunt CRM icon to see a list of linked records and tasks with the ability to create new ones.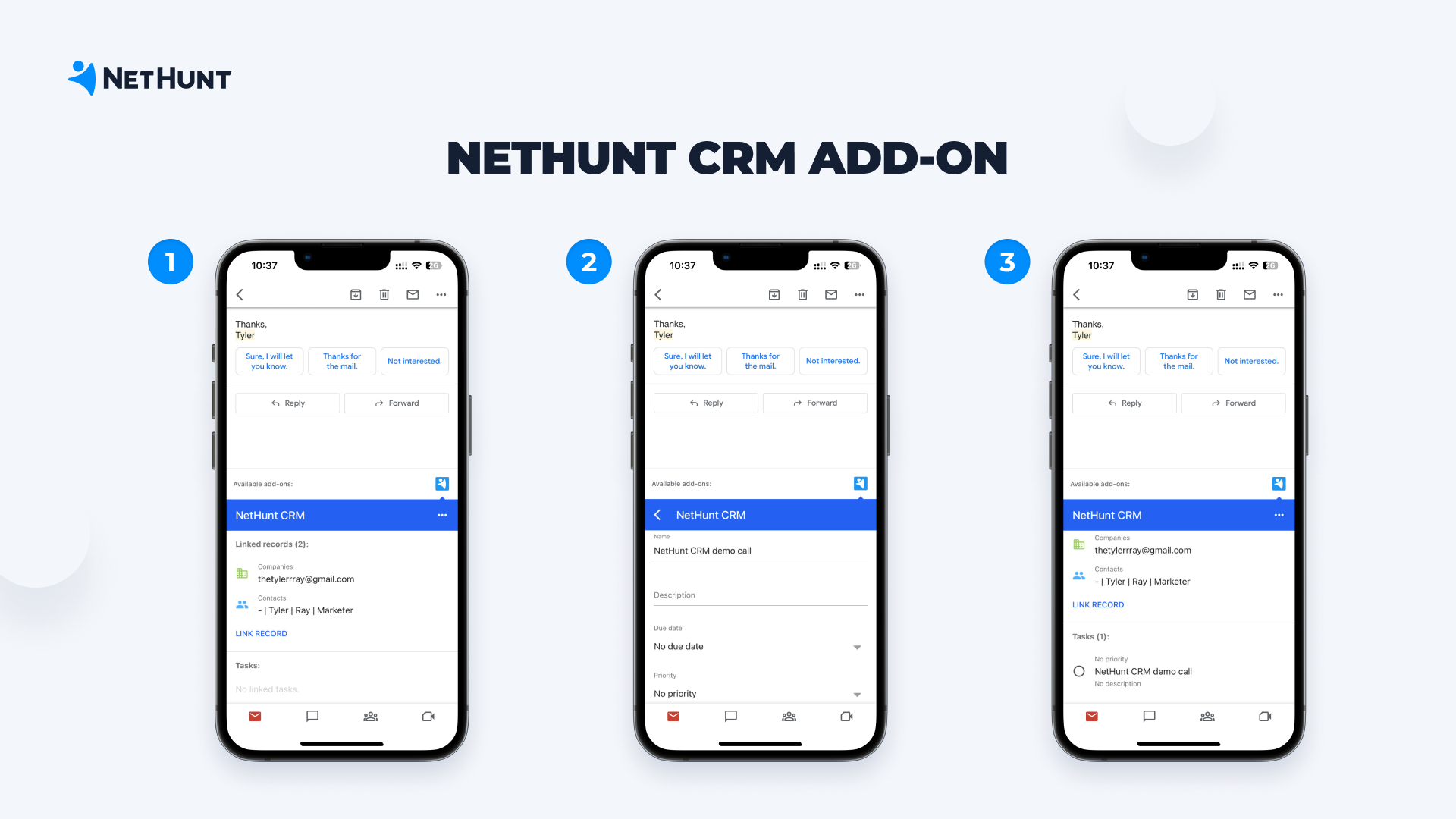 If you want to learn more about NetHunt CRM and its add-on, in particular, you may book a call with our Customer Success Team. We'll be happy to help.
Table of Contents
Crack the sales formula with CRM Lab
Twice a month, receive actionable CRM content to your inbox.
Join the
Telegram channel NetHunt CRM
All about CRM and B2B sales.
Join