Over the last years, Gmail has become something much more than a regular email service. The team of Google is restlessly working on making the user experience impeccable and ahead of the latest email marketing trends. And yes, it can be regarded as a full-blown, powerful tool for sales, particularly, due to a wide range of the most useful features and seamless integration with third-party services. But which Gmail sales app to choose and when do you really need to use each of them?
Why is Gmail a Good Selling Tool?
You may as well guess that Gmail is one of the top three most popular and used email services of the world. It is also a highly-recommended solution for a corporate mail implementation. Being among the major solutions in the list of global web services from Google, Gmail boasts enough features and capabilities to provide a great bunch of assistance for sales managers. In particular, they can use the service for communicating with clients and efficiently leading them down a sales funnel.
How Can You Use Gmail for Sales?
With Gmail and some compatible third-party tools in hand, you can easily increase the open rate of your messages, constantly remind your clientele about your business, special offers, etc. without doing much manual work, and boost your overall performance as a sales manager.
Tools Categories
There are two types of tools that can be integrated with Gmail: the ones that serve as full-blown apps and can be used outside of any integrations and the ones that pose as sales Chrome extensions for Gmail. In the following paragraphs, we will briefly review each kind of such software.
What Features Should Be in the Tools for Gmail?
In order to answer this question, you should first define your particular business needs. On the other hand, there are a bunch of recommended features that can universally help you with advanced sales management through your Gmail inbox, such as:
multilevel access that allows subdividing web resource administering rights;
offline mode with instant synchronization upon the subsequent connection to the Internet;
centralized data management;
history of changes that can help you understand which employee completed which tasks;
support of commonly-used file Formats for data export and import;
mobile version availability – allows you to manage things on the go;
trial version availability, which allows assessing the pros and cons of the software before you implement it.
Tools Estimation Criteria
How can you properly estimate a certain tool for working with Gmail? We compiled a list of the four principally important criteria:
Multipurposeness. It's better to pay for one useful tool that you may apply anytime than to integrate a bunch of solutions with fragmented functionality. The more third-party solutions you integrate, the more the risk of your employees getting confused by the 'Frankenstein's monster-like' interface;
Pricing. Not a lot of comments here – when it comes to business, it's no use throwing money all around the place. For a small business, this could be a critical factor.
Accessibility. Remember that not only you will be using the integrated apps, but the whole sales team. And the selected tool must come in as intuitive and accessible for everybody as possible.
Efficiency in solving particular business issues. It sometimes happens that software suppliers advertise their product so much that you begin to think that all of those additional capacities will eventually come in handy. Thus, you simply pay for the features you don't actually need. Always make sure that the selected app or a web service meets your current business demands in the first place.
Top 15 Tools for Gmail
We've gathered up the following 15 best Gmail apps for sales that you can integrate with your Gmail to interact with potential and existing clients through email fast and efficiently.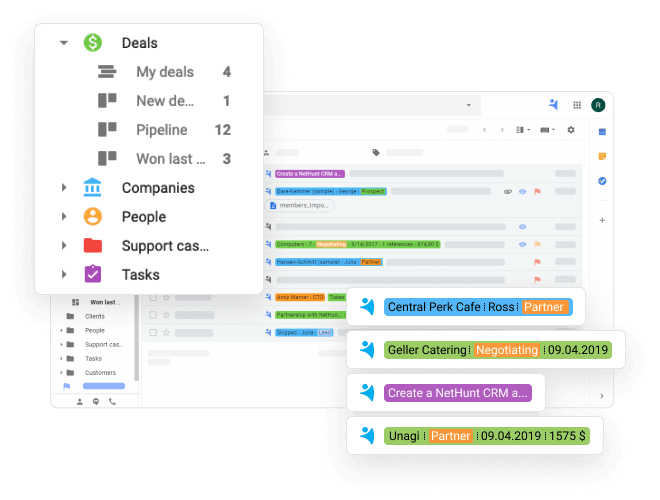 NetHunt is a Gmail sales CRM which serves as an excellent solution for small and medium-scale business, which enhances customer experience and integrates with G Suite web services. Such connectivity provides multiple user access to resources as well as the immediate update of all the changes taking place.
It is a very simple, intuitive product to work with, which performs in the cloud and can be used absolutely free of charge. There is also a 14-day trial period so that the team can test the system first.
Find the list of top-10 Gmail CRMs to choose from
Mailshake is a very accessible tool for creating cold email campaigns. With this software, you get access to templates, automatic message tracking, click rate and response monitoring, as well as numerous other content marketing capacities.
The service, apart from all it's capable of, can also autonomously extract user email addresses and links to their accounts in certain social media channels. On top of that, it allows users to edit lists and delete any duplicates or unnecessary contacts. As a whole, it is quite a useful solution for professional sales experts.
If you don't want to waste your time choosing time and place for a meet-up that will suit everybody invited, this is the plugin you can use. It is integrated with Google Calendar, facilitating business scheduling as much as possible.
In order to employ all the advantages of Assistant.to, you have to specify the potential length of an even and choose free dates in the Calendar. Then, the plugin will mention these timeframes in a prepared Gmail message. All that a receiving end has to do upon getting that message is click 'This fits me' and the event will be automatically scheduled in the Calendar for both of you.
Notice that this solution also helps to define time zones, send event notifications, and subdivide events by meet-ups and call-ups.
A Gmail extension Sortd provides a bit of the standard interface transformation and allows users to sort out messages by several lists divided into columns (by default, these lists are called To-Do, Follow Up, List 1, and List 2; you can rename them, delete, or add new task lists, however). This would be pretty handy for managers that interact through an email with several different categories of respondents simultaneously.
This tool takes the pain of signing documents digitally away. With its help, you can request a digital signature of 20 different people via an email. And that will take you no more than 30 seconds, using your existing Gmail inbox. After the document gets feedback from all the involved users, each of them gets their own digital copy.
Hello Sign also features the log of changes that you can browse through to check how many signatures you've collected so far.
This solution is perfect for those adding up their email contacts daily with more and more new names. In particular, it can help you find duplicated and outdated contacts. It's all done in just five simple steps. In such a way, Scrubly lets you avoid the confusion with numerous contacts and keep the correspondence going only through relevant channels.
Follow-up creates reminders that help closing deals. It simply monitors unreplied messages, reminding you to follow up certain important dialogues. Moreover, it indicates who and when viewed certain messages on top of providing pre-scheduling opportunities.
PieSync is a tool for cloud service integration via intelligent two-way synchronization. It allows working with the same client and user data throughout various marketing tools, CRMs, invoicing services, and digital commerce apps.
It also features team segmentation, listing, and command forming capabilities. With its help, you can synchronize, for instance, leads with high metrics (via CRM integration for Gmail) and add tags for a team.
This is the tool that helps you create appealing commercial letters in just a few clicks. All the templates are customizable, which highly simplifies the work with this tool.
Gmail Meter is a free service that analyzes all your Gmail activity and displays it in the form of monthly reports.
The reports contain:
the total number of messages you get and messages you view;
the indication of how fast you respond to incoming letters and who among your contacts gets the fastest responses;
the ratio of messages received and sent;
the indication of when and to whom you sent the biggest number of letters, etc.
With detailed, instantly generated statistics, you can manage your overall activity and work on some mistakes. All in all, it is a very convenient solution for everybody actively working through Gmail, not only sales experts.
Gmail Offline is an application that allows you to get inbox access offline. Particularly, once you install it, you will able to continue using Gmail even without the Internet connection, by clicking the Gmail Offline icon in the new Chrome tab. Thus, you can decide on your own when to work offline and conveniently switch between online Google Calendar and Google Docs and offline versions.
Hangouts is a multipurpose messaging service that also helps you organize all of your text communication and video conferences. As a matter of fact, Hangouts can replace three separate instant messaging systems: Google+ Chats, Google Talk, and Google+ Hangouts. From those apps, the messenger inherited a lot of capabilities while all you need to start working with it is a Google account.
As an extra feature, Hangouts users also get to establish online streams to YouTube.
Ecquire is a tool for the sales efficiency boost that provides synchronization of actions with your CRM while remaining active in all the rest of the working processes on your device. With its help, you can get access to data and services anywhere you have Internet connection. As a whole, this is an awesome product for the owners of CRMs integrated with G Suite services.
Rapportive lets sales managers enjoy all the advantages of interacting with LinkedIn for professional purposes. In particular, if a client's LinkedIn profile is attached to an email you know, you get extracted data on their position, companies, projects, etc. All that without the necessity to manually specify requests in LinkedIn.
From the sales profits boost perspective, this tool will be especially useful for work with cold emailing, helping you form a big picture of whom you are communicating with (e.g., whether it is a decision maker or not).
Last but not least among our sales apps for Gmail is AwayFind. If you spend too much time checking your inbox out of the fear to miss out on something important, this plugin will help you chill and focus on what's more important.
You can create filters via AwayFind, which would prioritize all the messages. And as soon as you get an important message, the plugin hits you up with a smartphone notification or even a full-on call that suggests you check your email.
How to Choose the Right Tool?
Selecting the most fitting Gmail automation tools, try to go from the general to the special – first, look for some global issues and then focus on the aspects that are not that significant. All the above-listed Chrome extensions for sales shouldn't be employed all at once – you'll just get confused with all the integrations and wouldn't be able to sufficiently estimate the advantages of each of the selected tools.
We'd recommend you to combine Gmail with more universal software initially – a CRM. The is even a possibility that its built-in functionality will work well for you and you will do without any additional tools.
The Best Gmail Tools for Sales: Conclusion
Summarizing our brief overview of some most renowned Gmail tools for sales, you can see that there are, currently, lots of efficient and affordable options available on the market. Combined with Gmail, those can provide you with a full-on virtual assistant that will facilitate and automate your work with clients. As a result, you get a chance to boost the quality of customer experience and boost your sales in the shortest terms with the smallest efforts.
In terms of full-cycle partner and client interaction, though, you will require something more universal and powerful to be integrated with your Gmail. Try out our own CRM for Gmail NetHunt to see for yourself what your business can make use of.
Table of Contents
Crack the sales formula with CRM Lab
Twice a month, receive actionable CRM content to your inbox.
Join the
Telegram channel NetHunt CRM
All about CRM and B2B sales.
Join