Coaching a sales team is crucial to ensure reps can work on their own, progress, and stay motivated to hone their skills. There are dozens of definitions of what it means to work with salespeople. It's crucial to understand that not all forms of corporate training can be defined as coaching. In this post, you'll learn how to approach corporate education, its benefits, challenges, and best practices.
What is Sales Coaching?
Experienced department heads refer to coaching as the process of educating employees one-on-one, helping them remove the obstacles that hinder growth and development.
There are three pillars of an effective sales coaching – let's examine them one by one:
Regularity. All sessions should be a scheduled activity. Only this way, you will be able to monitor and fuel the employees' long-term professional development.
Uninterrupted attention. A manager and a rep should have one-on-one sit-downs every once in a while. That's how all team members can describe what's holding them back in detail, and the department head will have enough time to resolve these issues.
Planned. Intelligent sales team coaching is the means to a clear end. A manager should have an idea of how a salesperson will progress professionally after each meeting.
Objectives of Sales Coaching
Training sessions are not just about ensuring that team members are skilled enough to meet their quotas. Its primary purpose is to help reps stay motivated at work, excel at communication and management.
Here are the main objectives of coaching sales reps:
Encouraging perpetual learning. A team manager needs to spread the idea that there are always new practices to learn in sales. Training helps ensure the team doesn't think they are too good to go back to taking courses and reading niche-related books.
Improve the quality of feedback. Coaching creates an open environment for teams to discuss workplace issues. A manager will be able to check if a rep enjoys working and find ways of reducing burnout in the department.
Adopting new practices and behaviors. Each salesperson should be able to reevaluate and adjust their working habits at a session. Make sure that sales reps are keeping the pace and implementing new practices in the real world.
How Sales Results Will Change With Coaching?
The benefits of sales coaching are more apparent than those of training or a short onboarding session. It creates a framework that helps salespeople build solid skillsets on their own rather than having to reach out to a manager to answer questions.
Also, as the use of texting and messaging at the workplace has increased, salespeople started losing the grip of handling in-person meetings and phone conversations. During a session, all reps will have to dust off the communication skills and practice expressing their ideas concisely and transparently.
Finally, coaching, unlike training, relies on long-term memory. Instead of cramming employees with tons of policies, practices, and skills, company managers choose step-by-step incremental changes. You can ensure that all gained knowledge becomes a part of the team's daily routine.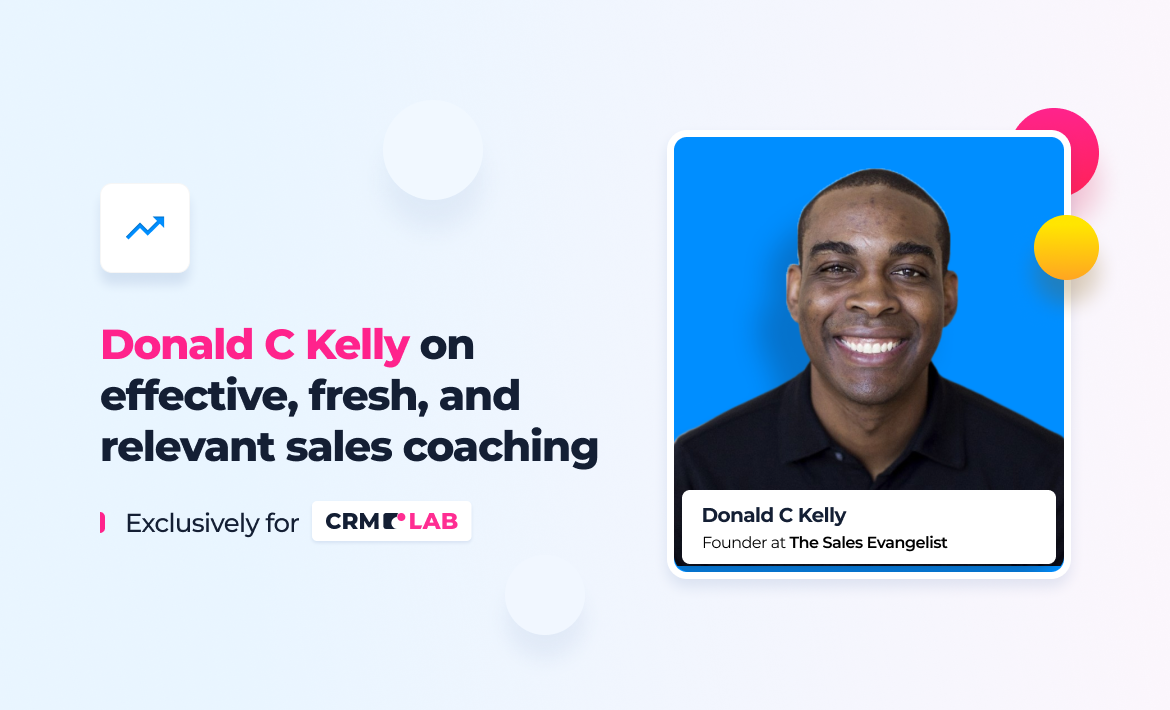 Sales Coaching Examples
The company's sessions will be highly successful if they correspond to the team's daily activities and job responsibilities. Thus, instead of focusing on learning skills reps rarely use, work to improve the efficiency of actions salespeople have to handle dozens of times per day.
For a better understanding, here are a few effective coaching examples:
Going over the phone calls a rep made during the day. Here, a manager should focus on highlighting the positives rather than the negatives. Also, give sales reps an understanding of ways to improve cold calling and phone conversations with leads.
Addressing the issues an employee faces. Another way to work with the team successfully is by letting your reps bring discussion topics to the table. This way, the discussion will stay relevant – the team will use the solution they learned about every day at work.
Shadowing meetings. It's another way to assess and improve a salesperson's efficiency on the spot. By shadowing meetings, a manager gets to watch the rep-client dynamic. This way, it's easier to come up with working ways of improving the team's efficiency.
Benefits of Sales Coaching
Educating sales managers should be a priority in all teams – even if it seems like the department is performing well enough. The long-term impact of intense sales training and coaching is tremendous. To start with, it promotes independence within the team – sales reps are no longer as dependent on the manager as the problem-solver. On the contrary, they are capable of taking responsibility for decisions and thinking on their feet.
Coaching keeps managers motivated, eager to improve their skills and grow professionally. After a couple of sessions, your team members should be able to notice progress in client communication, time management, and other crucial work-related areas. It is a great way to shake up the working routine and bring novelty and the adventurous spirit into the office.
Sales Coaching Challenges
Coaching is just as efficient as the person in charge of it is. Unfortunately, due to the lack of enthusiasm and experience, a fair share of team managers struggle to deal with the following challenges:
Time constraints. Group sessions don't offer the same connection and leverage as one-on-one meetings.
The lack of personalization. To work with companies successfully, you need to keep an individual conversation current for each rep – otherwise, a session quickly becomes unproductive and demotivating.
Lack of enthusiasm on the other end. A manager can only get so far if an employee thinks attending meetings is not worth his while. To solve the issue, lead reps take the lead and bring personal concerns to the table.
Little experience. If a manager is not experienced at coaching for sales success, the session will likely turn awkward. That's why it's crucial to draft a list of talking points beforehand.
Types and Roles of Sales Coaches
Sales management is a multi-faceted activity – no wonder there's more to coaching as well. There are several types of training teams can bring on board – here's a short review of each.
The very first role to mention would definitely be accountant sales education. Its main focus lies in reviewing pipelines and identifying key opportunities for each lead. Then, there are meeting coaches. Here, a manager or a coach assesses reps' skills of running client meetings and conference calls. Finally, all companies should pay special attention to general training – a short one-on-one session that touches the pain points of each employee and helps fix workplace, motivation, or other issues.
Best Practices of Effective Sales Coaching
Inexperienced sales coach managers can be confused when coaching teams for the first time. It may be hard to structure new information efficiently, prioritize focus points, and keep the learning process engaging. To avoid confusion, industry experts develop and implement best practices at the department. Here are the top 20 techniques that will help you turn the team into a well-oiled machine.
1. Customize
No matter how tried-and-true a session plan is, there's no way it will be equally efficient for everyone on the team. While you should definitely be prepared to meetings and have a vision of where you're leading the department, don't shy away from making on-spot corrections for each rep and deviating from an established schedule.
2. Create a Plan
Having all the exercises, activities, and most frequently asked questions outlined beforehand makes you way more confident as you walk in a room full of efficiency-driven salespeople. Coming up with and sticking to a plan helps predict how much the team will be able to learn and accomplish during every session.
3. Execute
Make sure there are no constraints that will prohibit reps from executing practice tasks during a session. If needed, break the team in pairs to prep for upcoming client meetings or include other people from the management line to give reps feedback on their training.
4. Process and tools
While there are exercises that require no extra equipment, sales coaching reaches its peak efficiency with a dedicated toolkit. Don't hesitate about investing in CRMs or data visualization tools to improve employee training – in the long run, it pays off for most teams.
5. Review results
Keeping a critical eye on the efficiency of the session is crucial. Take time to compare employees' performance before and after coaching. Reflect on what abilities improved and what fueled the growth. Come up with a plan of reaching benchmarks faster, in a more engaging or cheaper way.
6. Motivate
The sales environment is highly competitive – all because most reps perform brilliantly this way. However, the ways to motivate salespeople are often trivial – quotas, corporate leaderboards, and so on. It's your task to see beyond the traditional means and offer new ways to motivate the team. For instance, provide top employees with on-demand growth opportunities or possibilities to meet people they admire.
7. Advise
Improving the efficiency of the team is not about learning textbook practices – it's about solving immediate issues hands-on. Be ready to study the cases each rep is facing and offer relevant advice for a particular problem. This way, the problem-solving role of coaching manifests clearly and the sessions prove their worth.
8. Update and Repeat
While it's tempting to bring the same program to next-year sessions, it's not what coaching is about. Be on the look for new activities and exercises to keep your team intrigued and motivated at every single meeting.
9. Preparation
It's crucial to create a comfortable environment for sessions. Think both about the physical attributes – choosing a cozy, quiet place, and the mental state of the team. For instance, scheduling a meeting at the end of the workday would negatively impact the team's morale.
10. Connecting
Connecting with a rep is tied to his personality, as well as a preferred learning approach. Take the time to find out if a team member is a hands-on kind of learner or a big-picture person that has to know how sales coaching techniques and exercises fit in the big scheme of his professional development. This way, you'll be able to establish a unique and flexible bond with everyone on the team.
11. Assessing
Start by determining the salesperson's weak and strong points. Aside from assessing sales-related skills, keep tabs on the amount of time a rep can maintain concentration, how much extracurricular work he's willing to put in. All this data will help plan the training process and choose the areas that are a top priority for improvement.
12. Analyzing
An external professional needs to research the ins and outs of the company's corporate policy, vision, and philosophy. Knowing the business' strengths and weaknesses, you will be able to come up with a way for sales managers to fuel the company's growth and development.
13. Addressing
A coach needs to ensure he's transparent in communication. It's crucial to explain to all reps what the sessions will help accomplish. Also, by encouraging employees to voice concerns and addressing them, you will create an open, judgment-free environment that empowers efficient education.
14. Commitment
Progress cannot happen if the team is training once in a blue moon. It's a regular activity – the one that requires commitment both from the coach and the team. Asking reps to invest most of their time and effort in education would be futile as they have other duties and responsibilities. That's why gradually increasing the complexity of tasks and level of commitment till a session lands on reps' priority list is the safest way around.
15. Doubts
Hacks and advice are never one-size-fits-all. That's why they might be effective for some and useless to others. It's natural that a few sessions down the line, the team is skeptical about the advice a coach shares. If that's the case, have the courage to confront a rep about his doubts and objections. Assure him that you will be thinking of his case for as long as it takes to develop a working framework and close the deal. Through humility and open-mindedness, you will be able to take down salespeople's doubts one by one.
16. Consulting
Consulting is a driver for a successful sales coaching system. Handling the issues a sales rep is burdened by instead of trying to fit him into your training puzzle is the only way to ensure your training is a two-way communication. Also, by getting applicable advice, a sales member will see a direct link between attending meetings and the increase of personal efficiency.
Conclusion
Now that the burnout rates are skyrocketing in sales teams, the need for professional coaching is more apparent than ever. An ambitious company manager cannot miss out on providing the team with continuous education.
While it is not challenge-free, by following the list of established practices, you will be able to keep employees motivated and eager to improve. It takes open-mindedness, patience, and planning to drive the team to excellence – the rest will follow as you connect with reps and get more working experience.
Table of Contents
Crack the sales formula with CRM Lab
Twice a month, receive actionable CRM content to your inbox.
Join the
Telegram channel NetHunt CRM
All about CRM and B2B sales.
Join