20 Tips to Keep Your Salespeople Happy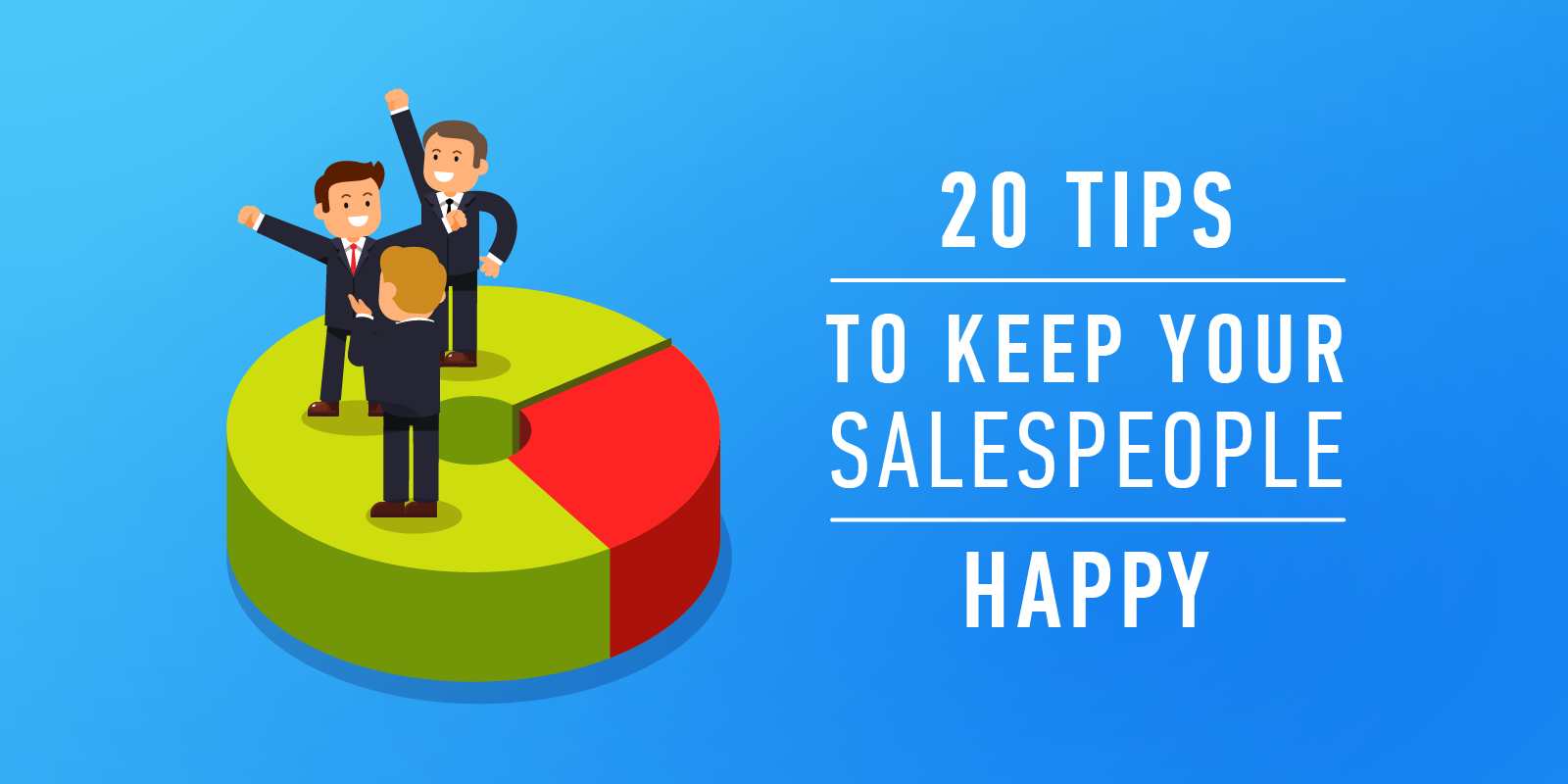 Have you ever asked yourself about the purpose of life? I bet you have. And the most interesting thing is that no clear answer is provided. Some people live for their children. Others prefer to embrace the life and live it to the full. Other categories of people seek their own goals and endeavors to dedicate their lives to a certain idea or activity. And do you know what? Despite all these dissimilarities, there is still one thing in common, and that is happiness.
Each person has their own definition of this feeling. Moreover, its definition changes with aging. Thus, a teenage boy may be happy with a new bicycle or some sports achievement. Being an adult, the mentioned terms might be not enough to experience the feeling of happiness.
In this article, we will take a closer look at a special category of people who are involved in sales. Every day they move heaven and earth to satisfy their clients and earn income for themselves or the company they work for. Still, such fervor may go down with time unless there is a certain motivation for a sales team. Hence, this is going to be the principal subject of the current publication.
Table of Contents
1.Why you should motivate your sales team
It is a common thing that people are unwilling to perform certain activities. Nevertheless, a successful future outcome or achievement induces them to change their minds and get activated. This is the working principle of motivation. In other words, a favorable factor is needed to persuade an individual to perform an action. We have plenty of motivation examples in the course of a life but the commercial world is a bit different.
It is never enough to recognize achieving certain goals and abandon sales team motivation. Your salespeople should feel eager to do what you want them to do. And that is the proper way to success. If you wonder why this issue requires extra attention, have a look at versatile prosperous companies or brands and ask their employees about their feeling. In most cases, the formula of the business prosperity looks like as follows: Happy Staff = High Productivity = Increased Revenues. In this article for Fortune, Michal Addady looks at the study which proves that happy employees are significantly more productive. Do you need other explanations of the necessity to motivate your sales team? I hope not.
2. Methods of sales team motivation
If the reason for making personnel happy is undisputed, the methods to achieve that result are mostly mysterious. Every employee is an individual with own preferences, ideas, thoughts, desires and other prerequisites of happiness. Still, you cannot invent different ways to motivate a sales team if it comprises more than 20 people. On this account, it is recommended to pay attention to the major triggers of happiness for employees engaged in trade.
Money is the best motivator among all others. People work to earn money i.e. they dedicate the largest share of their life to a certain occupation. If such sacrifice is not valued properly in terms of money, do not expect the top commitment from your staff.
The career ladder is the second-rated factor in making a salesperson ignited to work hard and effectively. This option is interlinked with financial rewards as well. However, it also contains the factor of recognition. In other words, a person realizes that all their efforts have been appreciated and shaped in the form of promotion.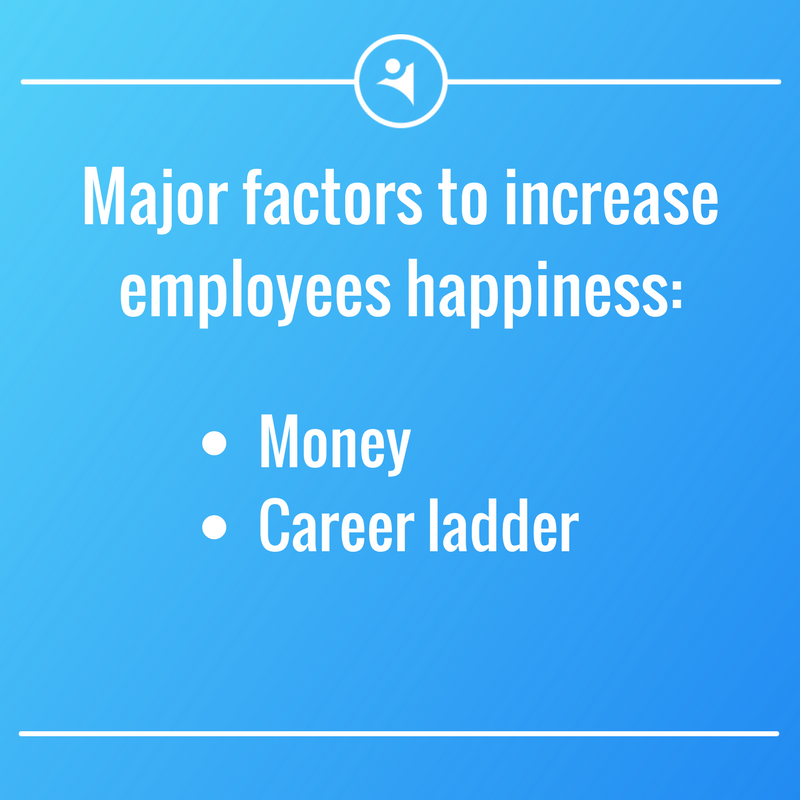 These two methods are quite beneficial and widespread in numerous businesses and industries. However, it would be errorful to generalize the notion of happiness by two driving factors. Martin Zwilling wrote a piece for Forbes, in which he analyzed the contribution of the happy sales staff to the company's revenue and ways to boost their level of happiness. Hence, let's dig deeper into the issue and find something fresh and extraordinary.
3. 20 tips to keep your salespeople happy
We are not going to beat around the bush. Hence, we introduce a set of versatile techniques and prompts to raise the satisfaction of your staff in its working place. These tips to keep your salespeople happy are not invented by us but borrowed from the experience of such prominent brands like Apple, Hubspot, and others.
1. Small victories every day
Every day of your staff should be characterized by recognition of achievements even if they are small enough. It is not difficult to encourage a person for a successful action like a receipt of a positive feedback, retain of a customer etc. The power of a small victory is impactful.
2. Today's wins
Another tip dealing with encouraging achievements foresees not a manager's praise but an unbiased look by an employee at the accomplished work. Ask your sales team to write down all small victories to strengthen their confidence.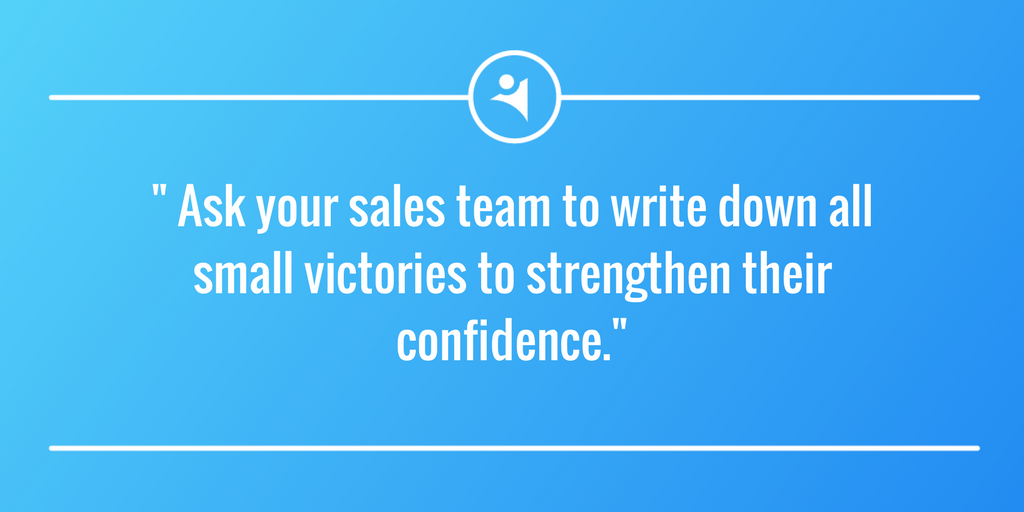 3. Sharing of weekly wins
Based on the tip above, your personnel should select three major achievements for the week and share them with you and the coworkers. Each employee will be proud of the small wins inside the workforce and such an activity will favor the team spirit increase.
4. Motivation chart
Being competitive means to deploy all efforts to catch up and overtake rivals. If each of your personnel has such a desire, your business is bound to end up being prosperous. So, let your staff see major metrics and make a corporate rating of accomplishments.
5. Company mission
Working under the same roof foresees a certain mutual goal. Some people go to work without a clear understanding of the company's position in the world. If your business comprises selling toys, it can be described as "presenting happiness to every child's eyes". The company mission should be specified and praised.
6. Sharing company's accomplishments
Each employee is a part of a large structure created to provide services or products. So, every company has own general accomplishments that have to be shared with its workforce. Why? Staff must feel as a constituent part of something big and prosperous.
7. Company values
Values of any company are interrelated with goals and mission. All this shapes a certain quality standard for running the business. Align them with personal values of your staff and you will get a decent motivator.
8. Schedule optimization
It is rather exhausting for a regular employee to waste efforts for several tasks at once. On this account, save the energy of your sales staff by optimizing their working schedule. For example, put a couple of tasks in priority to get the maximum result. Your employees will remain eager to perform for a longer time period.
9. Lighter responsibilities
Make an analysis of actual activities performed by your sales reps. Sometimes, secondary tasks like administration, content creation, marketing tasks and others obstruct the true selling process. That must not happen if you need charged and motivated employees.
10. Proper marketing base
A compelling and up-to-date content including case studies, blog posts, websites, videos etc. is an essential tool for salespeople to interplay with leads. Therefore, make sure to maintain the quality level of the content for your employees. More on coordinating sales and marketing read in the article by Benson Shapiro for Harvard Business School.
11. Balance of challenging tasks
Feeling charged is provided by challenging tasks that require the top-level of commitment. At the same time, the abuse of such activities is the way to burnout. Hence, keep the balance of challenging tasks to ensure motivation of your sales team.
12. Be positive
If the business is going down, there is no need to complain aloud. You need measures to reverse the situation and stay afloat. If employees feel your confidence, they are likely to share your positive mindset and help you to get out of the slump.
13. Appreciation
If you value your sales reps, make sure they are aware of that. There is plenty of ways to encourage and show your appreciation of what employees do. Choose the suitable one and give your support.
14. Put yourself in your team's shoes
The management is a higher hierarchy level. Nevertheless, you might be willing to show your personal commitment to the business and go down for a while to join your sales team. A couple of sales calls side by side with your employees will be a good motivation.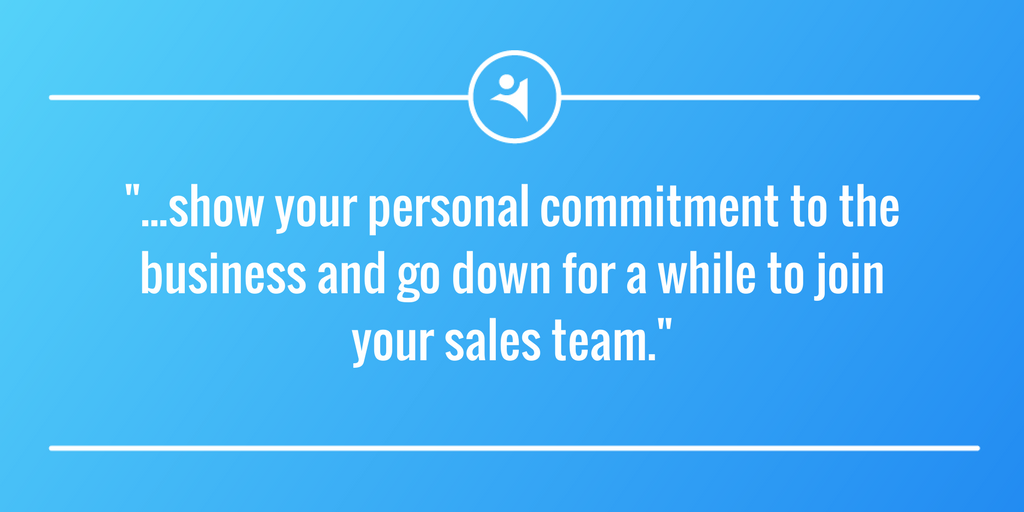 15. Visible scope for promotion
It is a decent practice to discuss future career goals with each employee to have a forecast picture of promotion opportunities. If someone knows the destination, he or she has more desire to walk that path.
16. Education
Most people confess that years spent in college or university are considered to be the best time of life. So, if you want to make employees happy, choose this option out of miscellaneous motivate sales team tips. Education is a good solution to abstract away from work for a while and to obtain new knowledge.
17. Virtual brainstorming
Numerous companies practice brainstorming to achieve effective performance. Still, why should one choose the virtual way over the in-person one? That method is considered more performant compared to a regular one. So, go ahead and get two in one – motivated personnel and productive ideas.
18. Small experiments
It is quite possible that some of your sales reps have their own vision of solving a certain problem and streamlining a certain idea. If you let him or her do it on their own, you will gain respect and commitment. Still, there is no need to sacrifice the current structure or business model. A small experiment will do the trick.
19. Public rewards
It is a good idea to sometime treat the work as a game. Still, the game will have no losers but award the most effective winners like "the best player of the month", "the most effective deal", "the most attractive follow up" etc. Your salespeople will be enthusiastic.
20. Offsite events
Versatile team building out-of-the-office activities are one of the best ways to motivate the sales team and improve the team spirit. Arrange some outing in nature or visit to a recreational facility as a bonus for a decent performance. Your employees will rest from labors and get charged with positive energy.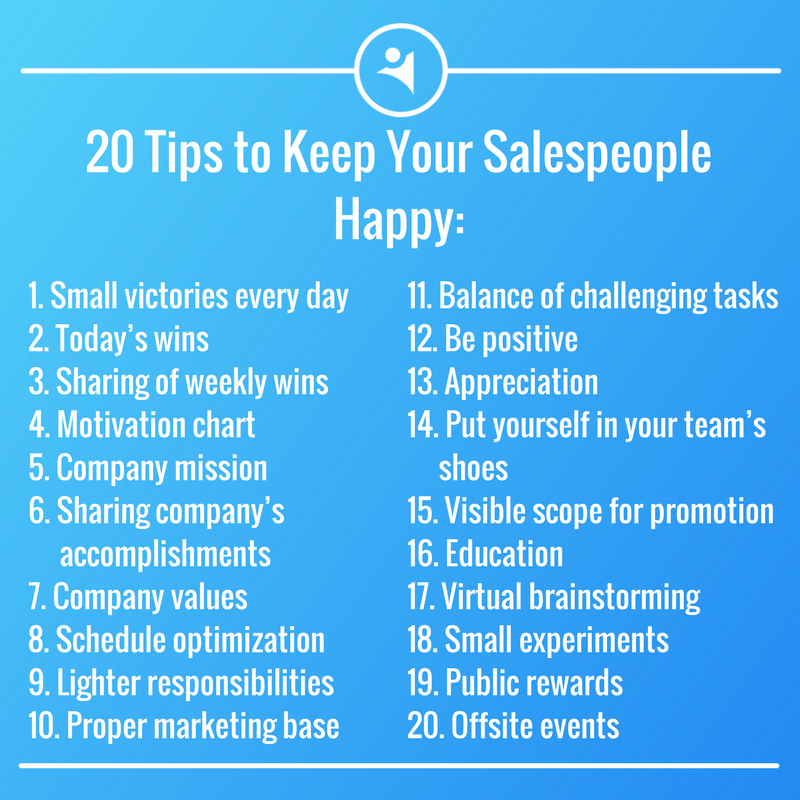 4. Which results you can expect
Certainly, there is no exact guarantee that your sales will rise twice or more after you give some motivation to your staff. Still, the result is expected. All you need is to remain patient and choose the appropriate strategy to make your employees happy. The experience shows that implementing a decent motivational activity can increase the performance several times resulting in a significant profit.
Also, it is very important to keep in mind that all of your efforts to please your sales team must be sincere. Otherwise, artificial attempts will be spotted right away and result in mistrust and doubt from your teammates. Therefore, in order to avoid such misfortunate outcomes make sure you are genuinely interested in your employees and in all the activities you decide to have in your company. Only in this case, the working environment will improve, productivity and sales will increase and you will gain popularity as a great leader
5. Best sales team motivation examples
So there you have it: 20 ideas of what you can do to make your employees happier. And now why don't we go from theory to real-life examples? Let's have a look at how some of the internationally successful brands implement these tips. Maybe you will even become inspired by some of them.

Do you remember such a altphrase as "a computer for the rest of us"? In fact, these words became the underlying principle of Apple and evolved into a broader mission of this world-famous corporation. Its employees know the mission and commit themselves to its goals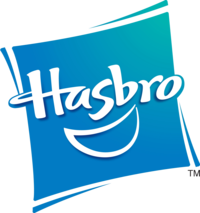 This globally-recognized toy producer altered its vacation terms. Now, new employees of Hasbro are offered with three weeks of vacation within the first year of employment. The previous policy foresaw the five years expectation.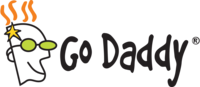 Versatile out-of-the-office activities are offered to GoDaddy staff on a monthly basis. Moreover, these activities are held during business hours without affecting the salary. The staff has already been at gold panning, whitewater rafting, and cooking classes.

This manufacturer of medical equipment allows its workers to have fun right in the office during the working hours. Activities in Stryker include table tennis and various table games.
6. Conclusion
It is not that important to know how to motivate a sales team tips. It is more topical is to pay attention to the needs of your personnel as well as to the service provided to clients. If both components are satisfied, the business can expect prosperity.