How to manage workspaces and subscriptions
Team collaboration lies at the heart of NetHunt CRM. Everyone in a team should be able to have access to the client database, to continue a conversation with a customer instead of any colleague and generally be on the same page with everyone in a team. But this data should also be kept secure. It belongs to you and your business, so no one without your permission should be able to access it. To meet these essential requirements, NetHunt CRM uses workspaces to manage folders, records, and the permissions assigned to them.
What is a workspace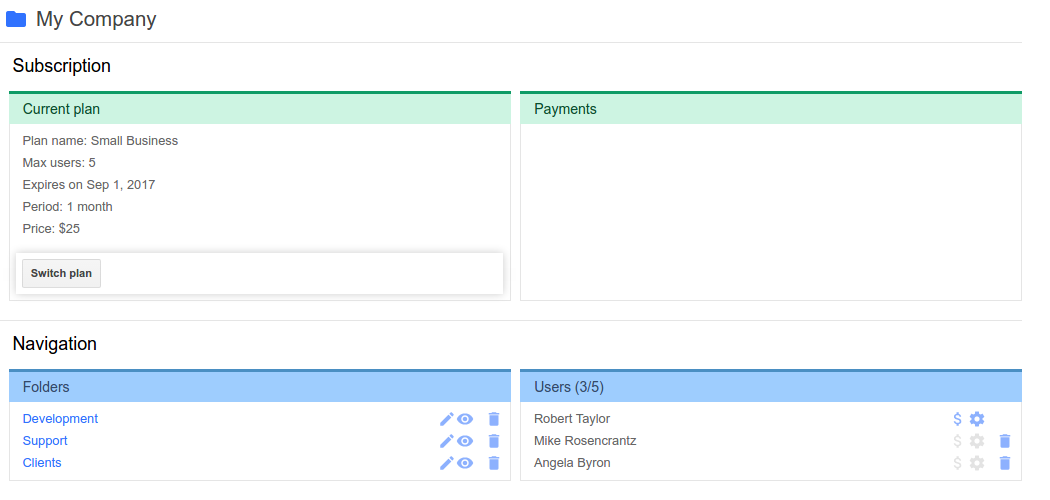 NetHunt CRM uses the concept of workspaces to organize folders and let you choose who can access the data stored in them. When you create a folder, it will be placed in your workspace and only you will have access to the records in that folder. You can share a folder with another NetHunt CRM user and that person will be added to your workspace.
Trial workspace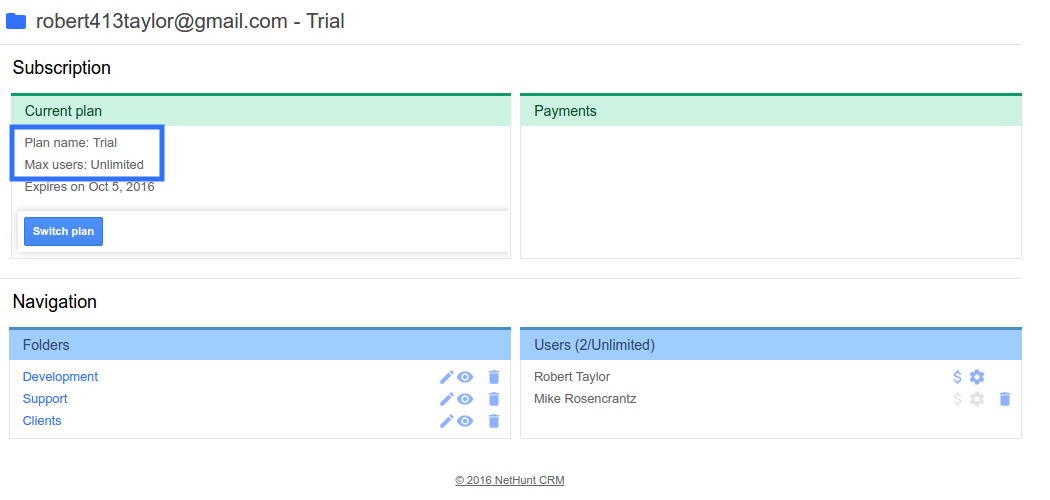 After you add NetHunt CRM to your Gmail account, it will create a trial workspace. It has absolutely no limitations, so you can share folders with an unlimited number of users during a 30-day period. This is a perfect opportunity to add your team or even every person in your company (no matter if there are 5 or 500) to test NetHunt CRM in your workflow.
How to choose a subscription plan
Once you decide that NetHunt fits your business requirements and you'd like to continue using it, you need to choose a subscription plan. The number of users that can access the folders under your workspace is the key factor in deciding which subscription plan for NetHunt CRM is ideal for your team. You can check how many people you currently have in a workspace under the Users section in the corresponding workspace.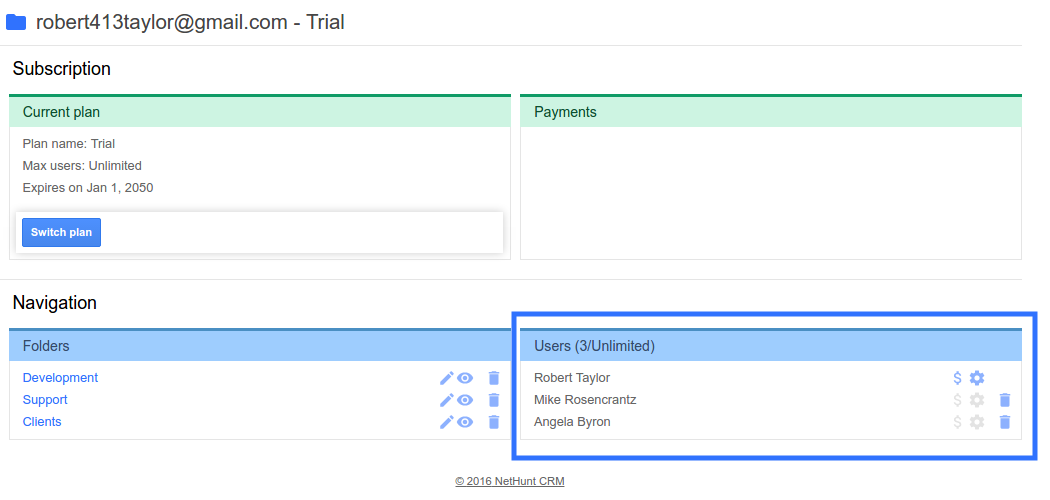 Click on the Switch plan to choose a subscription option. You'll be prompted the optimal plan based on the number of users you currently have in a workspace. For example, if you've added 3 users to your trial workspace (plus yourself), you'll be suggested a 5-user subscription plan, allowing you to add one more user in the future. If you've shared folders with 6 people, you'll be suggested a 10 user subscription. Alternatively, you can remove some users from a workspace by clicking on the bin icon in the workspace's Users section to make smaller plans available.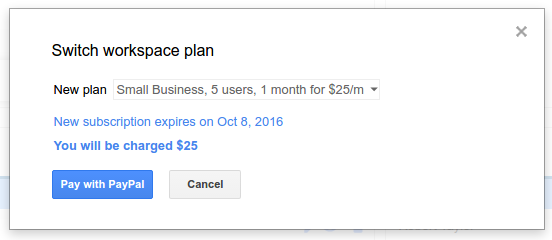 Plan expiration
Upon reaching the end of a trial or a paid subscription period you'll be prompted to extend the subscription. A yellow exclamation mark will appear next to the workspace name in the left sidebar a week prior to the expiration date. During this week, you can continue using NetHunt CRM as before, but it's advised to extend the subscription to avoid workspace suspension. The next subscription period will start after the end of the previous one, not after the payment date.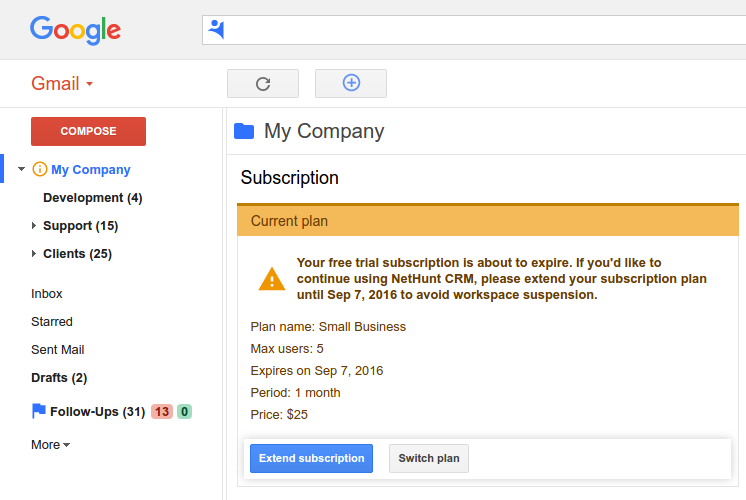 How to change workspace permissions
Similar to folders, you can adjust the permissions for a workspace by going to Users section in the workspace. Here you can:

Set payment permissions. Click on the dollar sign ($) to choose which users can change the subscription plan or extend the current one for this workspace;
Give workspace management permissions. Click on the gear icon to set which users can create new folders in the current workspace, hide folders from the navigation, rename them, etc;
Delete users. Click on the bin icon to remove a user from a workspace. This automatically recalls the access permissions to every folder shared with that user.
---