How to create and manage views
Group and sort records into views
The records inside a folder can be represented in two different types of views: a list view or a card-based view.
List view
When you access a folder you can see all your records in a list view.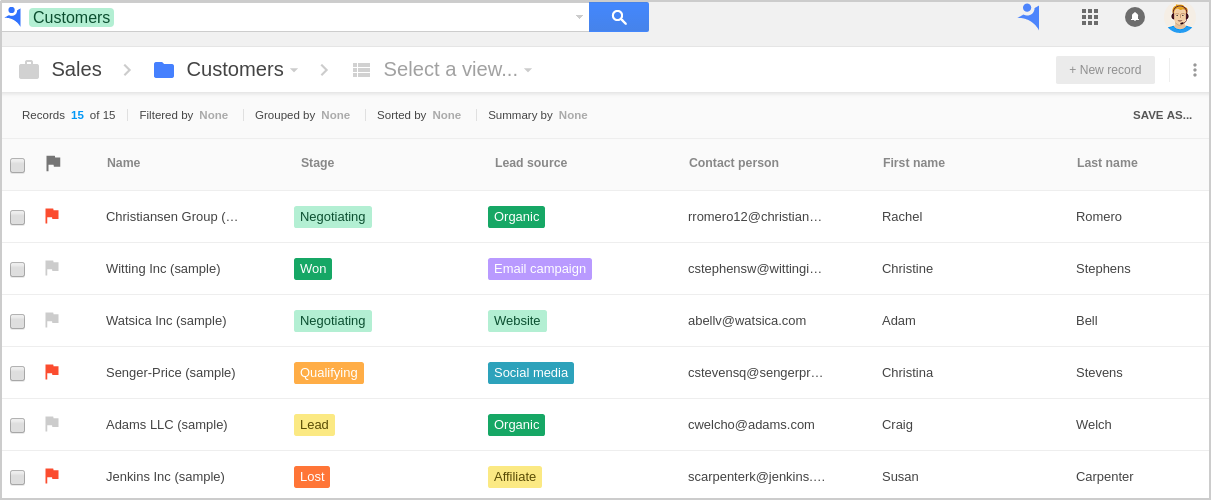 By default, records are sorted by their update time. To sort them by other parameters, use the Sorted by button in the toolbar and select a parameter.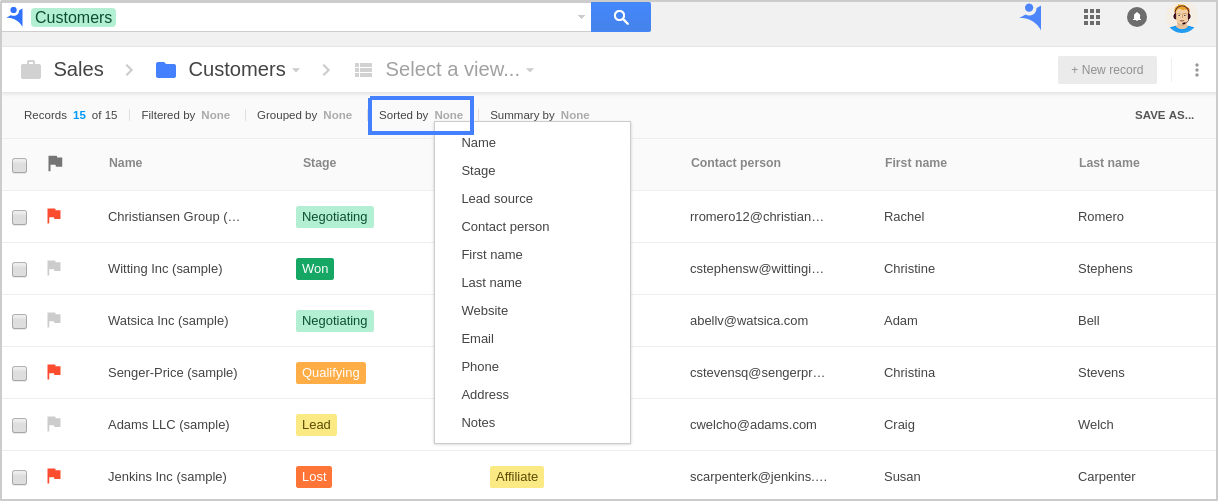 Cards view
To create a card-based view of the records, open your folder, use the Group by button and choose the field you want to group the records by.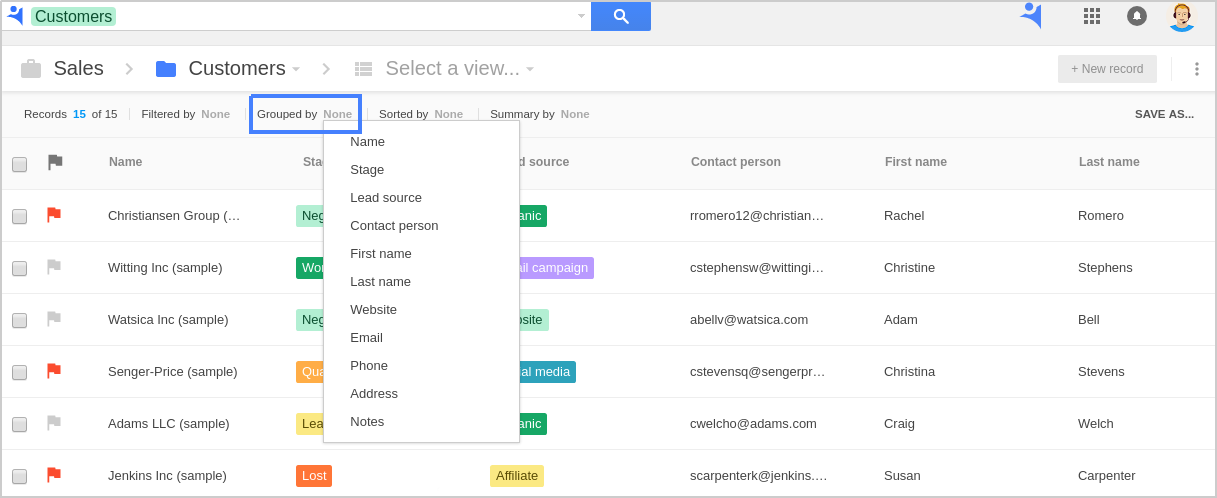 This way records will be divided into columns based on their field values. For example, grouping records by a Stage field will give you an overview of records sorted by their current stage in the process (for example, in a sales pipeline).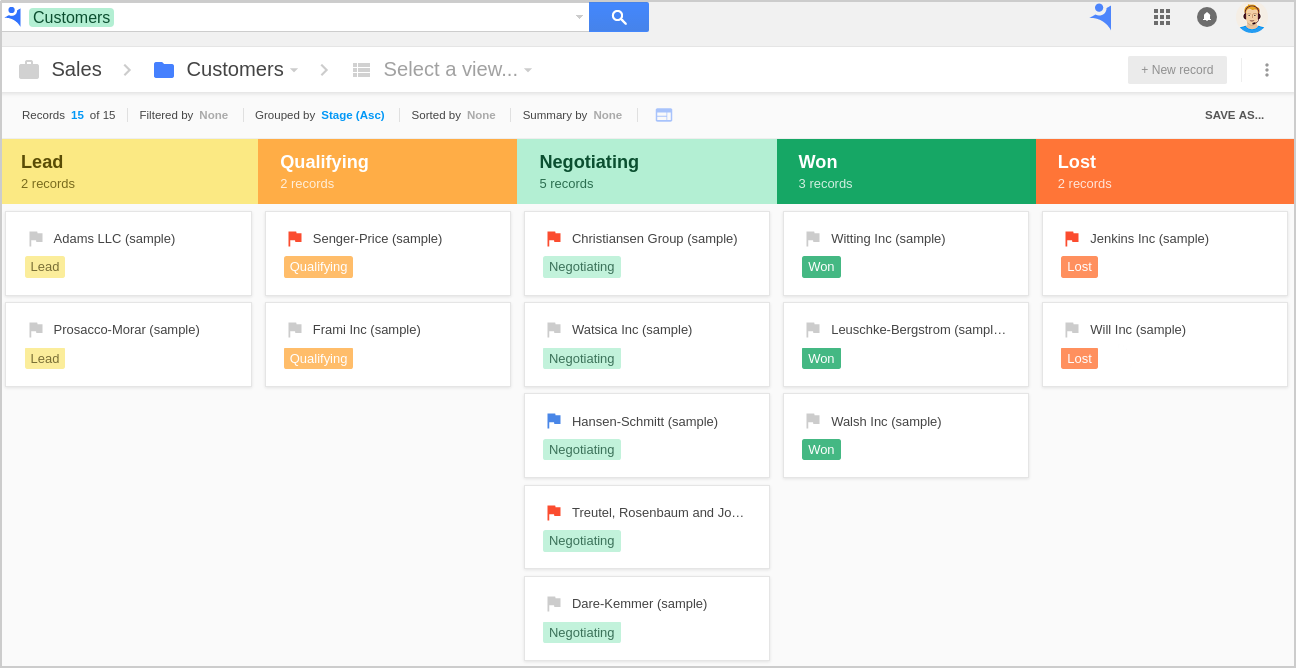 How to save views
To save a view for a quick access later, click on the Save as… button, name the view and hit Save.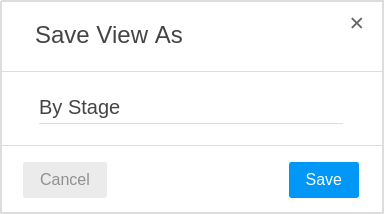 The saved views will become available from the left sidebar under the corresponding folder.

Also, all the views can be accessed from within a folder, when you click on Select a view…, you'll be getting a dropdown menu to choose a view from.

All the view manipulations are performed within a view itself. Just hit the 3-dots-Settings button to:
Rename a view;
Share a view with other people (by default, all views are shared if a folder is shared);
Show/hide the view in the left sidebar;
Delete a view;
Export a view. You have 2 options: a CSV file or a Spreadsheet to export to.
When you access a saved view and change it in any manner, you can save the changes to this view by clicking on the Save view button.

How to apply filters
Filters are a powerful tool to have an accurate set of data displayed in your view. They allow you to search exact values not only by one criteria(one field) when you are grouping or sorting your records, but applying multiple values.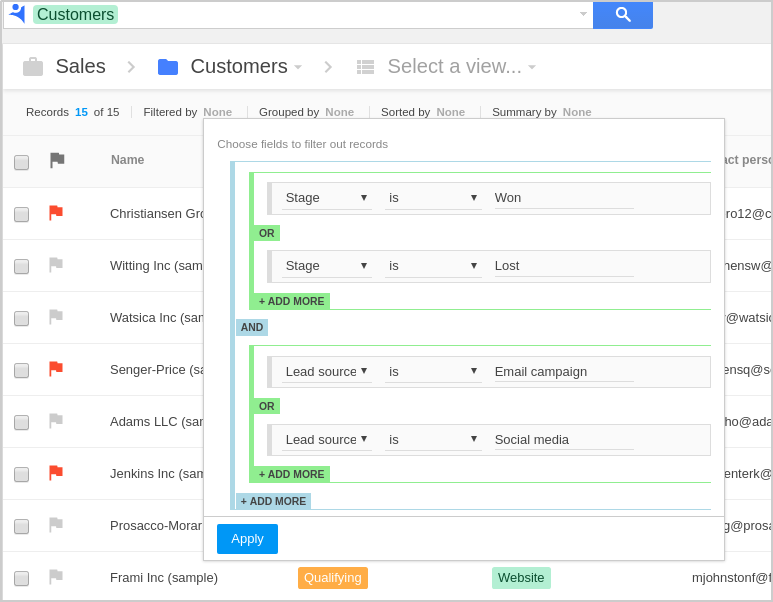 To start applying filters, open one of your folders (we took a Customers folder) and choose the fields you want your records to be filtered by.
Let's say you want to see all the records that are in stages "Negotiating" and "Qualifying" with the Lead source coming from "Website". We use our Sales pipeline to adjust filters.
The steps here are to:
Click on the "Filtered by" button;
Select the relevant filters (Stages: Qualifying and Negotiating; Lead source: Website);
Hit "Apply".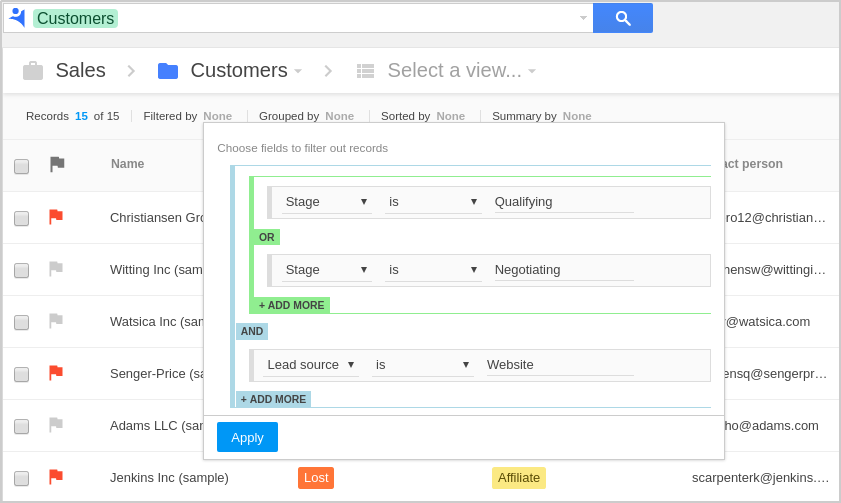 Now you can see that the system found two records having the filters previously applied and you can start working with those in the manner you need.

For Support agents there can be one of the examples to manage their workflow with the submitted tickets. Let's say you are a manager of the department and want to see what cases were put on hold and whose deadline is some time this week.
The steps here include:
Click on the "Filtered by" button;
Select the relevant filters (Status: On hold; Due date: this week);
Hit "Apply".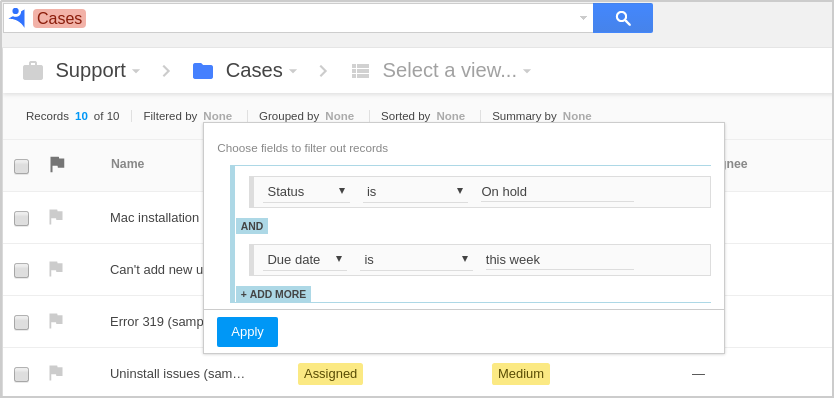 Now you see a picture of two records (cases) being put on hold and that are due this week. As a manager you might want to find out the reasons they have such status and what measures have to be undertaken.

---