How to import and export leads, clients, and email addresses
So, you've finally decided that NetHunt CRM is the right tool for you and you're ready to make a switch from your previous CRM system or the spreadsheets. You can easily do so by importing the csv data into NetHunt CRM and take all your leads and contacts with you.
Where to get a csv file
Most CRM systems support the data export into a csv (comma-separated values) file. Usually you'll find it under data export options. Please check your CRM system help center or contact its support team if you need help in exporting data into a csv file.
You can export your customer/client data from a spreadsheet (Google Sheets, Microsoft Excel, LibreOffice Calc, etc). For example, to export your data from Google Sheets, select a sheet you'd like to import into NetHunt CRM, then go to File - Download as - csv.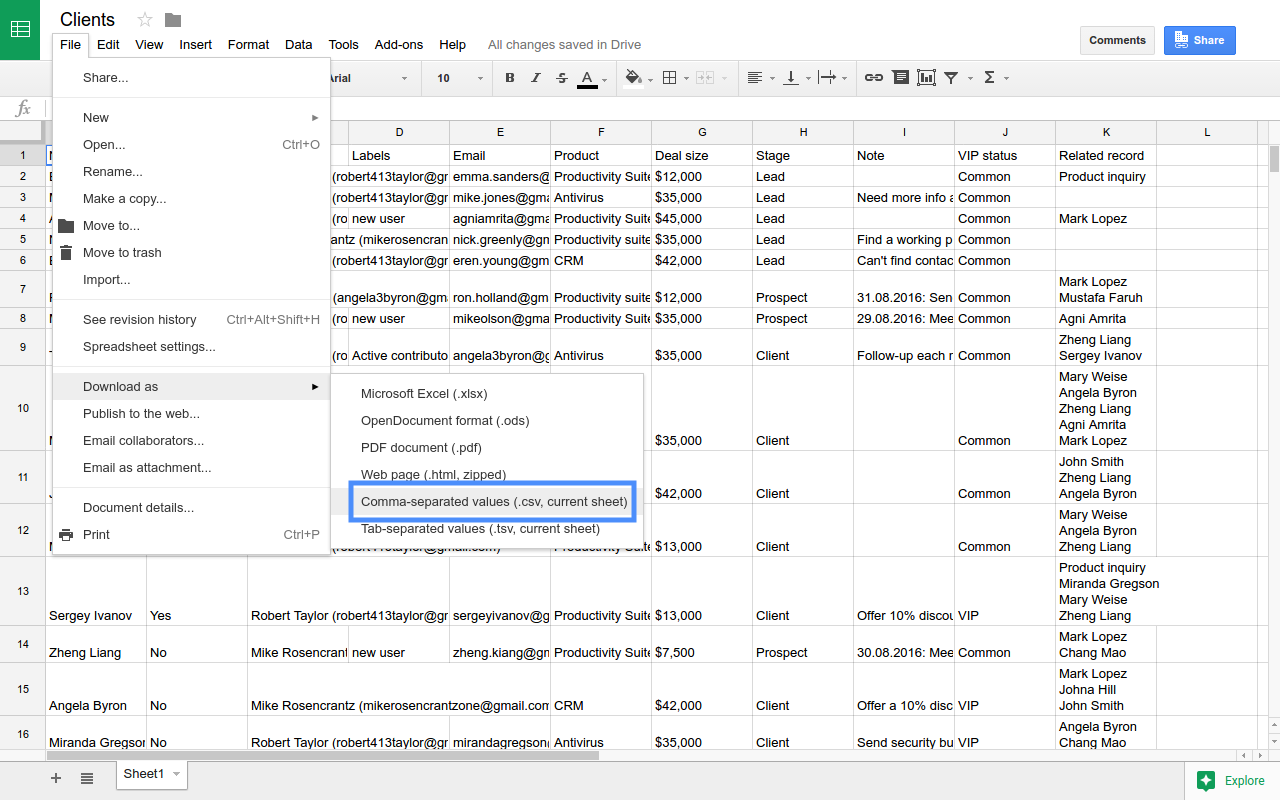 How to import data or migrate to NetHunt CRM
To import your csv file into NetHunt CRM and to create a folder based on that data, you need to:
1) Hover over a workspace you'd like to create a new folder in and click on the arrow next to it.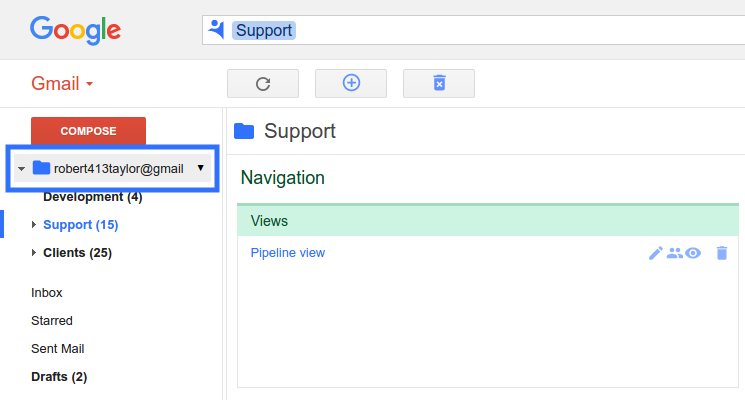 2) In the menu, select Import from CSV.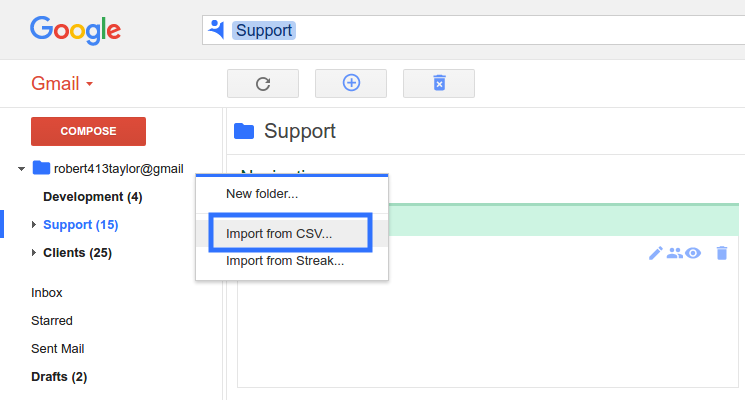 3) Next, you need to paste the content of your csv file. The simplest way to do so is to open the csv file as a text document with any text editor you have (e.g. Notepad on Windows). Copy and paste the whole text from the csv file into the CSV text filed and click Validate.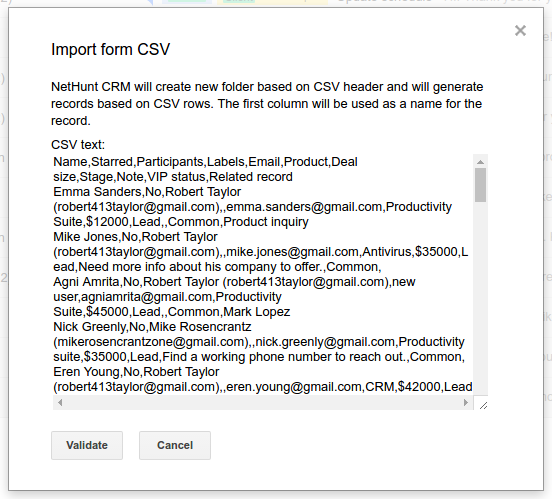 4) If there are no errors in the csv file, you'll receive a message confirming how many records will be created based on the imported data. Here you can also rename the folder with these new records.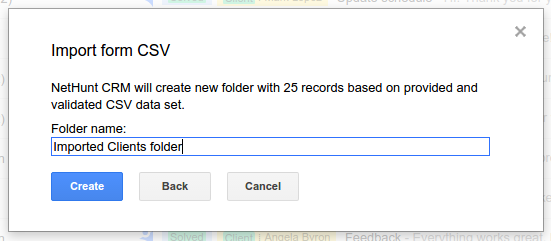 Congratulations! You've successfully imported your data into NetHunt CRM.
How to export records
You can easily export the folders and records from NetHunt CRM to use them in an another service or for the purpose of data migration.
1) Hover over a folder you'd like to export the data from and click on the arrow next to it.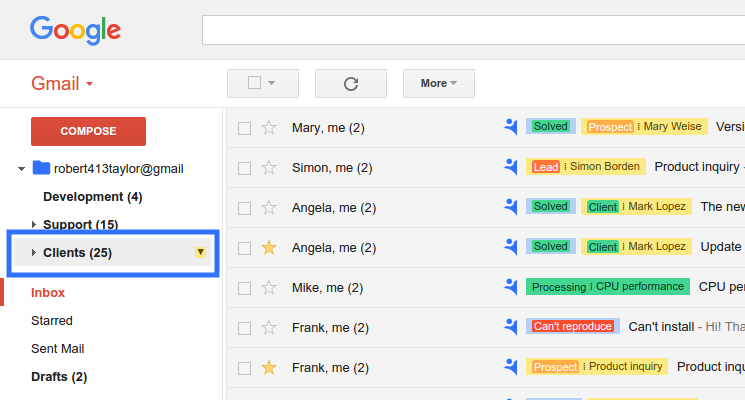 2) In the menu, select Export to CSV.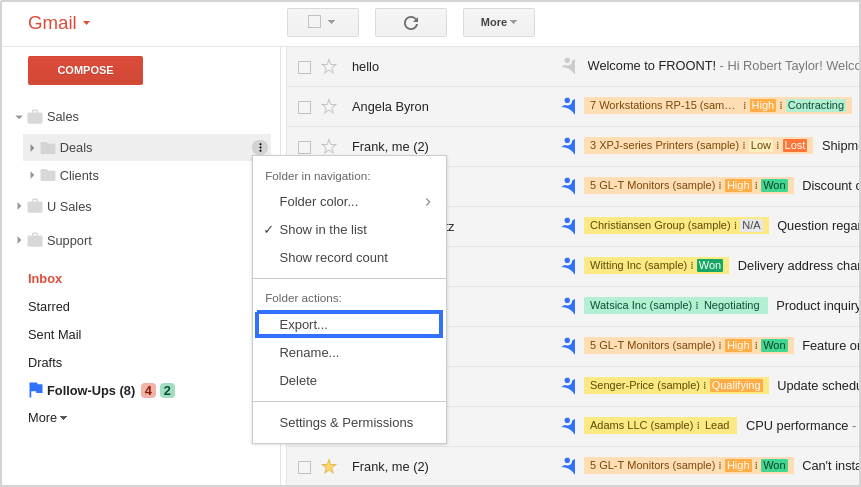 3) NetHunt will display the csv data for an immediate copying or you can click on Download to save the csv file.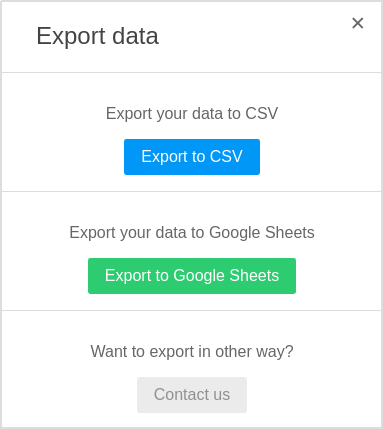 Now you have a list of your leads, their email addresses, and other data in the csv format.
---