Where to start
Learn what's new inside your Gmail inbox
After installing the NetHunt CRM extension, a number of new elements and additional functionality will appear in your Gmail account.
Left sidebar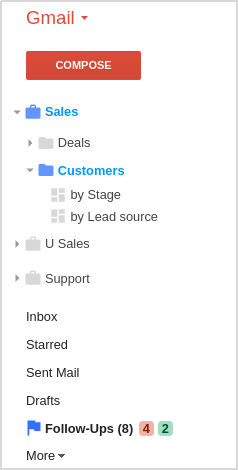 Most of NetHunt CRM features can be accessed from the left sidebar. This includes:
You can change the placement of these sidebar entries from the settings available by clicking on the NetHunt icon on extensions panel.
Inbox
NetHunt CRM helps you manage emails and turn them into the CRM entries called records. For these purposes, most action buttons are placed in the subject line of the emails in the inbox.
Click on the NetHunt icon to create a record based on the selected email or to add it to the existing records.

Display fields show the value of selected record fields in the subject line of emails. You can click on it to go to the linked record.

Use the flag icons to turn emails or records into the scheduled follow-up reminders.

Settings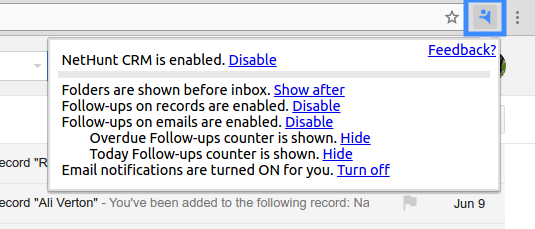 To access the settings click on the NetHunt icon on the extensions panel. Here you can change the placement of folders in the sidebar, turn on/off all or some follow-ups, enable follow-ups counter or turn off NetHunt CRM for the current Gmail account.
How to disable NetHunt CRM
If you have multiple Gmail accounts open in the browser but want to use NetHunt CRM only with some of them, you can disable NetHunt CRM for other accounts. Open the account you don't want to use with the CRM, go to Settings and choose Disable NetHunt CRM.
---